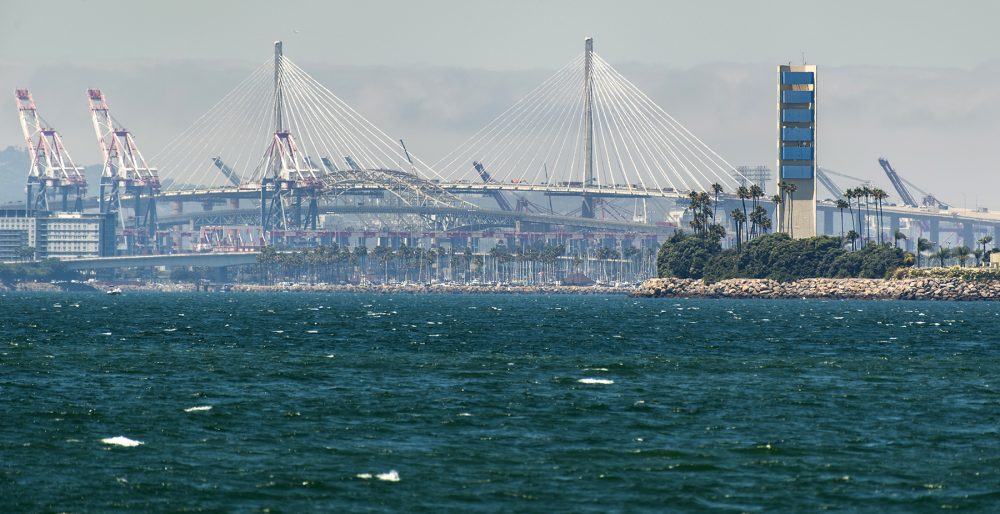 Initially expected in July, the opening of the yet-to-be-named Gerald Desmond Bridge Replacement was first delayed until Labor Day weekend. Further delays have pushed the opening once again to, at the earliest, October.
"We have strict construction standards for the contractor to meet—there is a tremendous oversight for every detail about this bridge," Port of Long Beach Capital Programs Executive Duane Kenagy said in an email. "So, naturally, all of this combines to a process has been taking longer than original projections."
The new bridge is the first cable-stayed bridge for vehicle traffic in California and has many firsts for bridges in the U.S., Kenagy explained. Unique features include dampers to control movement and specially designed expansion joints that can move up to 6 feet in three directions in the event of a major earthquake, he added.
As of Tuesday, installation is still underway on the cable stay dampers and more than 70 seismic sensors throughout the structure. Additionally, the bridge still requires a final concrete overlay on the main span and the installation of dampers under the bridge where the main span meets the approaches.
While implementing new technologies has added unforeseen days to construction, COVID-19 has also played a role in delaying the bridge opening. In a July interview, Kenagy said contractors were facing supply chain issues brought on by pandemic and that safety measures such as social distancing slowed down construction further.
An opening time frame for the Mark Bixby Memorial Bicycle Pedestrian Path is still being identified, Kenagy said. Previously, he said the path would likely open a few weeks after the bridge because they cannot complete it until current traffic detours are removed.
The port is in the process of reviewing bids and selecting a contractor for the Ocean Boulevard Bikeway Connector Project, which will provide improved access to the pedestrian path.
"It's important to remember this bridge is being built to last at least 100 years," Kenagy said, "and is one of the most ambitious bridge projects in the country."