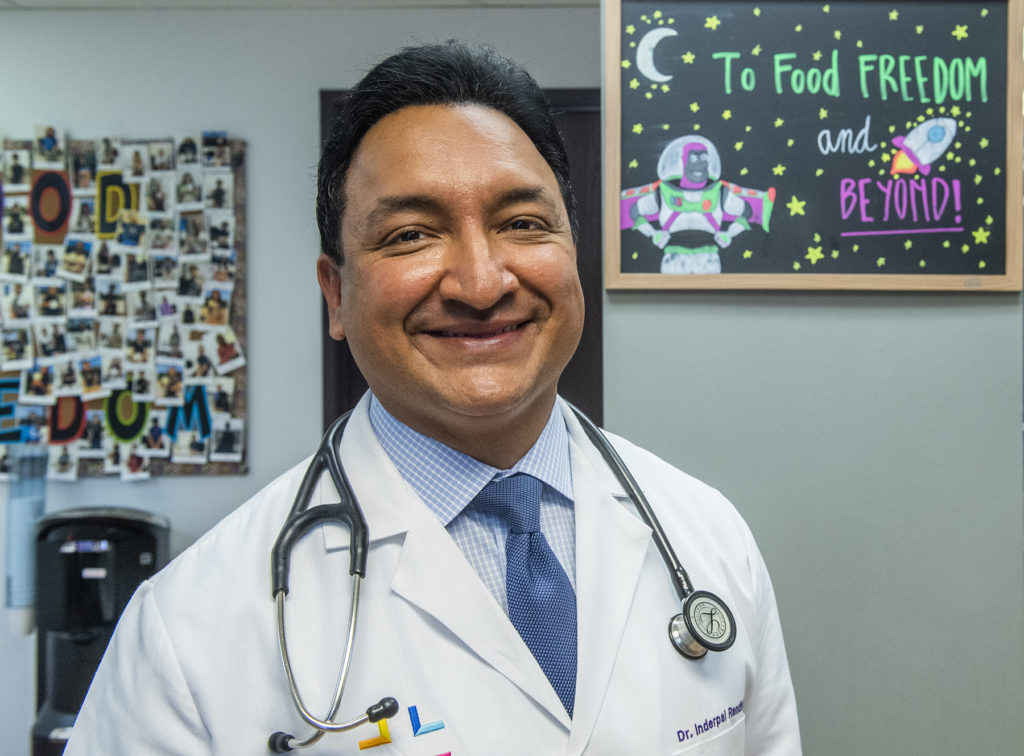 Dr. Inderpal Randhawa still remembers the summer that changed it all.
While on a fellowship at Children's Hospital Los Angeles, he spent a lot of time in the intensive care unit. His focus at the time was on lung transplants, but over the span of one summer, he saw a slew of fatal food allergy cases that left a lasting impression on him.
"These kids, they were totally fine; they were totally normal 30 minutes ago. And now they're brain-dead," Randhawa remembers thinking.
Fast forward 15 years, Randhawa now leads the Southern California Food Allergy Institute in Long Beach, where he and his team offer a unique treatment of food anaphylaxis—or strong allergic reactions to certain foods—that relies on large sets of data and applied mathematics.
In the upcoming year, Randhawa is planning to bring this treatment approach to new satellite sites outside of Long Beach—and unite the clinic's local facilities on one single campus in the Long Beach area.
It all started when the family of a child he was treating approached him about founding an institute dedicated to the treatment of food allergies. Randhawa saw this as an opportunity to show that a treatment approach that relies on data and mathematics could work, and become a case study ushering in a new era of data-based medicine.
With initial funding from his patient's family, he founded a pilot program in 2005. Nine years later he established the nonprofit that operates the institute today.
Although not a mathematician by training, Randhawa has always been fascinated with math and data, an interest he attributes to his father who came to the U.S. from India as a research scientist in the 1950s.
"There's no gray zones in science," Randhawa said.  "You're asking for data."
But much of modern healthcare, he said, still treats medicine as an art rather than a science. Instead of collecting large amounts of data on their patients and basing treatment decisions on that data collected from millions of patients over time, physicians largely rely on their training and medical studies with limited numbers of participants to determine treatment options.
"I always found that it's easiest to predict risk when you base it on numbers," Randhawa said. "When I got into the healthcare field, I found that most people didn't do it that way."
How does the institute's treatment approach work?
The institute matches up data on the patient's immune system and its responses to certain foods with a massive data bank of food proteins, before slowly introducing individual proteins to the patient's body, in an effort to cure it from the overreaction that is food anaphylaxis.
For example, a peanut contains 17 protein subgroups, some of which the patient might show an allergic reaction to.
"What we do is, we figure out for each patient—and they're all unique—how to crossmatch and condition their immune system to knock off four, five, six, 10 or more of those proteins, before we ever give them peanuts," Randhawa said.
This is done by slowly introducing the patient to other foods that contain one of the proteins that cause an allergic reaction, or giving them custom-made gummies containing the protein in question.
"We convince the immune system to not react as aggressively over time," he said.
Palma Gallegos and her husband helped fund the institute after struggling to receive a diagnosis and find appropriate treatment for their son Matthew, who suffers from severe food allergies.
Allergic to peanuts, tree nuts, dairy, soy, gluten, vegetable oil and myriad other common ingredients, their son's diet and environment had to be meticulously monitored throughout his childhood.
Since entering treatment at the institute two years ago, Dr. Randhawa's approach has knocked soy, corn, beans, potatoes, eggs and tree nuts off Matthew's roster of allergens, with peanuts being next on the list.
"It has changed his life," Gallegos said.
What's next for the institute?
Over the years, Randhawa has developed a growing list of patients traveling from across the world to receive treatment at the institute in Long Beach.
"We have pretty much every continent represented, except for Antarctica," Randhawa said.
As such, the institute has made a significant impact, not just on the health of its patients, but the local economy as well.
An analysis of visiting patients spending activity, institute expenditures and other relevant data by local research firm Kleinhenz Economics found that each year, the institute's operations create or support 190 jobs and $20.5 million in economic activity for the regional economy.
But to make the institute's treatment approach more accessible to patients, Randhawa hopes to expand its services to several extension sites within the next year.
"All of these people who come here from outside of California to receive treatment would much rather have treatment near their home," he said. "We've got to find a way to take this kind of treatment and bring it there."
San Diego, the Bay Area and the East Coast are among the satellite locations currently under consideration.
Despite these plans, the Long Beach area will remain the institute's home, one Randhawa is planning to expand on by consolidating its manufacturing facility, biobank and research hub on one local campus.
"I do believe that healthcare is ready for its next phase and that phase will involve big data," Randhawa said. "I would like this to be a headquarters of this type of approach."