Two ambitious projects designed to improve safety for cyclists and calm traffic along Broadway are scheduled for completion in the upcoming months. For a total investment of over $9.6 million in local and federal funds, parking-protected bike lanes have been added to Broadway between Cesar Chavez Park and Redondo Avenue, as well as on 3rd Street from the same park to Alamitos Avenue. Spanning a little less than three miles in each direction, the projects have received mixed reactions from local residents and businesses.
The changes included a "road diet," which cut down the number of lanes from two to one in each direction, and follow the "Complete Streets" concept. The idea behind Complete Streets is to promote alternative means of transportation, such as cycling, by sectioning off portions of the road and protecting them with a buffer zone of parking spaces.
Ken Davis, co-owner of the Hot Java coffee shop at the intersection of Broadway and Junipero Avenue, isn't convinced. "It's awful, I hate it and it doesn't work," he said of the newly reconfigured roadway. Davis said he still noticed cyclists riding on the sidewalk, and that the new setup erased any parking and loading zones in front of his business. "I'm a coffee shop – my business is in the morning. And we've seen a dramatic decrease in business because customers can't get here," he explained. "It's taken a dramatic hit on our business, to where we're fighting to make up that loss. And it'll be years."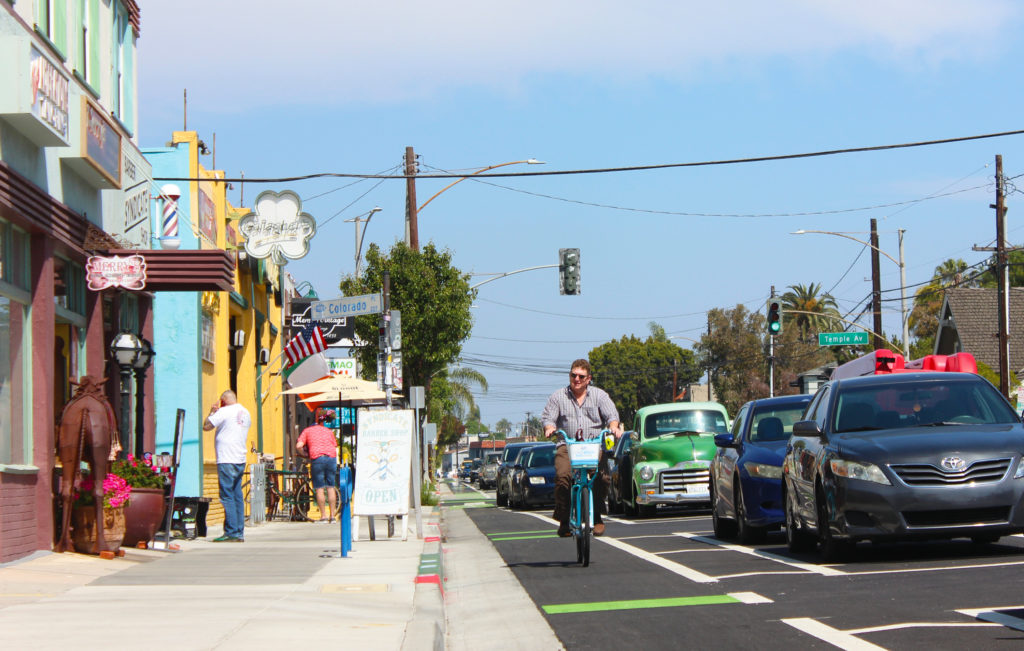 Other businesses in the area reported similar experiences. "We've noticed a decline [in] our business, in our sales, because there's less parking available," Mandie Ireton, a manager at Gallagher's Long Beach Pub & Grill, told the Business Journal. She also noted that some drivers might not feel comfortable using the new parking spaces out of fear that they could back into the bike lane and collide with cyclists. "A lot of people feel that it's really unsafe the way that it's set up," she said, adding that in conversations with other businesses in the area, she heard similar concerns regarding the safety and availability of parking on Broadway following the completion of the project.
According to the City of Long Beach Public Works Department, over 100 diagonal parking spaces were added on 2nd Street and 1st Street to alleviate parking issues. City Engineer Alvin Papa said the department didn't have exact numbers for the amount of parking spaces on Broadway before and after reconfiguration, "as the amount of parking varies by the vehicle length and how close vehicles park." He also noted that the city was looking into the idea of restriping Appleton Street between Los Alamitos and Junipero avenues to add 60-70 parking spaces. "Without a doubt, there's less parking between Alamitos and Redondo," Davis said. "I want an accountability of how many parking spaces we actually lost on Broadway."
Evan Whitener, owner of The Bicycle Stand bike shop on Broadway, said he understands that residents and business owners might have a tough time adapting to the new layout and the changes in neighborhood traffic that came with it. "It is a hard pill for them to swallow and I cannot speak for them," Whitener said. "It takes five years to swallow a pill like that. It doesn't go down easily, and you can't expect people to change their mind instantly." But, Whitener added, in the long run he thinks businesses will benefit from the shift to alternative transportation methods the new layout encourages. "We continue to find ways to fix the problems around us," he said. "So even though we're losing parking spaces, if we just have more opportunities to do things without using cars, well, then hopefully that won't become quite as much of an issue."
Personally, Whitener noted, he feels much safer spending time in the neighborhood around his business and strolling around the neighborhood with his son because of the separation the bike lanes have created between pedestrians on the sidewalk and traffic on the road. "That's something that I never foresaw, and I'm very grateful for the benefit of that, aside from whether or not it's perfect," he said. "Perfection is a moving target and it takes feedback and understanding of use to hone these things and make them perfect. . . . It's going to take time and revision over a period of years, not weeks or months."
Second District Councilmember Jeannine Pearce expressed a similar sentiment. In a May 30 newsletter sent out by her office, Pearce acknowledged that the results "aren't perfect." In the newsletter, she informed constituents that she has made several formal requests to improve the new layout, including the elimination of red no-parking zones wherever possible as well as designated "loading islands" and trash bin zones. "I am a firm believer that we never get things right the first time, that we must work incrementally to get it right," Pearce said in her newsletter. "This corridor and project is a true work in progress, but one that will ultimately create safer streets for cars, pedestrians and cyclists. It is important for me that you know your voices are heard.
Cameron Vodegel, owner of the My Bicycle bike shop on Broadway and Orange Avenue, said he's supportive of the project overall, but noted that the design of the project felt rushed. "It's great, but they should have asked the businesses before they designed it," Vodegel said, adding that a bike lane on just one side of the street might have been preferable to the current configuration. He also expressed some concerns over safety. "Broadway is a very fast-moving street and it's kind of dangerous, still. There's a lot of blind spots on the intersections," he said.
Vodegel suggested that the new bike lanes could be made safer by adding yield signs on intersections, lights to illuminate the path at night and setting a lower speed limit for cars. More outreach and education might also help drivers, residents and cyclists understand the new system and make it safer for everyone, he added. "This is a new style of bike path and a lot of people just don't know how to deal with it," he said.
Some residents have welcomed the calmed traffic, said Sidney Cramer, president of the On Broadway Business Association. "The people that live on the street say it's quieter, and the feedback is good," he said. Cramer himself drives almost the entire length of the street on his daily commute and said the road diet has made his trips down Broadway calmer. "The one nice thing about it being one lane is the drive is less stressful," he noted. "Maybe it adds a couple more minutes to the drive, but hopefully the drive is a little more pleasant."
Cramer said he hasn't noticed an impact on the length of his commute, but he's also heard concerns about the rearranged parking spaced in the area. He noted that the new layout wasn't very intuitive and time limits had not yet been painted on the green curbs, resulting in tickets for drivers who overstayed their welcome. "I think it will take time for people to adjust and understand the layout," Cramer said.