The Business Journal reached out to each of Long Beach's councilmembers and asked if we could take their photographs at locations highlighting recent efforts or accomplishments within their districts. We heard back from eight of the nine councilmembers, who are pictured here showing off the results of endeavors related to growing business and bettering community infrastructure.
(All photographs by the Business Journal's Larry Duncan)
2nd Council District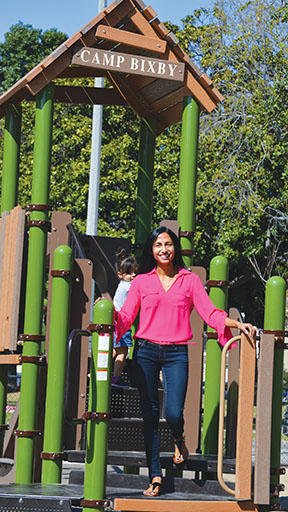 At 15,000 square feet, Camp Bixby is the largest playground area in the city's 2nd District, which extends from the port through parts of Downtown Long Beach, Retro Row and much of the Broadway corridor. Vice Mayor and Councilmember Suja Lowenthal, pictured, and the community recently celebrated the playground's opening within Bixby Park. Camp Bixby features a play area for toddlers to five-year-olds, plus an area for five to 12-year-olds. The play area is meant to feel like an urban oasis, and elements of the park are modeled after a photograph taken there in the 1930s. Lowenthal has also led the way for other recent improvements to Bixby Park, including a new fitness loop with a walking path, sit-up benches, a chest press and other equipment, as well as a new restroom facility built in the same style as a historic bandshell on site.
3rd Council District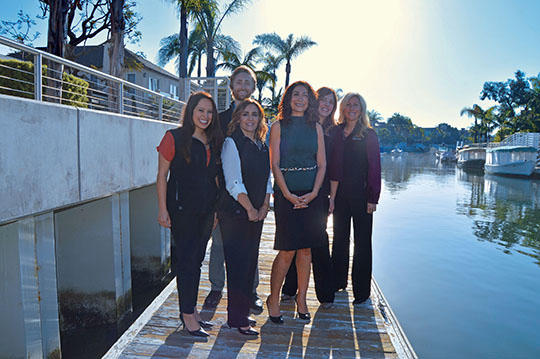 The Naples Island canals in the 3rd District recently got a facelift thanks to a project to improve the seawalls, which have been in serious need of repairs for many years. The first phase of the project replaced 1,900 linear feet of seawall in the Rivo Alto Canal between bridges on The Toledo and Ravenna Drive – a feat years in the making, and one that 3rd District Councilmember Suzie Price, pictured here with her staff, celebrated with residents of her district last fall. There are six more phases of the project to make similar repairs to the remainder of the seawalls. Another recently completed infrastructure project in the district involved calming traffic along Broadway. Unnecessary traffic lanes have been eliminated along certain sections of the street, and new crosswalk treatments have been implemented in order to make the popular area safer for the community. Pictured in Naples are, from left, 3rd District staff: Alexandra Escobar, intern; Jack Cunningham, district office director; Antonella Schaub, communications director; Councilmember Price; Julie Maleki, chief of staff; and Lisa West, director of business relations, programming and outreach.
4th Council District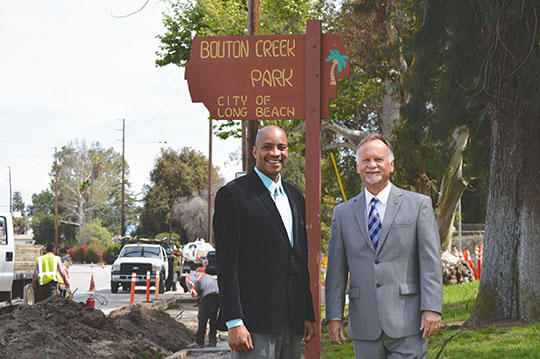 The 4th District's Bouton Creek Park hasn't had a sidewalk since the day it opened in 1965, not only making it inconvenient for walkers and runners, but also causing the park's grass and soil to erode into the street after rains. After more than 50 years, 4th District Councilmember Daryl Supernaw spearheaded the effort to remedy the issue, and construction recently began on the sidewalk, which runs the length of the park on Atherton Street between Bellflower Boulevard and Clark Avenue. The small .78-acre park features picnic benches and a playground, and is located north of a drainage ditch that was once Bouton Creek. Supernaw is pictured at right with the parks department's Hurley Owens, bureau manager overseeing maintenance and development. The councilmember has also led the effort to repave the same stretch of Atherton Street, a project that began in early March. When the project is completed, the street will feature ADA upgrades and rehabilitated bus pads, curbs and gutters.
5th Council District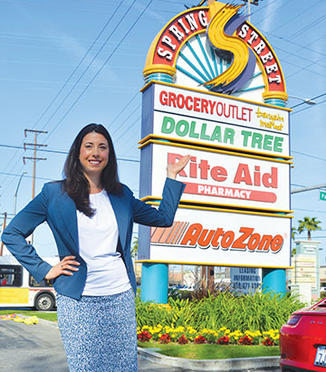 Fifth District Councilmember Stacy Mungo, above, has been working closely with the East Spring Street Business Alliance to bring visibility to the Spring Street shopping and dining corridor, located in East Long Beach. A number of businesses have moved in to the area in the past year, the most recent being Grocery Outlet Bargain Market, which offers deep discounts on grocery items. In February, her office, in conjunction with the alliance, held the "Shop Spring Street Fair," a daylong event in which local businesses set up booths, and visitors were treated to discounts and participated in raffles with prizes ranging from gift cards to airline tickets. A representative from Mungo's office said another street fair is in the works to build on the success of the recent event. Dedicated to boosting Long Beach business, Mungo is planning to hold a tent sale for automobiles in her district in the coming months, following a similar successful event last year. Mungo is pictured at the Spring Street Center at the southeast corner of Palo Verde Avenue and Spring Street.
6th Council District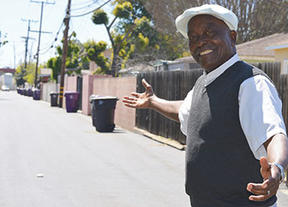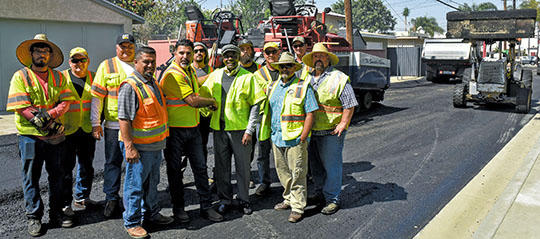 Sixth District Councilmember Dee Andrews and a construction crew show off a nearly completed infrastructure project adjacent to Veterans Park, a 14.3-acre park with a community center, playground and various athletic facilities. An alley, as Andrews points out, running north to south on the east side of Pacific Avenue, as well as portions of 28th and 29th streets, were repaved, remedying long-standing community eyesores. Other improvements to these areas included tree root shaving, concrete removal, gutter and curb repairs, and new sidewalk ramps. Andrews' office has been busy overseeing many other community improvements, including a project to improve Alamitos Avenue, a major thoroughfare leading to Downtown Long Beach. The street has undergone a "road diet," meaning the number of lanes have been cut down to slow traffic, making it safer for pedestrians, bicyclists and drivers alike. It also features the first bike lanes in the district.
7th Council District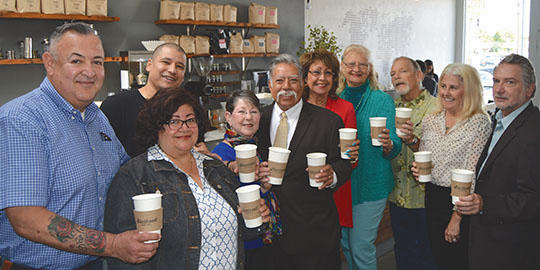 Seventh District Councilmember Roberto Uranga is partnering with businesses on Wardlow Road to start a business improvement district along the corridor from Cherry to Atlantic avenues, with some businesses on Orange Avenue also included. Steelhead Coffee, where Uranga is pictured with fellow community leaders, is the newest coffee shop to open in his district. The shop is located on Wardlow Road in California Heights, nearby other thriving businesses and organizations such as Long Beach Ballet, Roxanne's Cocktail Lounge & Latin Grill, Blackbird Café and others. Aguirre has been assisting in the effort to move the business improvement district forward. Pictured, from left, are: Robert and Darlene Castillo of the West Long Beach Association; John Aguirre, founder of Steelhead Coffee; Charlotte Roush of Bixby Highland Community Watch; Councilmember Uranga; Maria Norvell and Joan Greenwood of the Wrigley Area Neighborhood Alliance; Jerry Mineghino, chair of the Long Beach Airport Advisory Commission; Stacey Morrison of the California Heights Neighborhood Association; and Alan Burks, president of Environ Architecture and member of the Wrigley Association.
8th Council District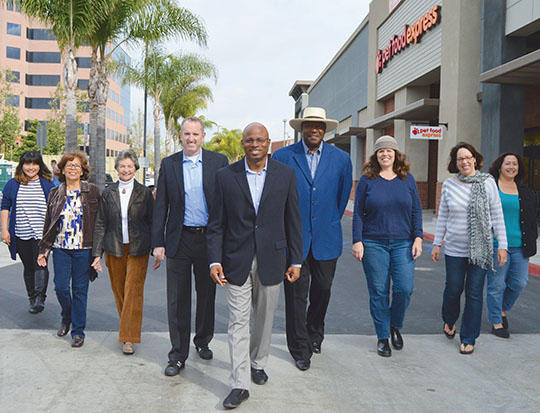 Eighth District residents flank Councilmember Al Austin II and Blair Cohn, director of the Bixby Knolls Business Improvement Association, at a revitalized shopping center on Long Beach Boulevard and San Antonio Drive. Formerly the site of a Ralph's grocery store, the center quickly garnered new tenants after recent improvements to its façade and interiors. The latest store to open was Petfood Express, a California pet supply chain with a permanent cat adoption center, an indoor dog park and a pet wellness center. The center is also soon to be home to Trader Joe's, which is relocating from another part of Bixby Knolls, and a Crunch Fitness gym. The shopping center is one of several new and improved retail spots in the 8th District, where two new creative retail and dining developments are planned on former redevelopment agency properties. Pictured, from left, are: Stephanie Boggs, Delfina Skalland, Barbara Shoag, Cohn, Councilmember Austin, Lindsay Hughes, Janet Watt, Jennifer Rocha and Joyce Kaiser.
9th Council District

Last year, 9th District Councilmember Rex Richardson unveiled a revitalization plan for North Long Beach called "Roadmap to the Renaissance." Since then, he has held many community meetings, including one with the people in this picture at Church One Ministries on East 70th Street, to move the plan, which has three aspects. The first leg of the plan is a strategy for improving parks and open space in the district. Already, a conceptual plan to reinvigorate Houghton Park has been developed, and design work for a new community center at the park is underway. A project to restore the DeForest Wetlands, which borders the Los Angeles River, got off the ground in November. Also included in the Roadmap to the Renaissance are strategies for rethinking Atlantic Avenue and enhancing Artesia Boulevard. Pictured in the front row at a recent community meeting are, from left: Pastor Vern Burgess, Pastor and former 9th District Councilmember Steven Neal, Pastor Larry Walkemeyer, Councilmember Richardson, Bishop W. Todd Ervin, Pastor Kim Ervin, Andrea Sulsona, Shoreline Village Manager Debra Fixen and Pastor Misi Tagaloa. In the second row ­are: Pastor Ely Fournier, Mark Guillen, Pastor Joel Silva, Pastor Janette Sanders-Moore, Rev. Sheryl Faulk, Pastor David Leonard and Adam Anderson. Pictured in the back row are: Pastor Paul Dozier, Rev. Katy Hyman, Rev. Leon Wood, Isaac Romero, Pastor Doug Weldon and Pastor Gary Hauser.