The 5Nº development is bringing 20 residential units to The Streets, a 350,000-square-foot urban retail hub complete with shopping, dining, service and living uses. The residential project also includes plans for a 24-hour eatery on the ground floor, according to developer Tony Shooshani.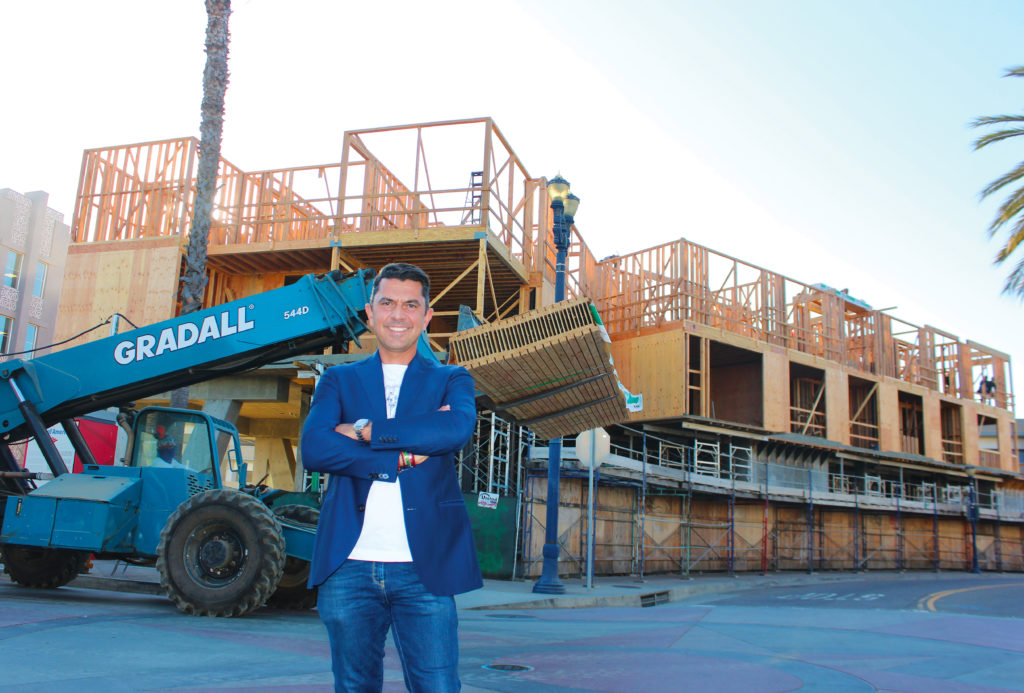 "My community involvement allows me to get feedback from [residents about] what their needs are and what they're looking for," Tony Shooshani, managing member of Shooshani Developers, LLC, owner of The Streets, told the Business Journal. "We listen to the community. People like 24-hour-a-day food." Shooshani is the past chair of the Downtown Long Beach Alliance, the nonprofit overseeing downtown's business improvement districts.
Initially announced as The Place at The Streets, the four-story mixed-use project is located at 495 The Promenade North. Shooshani said he cannot announce any details related to the 24-hour dining establishment other than the fact that negotiations are underway for the single tenant to occupy all 5,000 square feet of the building's ground floor retail space. Floors two through four of the project will include four one-bedroom and 15 two-bedroom apartments, as well as one three-bedroom apartment. Units will range in size from 841 square feet to 1,762 square feet. All 5Nº units will be priced at market rate, though final pricing has not yet been announced.
"This has been a great place for us to be invested in. We've seen retailers evolve and retail has changed. We have to change with the times," Shooshani said. "It's created an opportunity for us to look at how to change the structure of the center and how to take it more vertical. We have to bring in other services and uses, and residential . . . is the mix that we are going into – hence 5Nº."
The Streets, known as City Place until late 2017, was purchased by Shooshani Developers in 2005. The revamping and rebranding of the center, which spans the six blocks from 3rd to 6th streets and Pine Avenue to Long Beach Boulevard, was catalyzed by Retail Design Collaborative and Studio One Eleven moving into a former Nordstrom Rack location in late 2016, and has since brought in a slew of retail and restaurant options for the future residents of 5Nº. Planning for the residential development began in late 2016, followed by a groundbreaking in May 2018. Shooshani said he is anticipating 5Nº to be completed in mid-2020.
To continue the evolution of The Streets, Shooshani said his firm is in the process of creating a master plan. He explained that future developments will be built for specific tenants, rather than constructing or renovating a space on speculation that could end up sitting vacant for months. Shooshani noted that he has approached multiple national grocery chains about coming to The Streets, which would further serve future 5Nº residents. He noted that Walmart still has years remaining on its lease for the now-vacant space across the street from the apartment building. Shooshani added that his company is attempting to work with Walmart to release the space for development.
According to Shooshani, additional retail, as well as student and market rate housing, may be built by other developers, with his company acting as the master planner.
Since investing in The Streets, Shooshani has moved to Long Beach and purchased a home. "Long Beach has changed my culture. I wear T-shirts and sneakers around – I used to be [in] a suit. I love Long Beach. I love the people. We're oceanfront, we're urban and we have all the services that any major metropolitan city . . . would love to have." he said. "That's why I invested here and continue to invest here. We're called 'The Streets' because we're part of the fabric of the downtown – we are part of the grid. I don't call it a rebirth of a downtown; I call it the creation of a new downtown."