Panels of solid bright yellow, and black and white panels of abstract geometric patterns fleck the exterior of The Linden to blend in with its location in the East Village Arts District in Downtown Long Beach. The boutique apartment building by Sares-Regis Group received its first tenants in early June and is currently about 50% leased, according to David Powers, senior vice president of residential development.
"It's sort of a unique architectural style. It's in the arts district, so we wanted something distinctive," Powers said. "We challenged our architects to come up with something creative that maybe people haven't seen before," he said, referring to Long Beach-based Studio One Eleven. "What they came up with was pretty punchy and vibrant. I think they really stepped up their game on this building."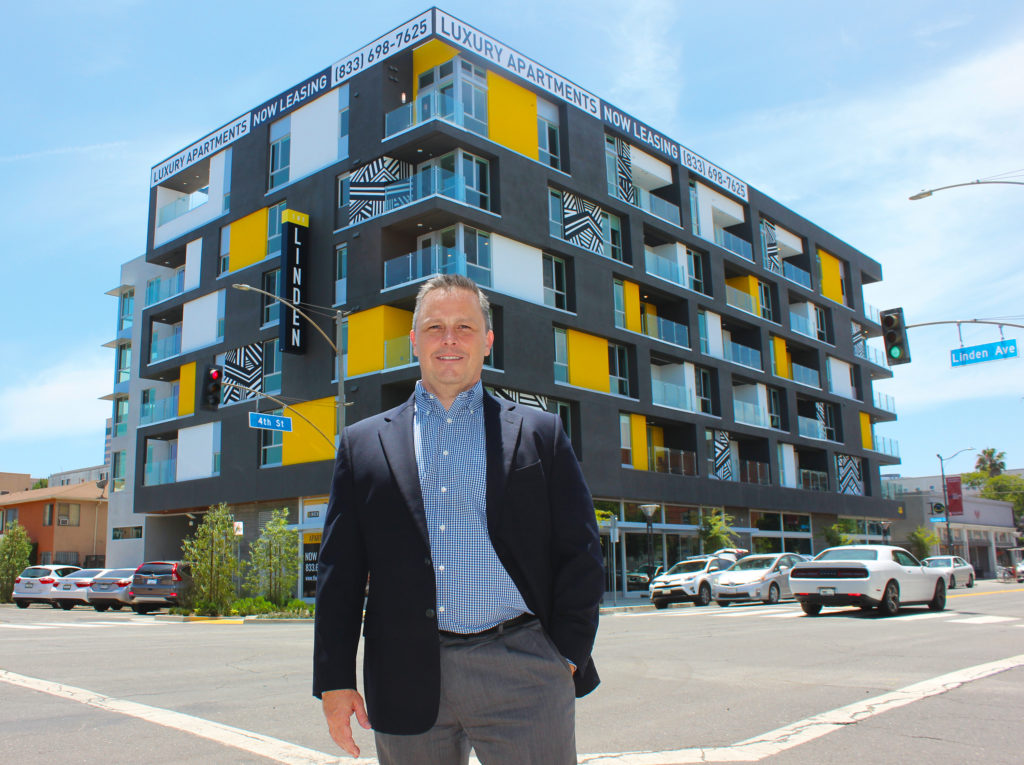 Located at 434 E. 4th St., next door to Berlin Bistro and Fingerprints record store, the six-story building consists of 49 market-rate apartments. Units are one or two bedrooms, and top floor two-bedroom apartments have an additional upstairs loft that could be used as an office or extra room, Powers explained. Each loft also has access to a private rooftop patio.
One-bedroom units range from 779 square feet to 854 square feet, with prices ranging from around $2,300 to just under $2,900. Two-bedroom units range from 1,110 square feet to 1,249 square feet, with prices ranging from $3,280 to $4,630.
All residents of the project have access to outdoor patio areas on the second and sixth floors, which include seating, a shuffleboard table, grills and a fire pit. The ground floor of the project includes a fully equipped fitness center and a lounge area, as well as 2,500 square feet of commercial space. Powers explained that Sares-Regis is in negotiations to bring a craft beer tasting room to the space. He said the unidentified Long Beach brewery is a new operation currently setting up shop at a nearby location.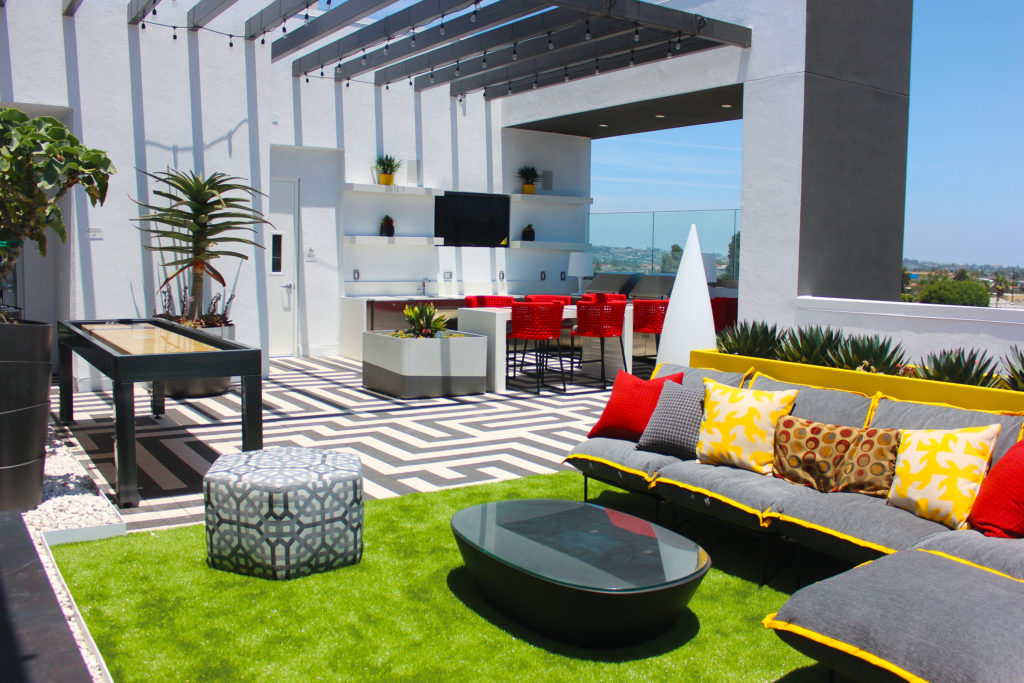 "I'm actually excited about this use because the craft brewing community in Long Beach is growing. It's popular," Powers said. "There are a lot of good beers out there and it's a supportive community."
The Linden is the smallest of three residential developments by Sares-Regis in Downtown Long Beach that broke ground in June 2017. All three projects suffered minor delays due to rain throughout 2018. The Alamitos, at 1st Street and Alamitos Avenue, and The Pacific, at 3rd Street and Pacific Avenue, which consist of 136 and 163 units, respectively, are slated for completion before the end of the year.
"Long Beach is just a unique city. It's very rare to have a downtown right next to the beach on the West Coast, so the quality of life is there," Powers said. "Our commercial group has . . . been working in Long Beach for a long time. We've wanted to be [here] for a long time and all the conditions came together a few years ago and just really made it happen. You can see that with not just our developments but a number of other developments. We're all in – catching the wave that is Downtown Long Beach."