For the first time in more than a decade, Long Beach has new, for-sale townhomes in Downtown Long Beach. The townhomes in the small planned community, called Huxton, are selling fast, according to Phil Kerr, CEO of homebuilding for project developer City Ventures.
"We've got four buildings, plus a community center, for a total of 40 homes across the project," Kerr told the Business Journal. "We've sold over half of those at this point."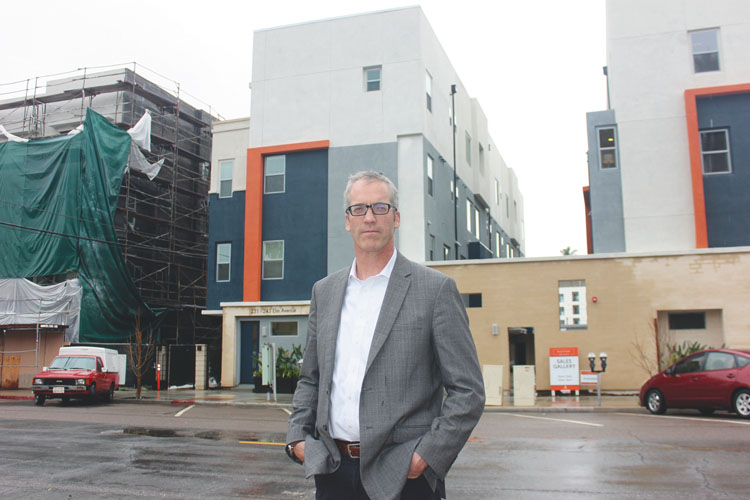 Located at 227 Elm Ave. in downtown's East Village Arts District, two of the project's buildings are completed and almost sold out, with some owners already moved in. The remaining two buildings are expected to be completed separately in March and April, Kerr explained. Of the 40 homes, 19 have sold – seven of which are still under construction – which Kerr said speaks to a strong demand for home ownership.
The project has five different floor plans ranging from 1,254 square feet to more than 2,000 square feet, with prices from the low $600,000s. Each home is four stories and includes a one- or two-car garage on the ground level. The second floor is dedicated to kitchen, dining and living areas. The third and fourth levels are reserved for two or three bedrooms and/or a loft area that serves as a second entertainment space, as well as an outdoor rooftop deck.
Each townhome is powered by solar electricity and equipped with a two-kilowatt system integrated with a Nest thermostat – one of the top-rated smart thermostat brands, according to product review website CNET. Smart thermostat technology allows homeowners to better control energy costs by providing personalized climate control, Kerr noted. By also equipping the homes with energy efficient appliances, Kerr said Huxton owners should have minimal electric bills.
"The homes bring those aspects all together, so you've got great livability in a walkable downtown," Kerr said of the project's popularity. "Combine that with the price point; a lot of buyers here were Long Beach renters and this is an opportunity for them to own. They love Long Beach. They wanted to stay in Long Beach."
Rather than building condominiums, Kerr said City Ventures prefers townhomes because they give buyers the feeling of a single-family home, while providing as many units as possible for an urban infill development. Owning a home in an urban environment such as Downtown Long Beach with no one living above or below you is a unique opportunity, he added.
"[Long Beach] is a great place to live. It's a fun place to live," Kerr said. "It's also just a great long-term investment. When you buy a home in a downtown, urban location like this, there's always someone that wants to live there."