In addition to bringing 222 new market-rate apartments to Downtown Long Beach, the seven-story AMLI Park Broadway mixed-use complex at 245 W. Broadway will be home to Portola Coffee Roasters' second Long Beach location. The first opened earlier this year at The Hangar in the Long Beach Exchange retail center.
"Downtown Long Beach has always been on our radar. It's one of Southern California's best live-play-work destinations," AMLI Development Co. Vice President of Development Nick Moffa told the Business Journal. "It's coastal, it's between L.A. and Orange counties and it just has a really high quality of life. This was a market we wanted to be in and we're looking for future opportunities in the area as well."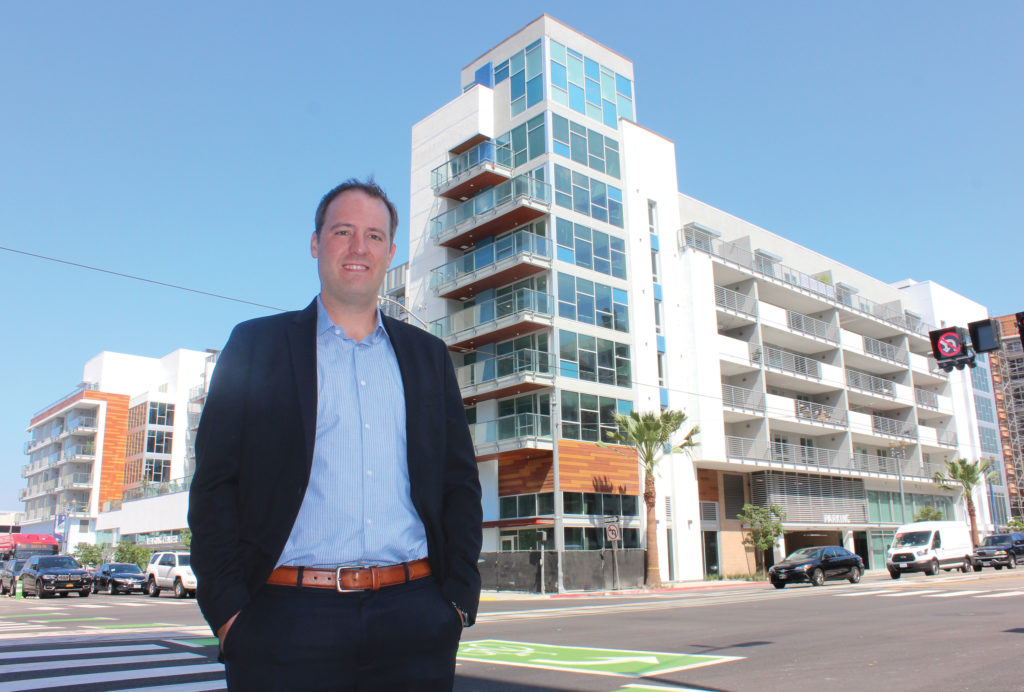 Moffa explained that the new Long Beach Civic Center development, including the new Main Branch Library directly across the street from Park Broadway, was a "huge draw." The site was already fully entitled when AMLI came onto the scene and purchased it in 2015, allowing the firm to begin the design process immediately. Construction on the site began in 2016 and will be 100% complete next month.
Units range from 600-square-foot studio apartments to a 1,300-square-foot, two-bedroom apartment with a loft and an ocean view. Prices range from around $2,300 to $6,500 per month. About half the units were put on the market several months ago, almost all of which have been leased with many tenants already moved in. Leasing of the other 50% of units just began, with residents to move in before the end of August.
The project has 320 parking spaces – about one per bedroom – a low number for Southern California, Moffa noted. "But being in Downtown Long Beach, having the adjacency to the [Metro] Blue Line, it hasn't been an issue to date," he said. "The city's doing the right thing and lowering parking counts for developments. So we're not going to be alone in having a little bit less than renters are used to."
On the ground floor of the complex, residents have access to a "Do It Yourself" space where they can create art and work on DIY projects. Moffa said paint and sip classes will be held for residents in the space, as well as cooking classes. The space even has several spray-painting stations outfitted with extra ventilation.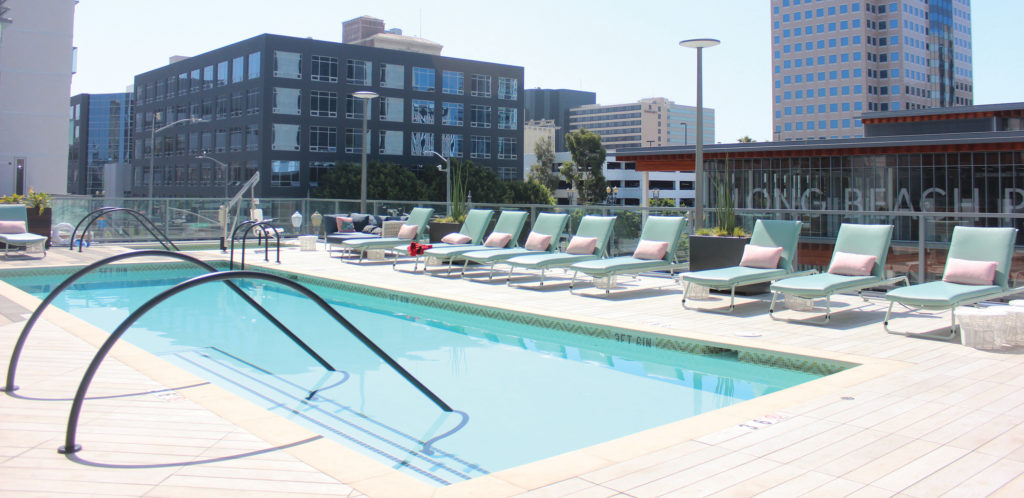 The ground floor also features a state-of-the-art fitness center, including a virtual personal trainer, a punching bag and a studio for group classes. The resort-style pool overlooks the city's new library, and has an adjoining barbecue and fire pit area, as well as an indoor entertainment space with seating and TVs. Several floors up is a sky deck, which has another barbecue and a pizza oven with outdoor seating, as well as another indoor entertainment space. These areas are first come, first served, unless reserved in advance by residents. The building also has a gaming courtyard that features dartboards and a shuffleboard table, along with more barbecues, seating and "star-gazer" pads that allow people to lie down and observe the night sky.
The development includes 6,000 square feet of ground floor retail space. Portola signed a lease for 1,500 square feet on the Pacific Avenue side of the project, with the buildout expected to begin in the next couple months, Moffa said. AMLI is actively talking to potential retailers to lease the 1,500 square feet adjacent to Portola. On the Cedar Avenue side of the project, Moffa said there is interest in the 3,000 square feet of retail space, but it remains to be seen whether it will go to one user or be divided into two smaller spaces.
Moffa noted that AMLI prides itself on being a green and sustainable company. He explained that Park Broadway is targeted to achieve a LEED Silver designation through construction and waste disposal methods, and the use of smart technology and low-flow fixtures throughout the project. "Just ways to allow our residents to live more efficiently and less costly," he said. "We found that that's really important to our demographics, especially in Long Beach."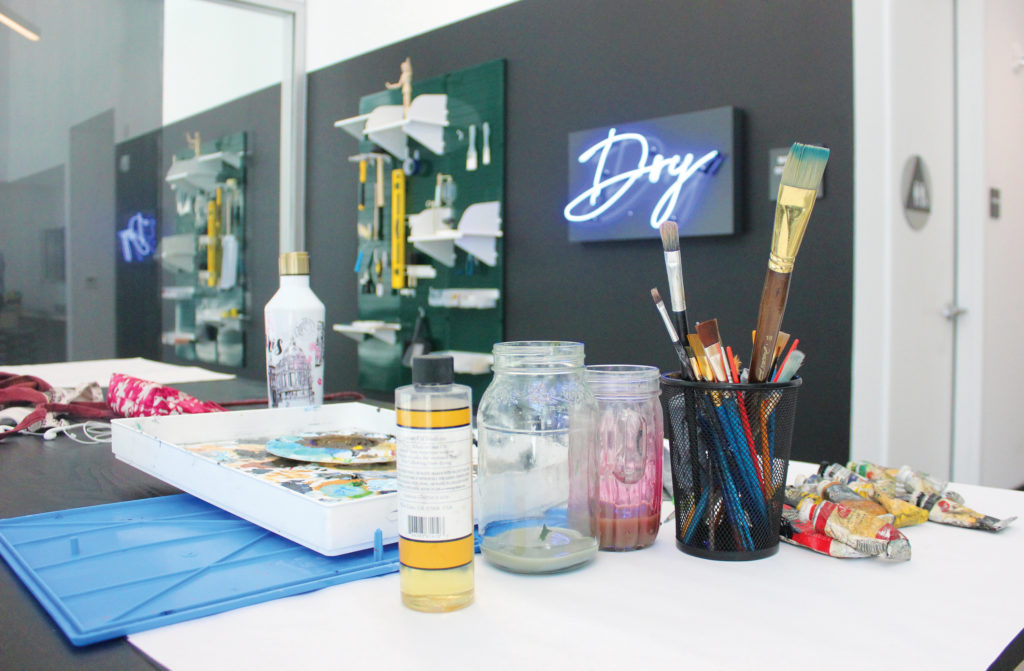 AMLI retains ownership of its projects for a minimum of 10 years, according to Moffa, at which point the asset is assessed and the company determines whether or not to sell. Based on the current development and economic boom of Downtown Long Beach, Moffa said Park Broadway could very well become a "forever asset" for AMLI.
In the midst of a statewide housing crisis and with California Gov. Gavin Newsom calling for a drastic increase in housing development, Moffa said it's important to produce market-rate and affordable housing, often simultaneously. He explained that most AMLI projects include an affordable component, noting a 384-unit project in Camarillo that includes 75 affordable units.
"We're very well versed in affordable housing. We do it in all of our markets to some extent, but it's always mixed in with market rate housing," Moffa said. "I think affordable housing and market rate apartments go hand-in-hand – you really can't build affordable housing without either having market apartments or having some sort of subsidy."