The two-phase affordable housing development known collectively as The Beacon is nearing completion, with the Beacon Place phase, a 39-unit building reserved for homeless veterans, complete and nearly 100% leased.
"The Beacon Pointe portion, which is 121 permanent support homes for [homeless and low-income] seniors, is slated for completion in late October, and our expectation is that we'll be fully leased by the end of the year," Brian D'Andrea, senior vice president of housing for Century Housing, told the Business Journal. "We are primarily using the city's coordinated entry system to manage the leasing process . . . to match the scarce resource that is a permanent supportive apartment with households that are most in need."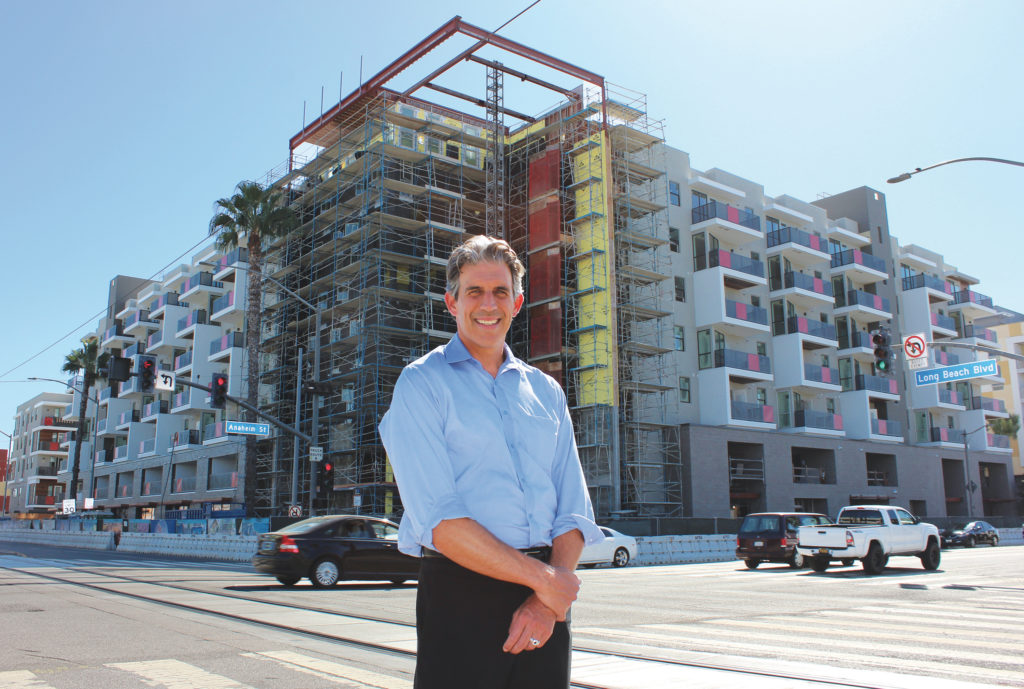 Located on the southwest corner of Long Beach Boulevard and Anaheim Street directly across from a Metro Blue Line stop, Beacon Place consists of 30 one-bedroom units ranging in size from 579 to 697 square feet and nine two-bedroom units ranging from 937 to 1,026 square feet. Beacon Pointe includes 110 one-bedroom units ranging in size from 619 to 808 square feet and 11 two-bedroom units ranging from 998 to 1,083 square feet. Sixty-one units within Beacon Pointe are reserved for homeless seniors, while 59 units are reserved for low-income seniors. Each building has one on-site manager's unit.
Aside from indoor community spaces within each building, a large courtyard connects the project on the third floor. The courtyard features garden areas, as well as an adjoining clubhouse and spa area. Beacon Place features a computer lab, and Beacon Pointe includes a fitness center, both of which will likely be accessible to residents in both buildings. The ground floor includes about 6,200 square feet of retail space, which D'Andrea said is not yet leased. A key element of the project is providing residents with on-site case management services, through Mental Health America, Los Angeles, and the U.S. Department of Veterans Affairs.
"It's not just about putting someone into a beautiful new apartment home, but . . . having resources available to them to help them improve their lives," D'Andrea said.
The Century Housing development broke ground in 2017, but its history dates back to the mid-2000s, D'Andrea explained. Originally, the site was meant to be the second phase of Meta Housing's Long Beach Senior Arts Colony, an apartment complex adjacent to The Beacon, in which Century is a partner. However, when the Great Recession struck, those plans were abandoned. Century purchased the 1.5-acre site in December 2014, at which time they began the design process and identifying funding sources, D'Andrea said.
Assembling funds for affordable housing developments is often a multi-year process, D'Andrea noted. For The Beacon, seven funding sources were leveraged, along with capital investment from Century, to pay for the nearly $82 million project. The City of Long Beach, through the Long Beach Community Investment Company, contributed $12 million to the project, D'Andrea said. Other funding sources include the California Department of Housing and Community Development's Veterans Housing and Homeless Prevention Program, the Federal Home Loan Bank of San Francisco's Affordable Housing Program, a Home Depot Foundation grant, a permanent construction loan from Wells Fargo Bank's Community Reinvestment Corp., a 9% low-income housing tax credit through the California Tax Credit Allocation Committee, and deferred developer fees.
"The City of Long Beach has a wonderful system of care for our most vulnerable. This development is a great celebration of [the city's] effort and all its resources coming together, getting people into a beautiful supportive home where they can lead a dignified life and become the best versions of themselves," D'Andrea said. "In Long Beach we still have more than 1,800 persons experiencing homelessness on any given night. So a project like this that will provide 160 new supportive homes into our local . . . housing stock actually will make a difference."