With a mission to improve the city's economic health, the City of Long Beach strives to foster job growth and encourage new businesses to relocate to the city by offering a wide range of technical assistance, financial support and incentive programs.
The city's economic and property development department, located on the third floor of city hall, is the first stop for anyone looking to start or open a business in Long Beach. The city has also launched new web-based programs to streamline permitting processes, helping businesses save time and money.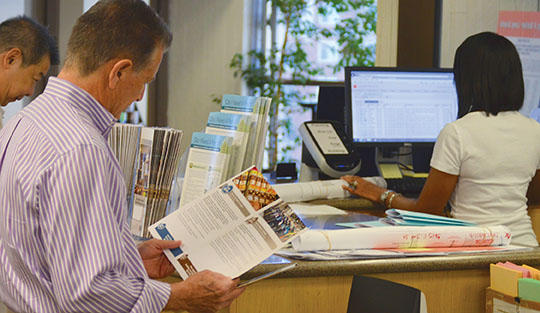 The fourth floor of Long Beach City Hall at 333 W. Ocean Blvd. has numerous city staff available to help developers, business people or those thinking of opening a business with a variety of permits, licenses, plan checks and other information necessary to conduct business in the city. Resources, including pamphlets of the city's various business incentives and programs, are also available on the same floor. (Photograph by the Business Journal's Larry Duncan)
Overseen by an 11-member commission made up of business, workforce and community leaders, the economic and property development department has been revived as part of Mayor Robert Garcia's vision to take a more comprehensive approach to economic development, utilizing innovative technologies and leveraging community resources.
Economic Development Officer Seyed Jalali, who has more than two decades of experience working for the city assisting businesses, serves as business ombudsman, a position created as part of the mayor's focus on economic development, and is ready to support businesses large and small.
The Economic and Property Development Department also works closely with the city's Long Beach Development Services Department (LBDS) to help businesses navigate the permitting process, open a brick-and-mortar location or apply for financial assistance and incentives when applicable.
Technical Assistance And Online Tools
As a way to help facilitate business growth, the city has recently instituted the use of online tools and initiatives to make it easier for new and existing entrepreneurs to learn about city services and startup costs.
One program the city has invested in is OpenCounter, an online application that offers a free, 24/7 service to entrepreneurs seeking answers about starting a business. The program, accessible online at long-beach.opencounter.com, is intended to help business owners save time and money while making the city's permitting process more efficient.
Through a $3 million grant from Bloomberg Philanthropies, the city has also been able to establish an innovation fund of $1 million for implementing initiatives that make it easier to start or grow business in the city and improve access to services.
The city's "innovation team" (i-team), a group of specialists hired through the grant, is in the process of developing StartupLB, an online tool to provide entrepreneurs with planning resources and to help them target business development opportunities.
In addition, city staff is ready to assist entrepreneurs with various challenges, including finding a location. With strong ties to the Long Beach Commercial Real Estate Council, city staff works with local real estate professionals to identify available space and appropriate locations.
City staff is available to help businesses and their real estate brokers identify areas and buildings throughout the city that are zoned for certain business uses, such as manufacturing, which is mostly located in industrial-zoned areas.
For instance, Virgin Galactic, a company specializing in commercial space flight, last year was able to move into a new design and manufacturing facility at Douglas Park, an office and industrial business park near the 405 Freeway and Long Beach Airport.
The company worked closely with LBDS Director Amy Bodek as well as Michael Conway, director of economic and property development, to find the right property in Long Beach for manufacturing a satellite launch vehicle.
After being given specifications of a centrally located building more than 100,000 square feet, with access to the airport and that would be zoned for manufacturing, city staff quickly identified a building at Douglas Park to meet the company's needs.
Once a suitable location is found, city staff can help guide business owners through the planning and permitting process, which may take anywhere from two weeks to three months depending on business type, project size and whether construction is involved.
For projects that require approval in a shorter time frame, the city offers expedited permit processing for a fee, which covers overtime costs for city staff or the use of a hired consultant to move the process forward more quickly.
The city also provides online checklists for the most common business uses, including office, retail and restaurant, so business owners know exactly what they need to do to get their businesses up and running from day one. The checklists are available online at www.lbds.info/building or at city hall.
Monday through Friday, planning personnel are available, to work with business owners, with or without an appointment. Counters staffed with planning specialists are open to the public on the fourth floor of city hall, where business and site plans may be brought in for review and where permit applications are submitted. There are designated city staff members, including engineers, fire plan checkers and other specialists, who cover each component of the permitting process.
The city also collaborates with Long Beach City College (LBCC) to provide outreach to small businesses through the Long Beach Small Business Development Center (SBDC).
The Long Beach SBDC, which operates a main office at 4900 E. Conant St. and a downtown office at 309 Pine Ave, offers entrepreneurs free services, such as technical assistance on how to create a business plan or obtain financing.
In addition to providing business related workshops and study sessions throughout the year, the Long Beach SBDC hosts the Goldman Sachs 10,000 Small Business Program, which has helped entrepreneurs create jobs and economic opportunities by providing access to training, financial capital and business support opportunities.
Business Loans, Grants And Incentives
The City of Long Beach also offers financial assistance to businesses through a variety of business loan programs, grant funding and development incentives.
As an incentive to retain and attract large sales tax producers, the city offers a sales tax sharing program in which businesses that generate a minimum of $5 million in taxable sales a year are able to keep 50 percent of sales tax revenue after the first $50,000 in sales tax is paid, for up to a 15-year period.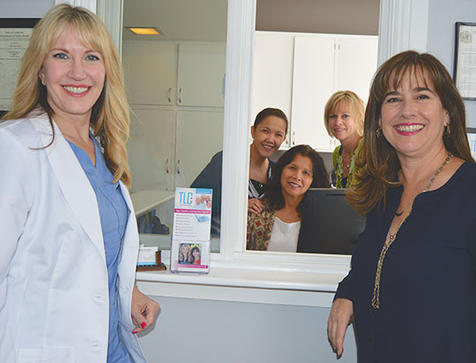 Trusted Life Care, a home health care agency in Long Beach, received a business loan through the City of Long Beach's revolving business loan program in which small to medium-sized businesses are able to obtain loans ranging from $20,000 to several hundred thousand dollars. The loan enabled the company, owned by Leslie Davis, far left, president, and Lisa Hain, far right, vice president, to create more than 16 new jobs. Also pictured are, from left: Lisa Manansala; Joy Williams, care manager; and Debi Dutton, office manager. (Photograph by the Business Journal's Larry Duncan)
The $50,000 base, however, is only the minimum for new businesses, according to Jalali, who adds that existing businesses that generate far more in sales tax have a much higher base, which is calculated at 1 percent of annual sales tax generated.
The sales tax sharing agreement, which was first enacted in 1992, is primarily used to retain and attract auto dealers and large big box retailers. In order for a business to qualify, the sales tax sharing agreement has to be justified and funding can only go toward offsetting construction, tenant improvements or expansion costs that would ultimately increase the amount of sales tax the city receives in the long run.
The city also offers a revolving business loan program in which small and medium-sized businesses are able to obtain loans ranging from $20,000 to several hundred thousand dollars. As the loans are repaid, the city reuses reimbursed dollars to fund more loans.
In order to participate in the program, a business looking to expand in the city or relocate to Long Beach must generate one new full-time job within two years for every $35,000 in city loans. Loans are to be used for equipment, fixtures, working capital and marketing, but not for construction.
Through the city's micro-enterprise loan program, primarily for startup businesses, the city can fund $25,000 in "seed capital." The city works with local banks and Advantage CDC (Certified Development Corporation), a private nonprofit lender in Long Beach, to offer businesses with gap financing.
For larger loans, the city offers the Grow Long Beach Fund, a partnership between the city and the National Development Council's (NDC) Grow America Fund. Loans in this category range from $100,000 to $400,000, according to city staff.
Through the program, Small Business Administration (SBA) loans are made available to small businesses in need of financing to expand. Qualifying businesses must be on financially sound footing, demonstrate the ability to repay the loan and create new jobs.
For example, the city recently provided Trusted Life Care, a home health care agency in Long Beach, with an $85,000 loan that since last December has enabled the company to create more than 16 new jobs, Jalali said.
Businesses located in Community Development Block Grant (CBDG)-eligible areas, mostly located in North Long Beach, the Westside and parts of Central Long Beach, might also qualify for property improvement incentives through LBDS.
With CBDG funds, the city offers grants, including a $2,000 startup grant for retail neighborhood servicing businesses in designated corridors, managed through the city's neighborhood services bureau. The grants can be used for any purpose and are provided through a rebate program.
LBDS also offers façade improvement grants to businesses as well as business property owners. If both a business and property owner apply and receive grants, the total amount offered by the city is $4,000.
Workforce Development
Pacific Gateway (previously known as the Pacific Gateway Workforce Investment Network), administered by the City of Long Beach, offers workforce development services to businesses in Long Beach as well as those located in the nearby cities of Signal Hill and Wilmington, as well as Harbor Gateway and Northern Orange County areas.
Pacific Gateway has a variety of options to help build a business's workforce. The principal tool the organization offers is the Virtual One-Stop online database, available at www.longbeachvos.org, where businesses may post job openings and search through thousands of qualified candidates after creating a free account.
New businesses moving to town may find it beneficial to hold hiring events, particularly if their hiring needs are more expansive than just a few employees. Pacific Gateway offers assistance coordinating, marketing and staffing mass hiring events, as well as pre-screenings, skills assessments, individual interviews and follow-up meetings.
In some instances, Pacific Gateway is able to help cover business costs of customized and on-the-job training for new workers who meet certain qualifications. For customized training – such as training workers to use specialized equipment or to work in specific settings – Pacific Gateway offers assistance in designing a training program and finding a training provider, if necessary.
With a valid business license, workers' compensation insurance, W-9 forms and a customized training agreement, businesses may have as much as 50 percent of training costs covered for qualified employees.
Similarly, Pacific Gateway's On-The-Job Training Program covers wages of new hires while they learn the skills necessary to be effective in their new jobs. This program also covers up to 50 percent of a worker's wages. In addition to its workforce hiring and training resources, Pacific Gateway also offers specialized workshops for businesses on topics such as tax credits and incentives, layoff aversion, site permitting assistance and financing.
Small Business Incentive Program
As a way to retain and attract small businesses, categorized as those with 10 or fewer employees, the city began implementing a new incentive program last year that runs through September 2016 to cover certain business license taxes.
Under the program, any small business that is relocating to or expanding in Long Beach may be eligible for a monetary incentive equal to the amount of the business's first year of business license tax. Incentives for this category range from about $350 to $520.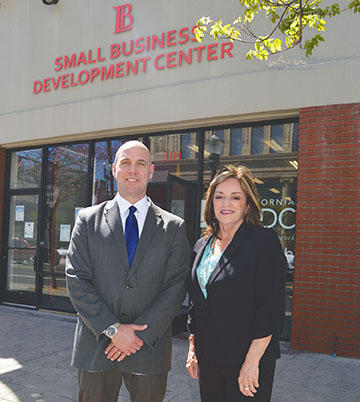 The Small Business Development Center (SBDC) in Long Beach is operated through a partnership between the City of Long Beach and Long Beach City College (LBCC). The downtown office at 309 Pine Ave. offers entrepreneurs free services, such as technical assistance on how to create a business plan or obtain financing. Pictured are Ted Hiatt, director of Long Beach SBDC, and Lou Anne Bynum, executive vice president of college advancement and economic development for LBCC. (Photograph by the Business Journal's Larry Duncan)
Incentives are also available for small businesses paying for construction or renovation not covered by a landlord. The incentive for small businesses spending more than $2,000 on a permit for construction or renovation is equal to the amount of one year's worth of business license tax costs. For small businesses spending $4,000, the incentive is equal to two years of business license tax costs. This incentive ranges from $700 to $1,035.
For currently licensed small businesses looking to add employees, the city offers incentives ranging from $36 to $70 for every new employee added. The incentive is equal to four times the amount of the incremental license tax for each new employee for the current year, based on before and after business license headcount. The incentive is paid as a credit against the current year's business license tax bill.
Manufacturing businesses opening a new location in Long Beach are also eligible to receive an incentive, which is equal to the amount of the first two years of business license tax costs for the new location. The incentive, which ranges from $700 to $860, is paid as a credit against the business license tax bill and applied over two years.