Looff's Lite-A-Line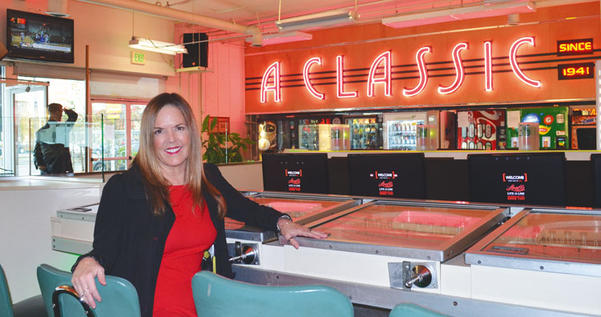 Samantha Spearman is a third-generation operator of Looff's Lite-A-Line, a business her grandfather founded in 1911 that was originally located at the old Pike. Spearman described Lite-A-Line as a "pinball style bingo game," in which players launch a ball into a network of rubber bumpers and wooden holes in an attempt to sink five in a row. All the players in the house are in competition. If one achieves the outcome, the numbered holes light up. Cash prizes can range anywhere from $15 to $500 for a jackpot. "It feels very much like a family here amongst the staff and customers. There's a lot of interaction. You feel the old tradition," Spearman said. The business houses 64 tables, and some players arrive early to secure their favorite spot. Looff's Lite-A-Line also features a museum with artifacts from its early days as a boardwalk attraction at The Pike downtown. These include a roller-coaster car from the Cyclone Racer and hand-carved carousel horses. "It's a comfortable place that's got a lot of memories," Spearman said. "Some of our customers have passed away, but then their kids come." The business offers a special for newcomers: if they play 10 games, they get 10 more for free. "We give them practice games and work with them until they get the hang of it," she said. Looff's Lite-A-Line is located at 2500 Long Beach Blvd. For more information, call 562/436-2978.
Fine Feathers Kombucha Company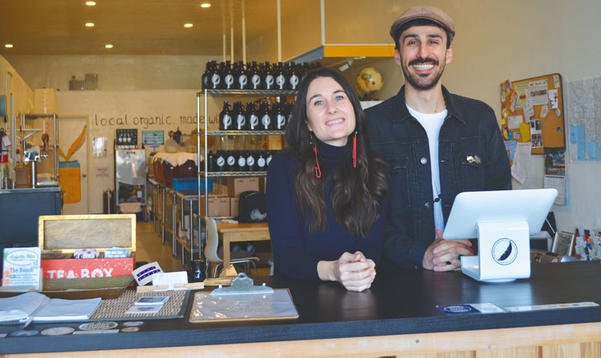 Fine Feathers Kombucha Company Co-Owner Jodine West said she and Jay Penev, her husband and business partner, discovered kombucha while living in Portland, Oregon. Kombucha is a fermented drink made from green or black tea mixed with bacteria, yeast and sugar. The couple started making their own blend in order to save money, but then they started giving it to friends and, based on positive feedback, decided to start selling it. "We're pretty hands-on, DIY people," West said. "We've always really liked tea and fermented things. Once you start making it, it gets your creativity going. We were hooked!" The duo moved to West's hometown of Long Beach in 2011, and opened their doors in 2012. "We had joked about starting a company, but never thought it could be a real thing," West said. Their bestselling flavors are jasmine peony, which is a green tea infused with jasmine flowers, and silver needle, a tea laced with notes of honeydew. "Our favorite part is making the tea and coming up with new flavors," West said. The couple is aiming to open a taproom this year that focuses on retail. Currently, their shop is used for both retail and production and includes a workshop space for home-brewing lessons.  Fine Feathers Kombucha Company is located at 2296 Long Beach Blvd. For more information, call 562/552-6692 or visit www. http://finefeatherskombucha.com/
Elephant Thai Kitchen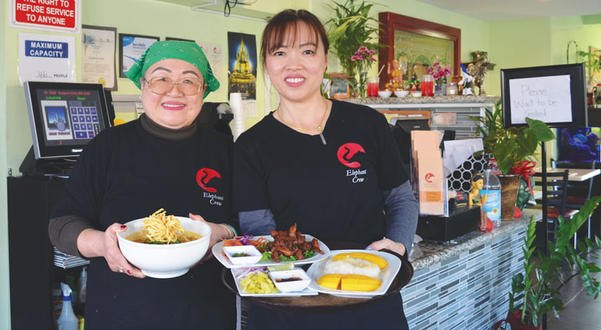 In 1996, Elephant Thai Kitchen Partner Tippawan Khow moved to the United States from Chiang Mai, a city in Northern Thailand, to pursue an education and, at age 23, enrolled at National University in San Diego. She and her mother, who had followed her from Thailand, started in the restaurant business at Renu Nakorn, a Thai restaurant in Norwalk owned by Khow's aunt. Then, three years ago, she and her mother, along with business partner Sornnarong Phereewong, founded Elephant Thai Kitchen in Long Beach. Khow said she had become curious about Long Beach and had moved to the city after hearing about it during her time in San Diego. "I heard it was a good place to open a business and that a lot of tourists end up here," she said. "Normally in Thai families, grandmothers teach mothers to cook, and then mothers teach their daughters," Khow said.  The restaurant's menu features recipes from Khow's grandmother, including bestseller Khao Soi, a dish with egg noodles in Thai curry sauce and coconut cream. This is a delicacy that not many other Thai restaurants carry, according to Khow. The Thai Boat Noodles are another specialty. The restaurant features a special lunch menu with $8 plates. Elephant Thai Kitchen is located at 2087 Long Beach Blvd. For more information, call 562/513-3015.
* All photographs by the Business Journal's Pat Flynn