Big E Pizza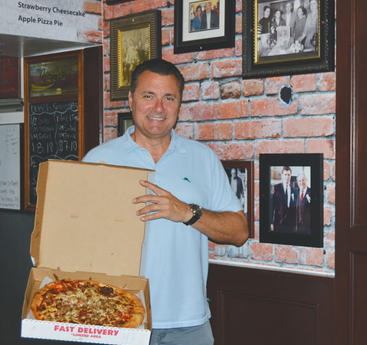 Big E Pizza owner James Eleopoulos built and started running his own business when he was 19 years old, in 1986. Eleopoulos's parents immigrated from Tripoli, Greece, and opened a few American restaurants and coffee shops in the area. "My family had been in the restaurant business since the 1950s. I had worked for another pizza store in Long Beach, and I decided it was a good time," Eleopoulos said. "I built it myself with my own hands." In the mid-1980s, Eleopoulos saw the popularity of pizza deliveries start to rise, so he decided to capitalize on the opportunity. Big E also delivers wine and beer, a rare service, according to Eleopoulos. In addition to pizza, menu options include calzones, salads, sandwiches and barbeque. Big E is open until 3 a.m., and Eleopoulos said the meat lovers' pizza is the most popular late-night choice. "All of our recipes are from my mom and dad," he said. "Our crust is my mom's bread recipe." Eleopoulos described his business as a "very family-run restaurant," with employees who have been with him for 30 years. "Some of my employees now have grandkids who are working here," he said. "I love coming to work every day." Eleopoulos recently purchased the property of the former Delius Restaurant on Cherry Avenue, which he plans to turn into a sports lounge called Jimmy E's. Big E Pizza is located at 3225 E. Pacific Coast Hwy. #C. For more information, call 562/498-8788 or visit bigepizza.com.
CrossFit Signal Hill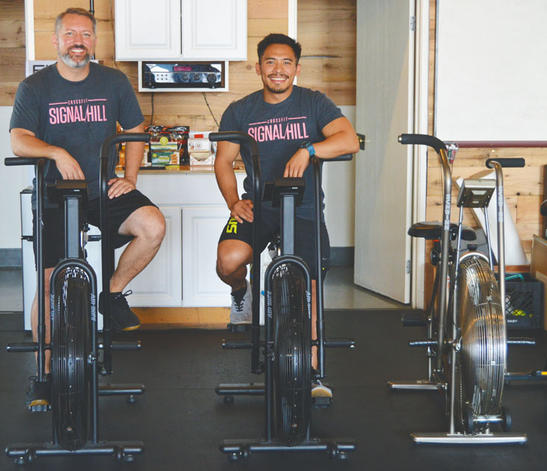 CrossFit Signal Hill co-owners Chad Curtis and Jaime Bigornia took over the business from founder Phil Sarris, who had started it in 2011. Sarris introduced Bigornia to the practice through the workouts he was leading as the strength and conditioning coach for the California State University, Long Beach rugby team. Curtis, who described himself as the gym's "average client," discovered CrossFit when he was trying to get in shape. "I worked really hard during the week and partied like a rock star on the weekends," Curtis said. "That lifestyle just caught up with me. I found myself at 38 years old diagnosed with high blood pressure, high cholesterol and 60 pounds overweight. I was looking for a way to turn things around. I tried a bunch of different stuff and it couldn't keep my interest." Curtis found his way to CrossFit on the recommendation of a neighbor, who he described as "one of the most in-shape people I knew." CrossFit incorporates elements of gymnastics, aerobic exercise and weightlifting to mimic functional movements, Bigornia explained. "Everything you do here translates into real life," he said. "We can help you play with your kids longer, make fewer trips to the car to bring in grocery bags, or run a marathon." Each workout is different for every class. Bigornia's favorite part of the business is "being able to change someone's life for the better." CrossFit Signal Hill is located at 3262 E. Willow St. For more information, call 562/621-9148 or visit cfsignalhill.com.
Greenly Art Space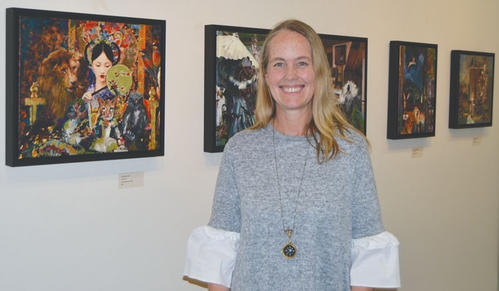 The guiding principles of nonprofit Greenly Art Space are "creativity, contemplation and community," according to Director and Curator Kimberly Hocking. The nonprofit partners with both international and local organizations to produce art shows. For one exhibition, entitled "Home," artists imagined their own conception of what that word means to them. The show raised funds for Rebuilding Together Long Beach, a nonprofit that provides free home repairs to those who cannot afford them. Hocking also featured the work of orphans from India in a show called "Everyday Joy," for which they took photographs of the things that bring them pleasure. "I like to get people to look at life in a deeper way," Hocking said. "So much of our daily lives is busy: always go, go, go. My goal is to provide a space of peace and beauty." The nonprofit also employs two art therapists who encourage patients to work through their issues by creating art. Hocking, whose background is in nursing, used to work at The Village in Long Beach, an organization that serves adults with a mental disorder diagnosis who are struggling to afford treatments. "I wanted to further my learning on how art can help people transform and find their way," she said. An artist herself, Hocking applies her organization's mission to her own life. "I take trips up to a local monastery. I take time to read, write and create work." Greenly Art Space is located at 2698 Junipero Ave., Suite 113. For more information, call 562/533-4020 or visit greenlyartspace.com.
Pete's Plumbing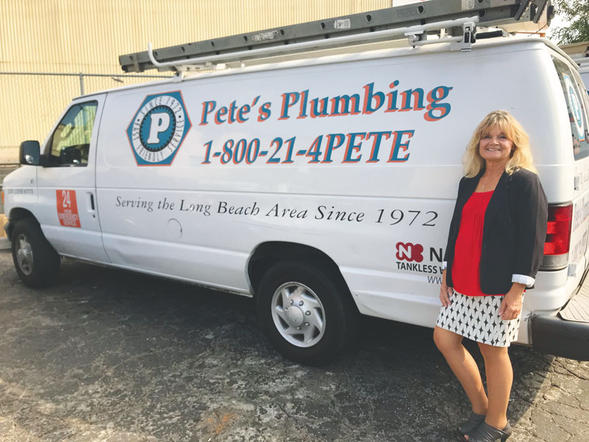 Pete's Plumbing owners Patty and Tony Hillis are continuing the legacy of the late Pete Hillis, Patty's husband and Tony's father. Pete Hillis started the business out of his Lakewood home in 1972 and ran the business until he passed away in 2014. A plumber by trade, Pete branched out on his own because he didn't like the fact that most plumbers were paid by commission, Patty Hillis said. "He didn't like that there's a tendency to oversell a job, or just find more [to be repaired] than what the need is at that time," Hillis said. "Pete wanted to establish a relationship so, if you needed a big job done, he would be the first person you would call because you have history with him. You would know that he wasn't just trying to do one big job and move on." Pete's Plumbing specializes in both plumbing and heating. Hillis said she receives the most requests for gas, drain or water repiping and water heater installation. "We're not into air conditioning or forced air," Hillis explained. "In Long Beach, there are lots of older homes with wall and floor heaters, so we work on those." Hillis said her favorite part is helping her customers maintain a safe home environment. "I don't think a lot of people get what a plumbing contractor is all about," she said. "It's really about safety for our customers. That gives me satisfaction." Pete's Plumbing is located at 3099 E. Pacific Coast Hwy. For more information, call 562/599-0106 or visit petes-plumbing.com.
The Wine Country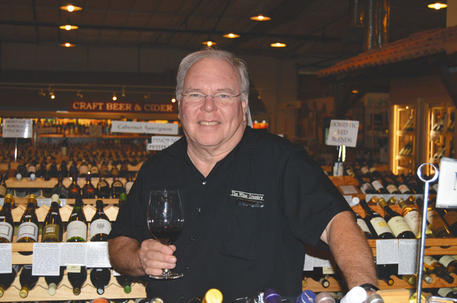 The Wine Country owner Randy Kemner started out as a professional piano player in a variety of different bands. He became interested in wine when he saw it served in a lounge where he was performing in 1970. "To me, it was very sophisticated looking," he said. "I wasn't yet 21 [years old] and, as soon as I turned 21, I couldn't wait to find out what that was all about." Learning about wine became a hobby for Kemner, which he turned into a job when he was 34 years old. "I went to a wine store in Long Beach and told them I wanted to learn about the wine business, and they could pay me anything they wanted," he recounted. "It was right before Christmas, and they guaranteed me two weeks of work." Kemner stayed for almost a year before he received an offer to manage another wine store. He then went on to start a wholesale business with a partner in which they represented small wineries in California. At his partner's suggestion, Kemner opened The Wine Country in 1995. In addition to both domestic and imported wines, the shop also offers a selection of beer and cider, as well as cheese, chocolate and gift baskets. "I love showing people how wine transforms with certain foods," Kemner said. "It isn't just flavored booze, it's an agricultural product that's alive." The Wine Country is located at 2301 Redondo Ave. For more information, call 562/597-8303 or visit thewinecountry.com.
The Wood'N Carr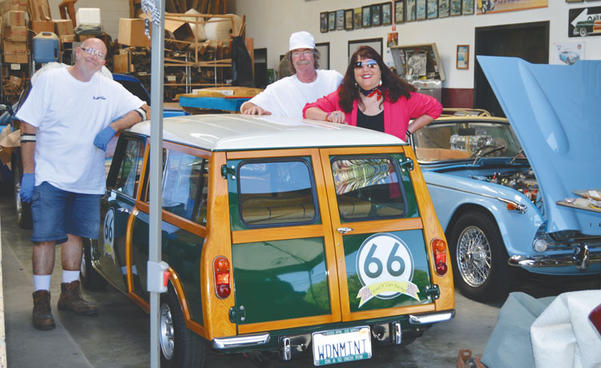 Husband and wife team Doug and Suzy Carr, co-owners of The Wood'N Carr, met in an art class during their senior year of high school. They started their business, which specializes in wooden auto parts, when they were 21 years old. "I originally worked for a man who owned a shop in Paramount called The Wood Guy," Doug Carr explained. "He did woodwork on antique cars. He was in business for three years, and then he closed up shop. He put some of his equipment and patterns in a storage facility, and we ended up purchasing them. There was a need for this type of work, and we were trained." Repairing or building new wood parts for cars of every make and model, the Carrs have customers from as far away as Sweden, Australia, New Zealand and London. "We might find customers who had a grandfather who owned the car, so there's a sentimental attachment," Suzy Carr said. The couple also runs a side business renting out their own wood-bodied station wagons for TV and movie appearances. Their cars have appeared in commercials for Coca-Cola, McDonald's, Burger King and Cool Whip. One of them was also featured in the music video for The Beach Boys' song, "Rock 'n' Roll to the Rescue," released in 1986. They are pictured with finish foreman Brett Asolas, on the left side of the car. The Wood'N Carr is located at 2345 Walnut Ave. For more information, call 562/498-8730 or visit woodncarr.net.