In order to meet the state's new mandate for diverting waste from landfills, the City of Long Beach and other local jurisdictions in California are now tasked with making sure businesses and public entities recycle organic waste, such as compostable food items and tree trimmings.
Under Assembly Bill (AB) 1826, California businesses, educational institutions and multi-family residential complexes with five or more units that generate at least eight cubic yards of organic waste per week are required, as of April 1, to have such materials picked up and recycled separately from regular trash and recyclables.
Organic waste includes compostable food waste (not including meat or dairy products), green waste, such as landscaping and pruning waste, and non-hazardous wood waste.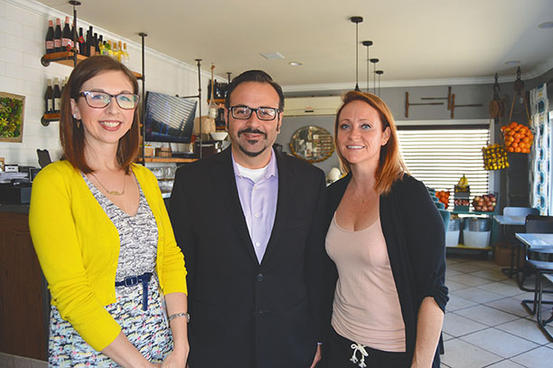 Leigh Behrens, left, recycling specialist for the Long Beach Environmental Services Bureau (ESB), and Diko Melkonian, general superintendent for ESB, visit with Dana Robertson, owner of Restauration, a restaurant on 4th Street's Retro Row that has been partnering with the city to recycle organic waste into compost for local urban farms. (Photograph by the Business Journal's Larry Duncan)
The first phase mostly applies to large restaurants, major grocery stores, food packing warehouses and large-scale food manufacturers, most of which already have organics recycling programs in place, according to city and state officials. Other large producers of organic waste include hotels, hospitals, school districts, colleges and universities.
The big shift comes next year on January 1, when the requirement will widen to include businesses and public entities generating a smaller amount of organic waste – four or more cubic yards per week.
By January 1, 2019, the threshold for compliance drops even further, when the four-or-more-cubic-yards requirement encompasses not just organic waste but all solid waste for businesses and public entities.
The mandate, signed into law two years ago by Gov. Jerry Brown, is part of the state's goal for California to divert 75 percent of its waste from landfills by 2020.
The law goes along with the state's pioneering environmental efforts to address climate change, Mark Oldfield, spokesperson for the California Department of Resources Recycling and Recovery (CalRecycle), told the Business Journal in a phone interview.
"Here in California, generally speaking, we're not in denial about climate change," he said. "In the state, we're taking steps to mitigate and adapt."
Organic materials are still the largest portion of California's waste stream, Oldfield said, noting that organic waste piles up in landfills emitting greenhouse gases when it could be recycled into useful products, such as compost for soil or biofuels for energy through anaerobic digestion. Recycling organic waste can also help with water conservation since healthy soils demand less water, he said.
Under the mandate, local jurisdictions are required to identify public and private commercial customers that meet the state's thresholds, conduct annual education and outreach efforts about the law, and monitor operators participating in organics recycling in annual reports to the state.
To comply, businesses and public entities may hire private companies for organic waste collection and recycling services, or they may sell or donate organic waste on their own.
Instead of taking a "one-size-fits-all" approach, the law provides "flexibility" for local jurisdictions to develop their own methods of enforcement to create programs that work best for their specific communities, Oldfield said.
So far, in Long Beach, businesses and public entities won't be given fines for noncompliance, according to Leigh Behrens, recycling specialist for the Long Beach Environmental Services Bureau (ESB), which is overseeing the city's organics recycling efforts. Violators, however, will be monitored in annual reports to the state, she said.
The 15 private companies licensed to haul waste and recyclables in Long Beach will work with the city to assist in meeting the state's monitoring requirement to identify commercial customers that meet thresholds, Leigh said.
As part of the new requirements, Long Beach will report to the state the total tonnage of materials composted during the reporting period, how much organic waste is anaerobically digested, and which commercial customers are in compliance and noncompliance.
She said the city is essentially following the same framework for monitoring required under the state's mandatory commercial recycling law, known as AB 341, which went into effect in 2012.
Growing Urban Farms
While private waste haulers will help commercial consumers comply with the new law on a large scale, some restaurants in Long Beach have already taken steps to become more sustainable by providing local urban farms with leftover food waste for composting.
Over the past four years, the city's office of sustainability has implemented a small-scale organics recycling pilot program in which pulp from juice bars and various food scraps from restaurants are picked up and recycled into compost or mulch. Today, six local businesses are participating in the program, Leigh said.
"We're trying to really push the idea of restaurants composting right now," she said. "Really, it's a situation of low-hanging fruit. There's a lot of opportunity to divert waste in the commercial sector because there is so much waste."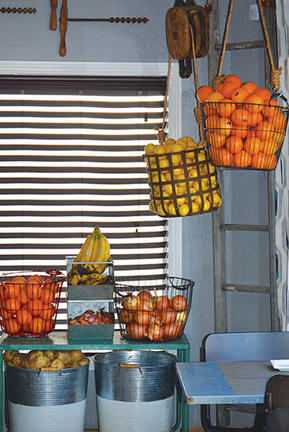 One business participating in the program is Restauration, a restaurant on 4th Street near Long Beach's Retro Row that serves seasonal American dishes and that has been composting organic waste since opening nearly two years ago.
Dana Robertson, the restaurant's owner, said she fills up two 35-gallon bins of compostable food scraps, including juice pulp, orange peels, egg shells, used coffee grounds and food-soiled paper towels, every week.
The restaurant partners with private waste hauler Signal Hill-based EDCO Disposal, which picks up the food waste and transfers it to The Growing Experience, a seven-acre urban farm in North Long Beach's Carmelitos housing tract, to be used as compost, she said.
Produce is the main source for food waste at Restaurtion, which fills two 35-gallon bins of compostable organic waste a week that is donated to a local urban farm in North Long Beach. (Photograph by the Business Journal's Larry Duncan)
"Produce is our number one purchasing category at the restaurant," said Robertson, who composts at home and makes most sauces at her restaurant from scratch. "We go through a ton of vegetables . . . Basically, when I opened, I knew I wanted to be as sustainable as possible."
At first, separating organic waste from recyclables and trash during food preparation was a struggle, she said, however, over time as employees became trained, the process became second nature.
Holly Carpenter, program specialist for The Growing Experience, said the urban farm has been receiving organic waste from restaurants within a six-mile radius for nearly a year and has diverted approximately 34 tons of garbage from landfills.
The farm, established in 2008 as a way to provide low-income residents with access to fresh produce, receives about 20 trash bins of free organic waste from restaurants per week, creating nearly 12 cubic yards of nutrient rich soil that would normally cost about $1,600, she said.
"Instead of the waste having to be hauled to a landfill or somewhere to be incinerated, we're helping reduce fossil fuel usage that's used for transporting," Carpenter said, adding that the urban farm hopes to eventually expand its staff and is researching the possibility of developing a local "food hub."
"This has really been a good pilot program to understand the work that has gone into providing compost," she said. "Now that this new law is coming into effect we'll continue to explore what our options might be and see if we can expand the program."
Generating Biofuel
Many of the largest organic waste producers, such as grocery stores, already have programs in place either internally or through partnerships with private waste haulers to backhaul food waste to other facilities for composting or generating energy.
For instance, Texas-based Waste Management, Inc., which provides waste hauling in Long Beach and throughout the South Bay area, already has contracts with major grocery stores, including The Kroger Co. (owner of Ralphs and Food 4 Less stores), Vons, Gelson's, Whole Foods, Trader Joe's and Bristol Farms to provide organic waste recycling services.
Janine Hamner, manager of community and municipal affairs for Waste Management, said the company has utilized its patented Centralized Organic Recycling (CORe) equipment since 2010 to convert food waste into a "slurry" that is then hauled to a wastewater treatment facility in Carson, where it is added to the plant's anaerobic digestion system to increase the production of biogas or methane.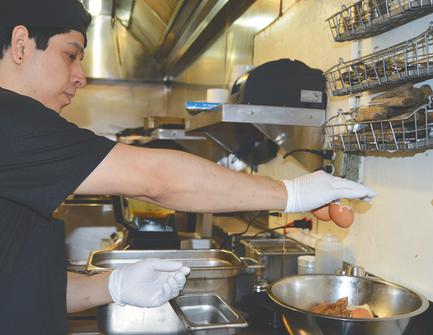 Chef Edgar of Restauration restaurant is seen peeling eggshells that will be one of many organic materials recycled into compost for a local urban farm. (Photograph by the Business Journal's Larry Duncan)
The wastewater treatment plant operated by the Sanitation Districts of L.A. County is already entirely off the electrical grid thanks to the additional organic waste resource, she said, adding that the plan is for the facility to eventually generate enough electricity to be able to send some back to the grid.
Hamner said generating biofuel through such proven technology is the best solution for recycling organic waste in an urban environment since composting requires land resources that can be hard to come by in Southern California.
"It's a great urban solution that is proven and one that we're excited about," she said. "We have been implementing it in a number of our cities and are continuing to roll it out with all of our commercial customers to ensure that they stay in compliance with all of the state mandates and laws."
Hamner pointed out that recycling organic waste currently comes with an extra cost for commercial customers since landfilling is still the least expensive route. However, prices for such services will eventually come down as the state law is likely to increase demand over time, she said.
Feeding The Needy
Another way to divert organic waste from landfills is to donate leftover food to charitable organizations, such as food banks and homeless shelters.
For instance, Food Finders, which for more than two decades has operated as a community-based food rescue organization, is planning to launch a webinar series to train people on what resources are available for complying with AB 1826, according to Patti Larson, the organization's executive director.
The nonprofit, which moved its operation to a new facility in Lakewood last year, said the organization receives client referrals from some waste hauling companies as an alternative to the other organics recycling methods so that leftover, perishable food can be immediately brought to people in need.
She said the operation, which provides services throughout Southern California, rescued 8 million pounds of food last year and expects to continue to grow as awareness of the state mandate spreads. In many cases, businesses don't have the time or are unaware that the health code allows for donating food, Larson said. Now that the state mandate is in place, however, many businesses will likely pay more attention to inventory in order to prevent food overages, she said.
"The overarching issue is to repurpose, divert and recycle any organic waste, and food is such a huge component of that," Larson said. "People are throwing away stuff that still could be fed to people . . . With this kind of mandate in place, it's going to incrementally increase and hopefully we can really change the amount of food that we're recovering."