One of the core components of California State University, Dominguez Hills' (CSUDH) mission is to serve the local community, not just as a resource for higher education but also as a driver of economic growth and community well-being.
With 1,500 employees – many of whom live and spend money in the surrounding area – a large base of graduates contributing to the community, and national recognition for its student and staff volunteerism, the university's president, Willie Hagan, is confident that the university is meeting that mission.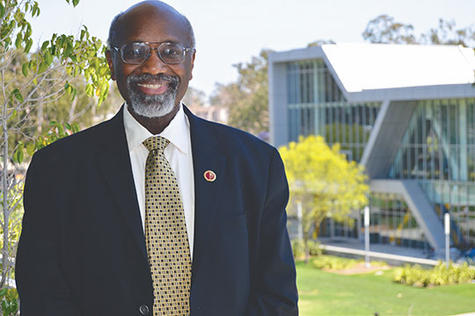 Willie Hagan, president of California State University, Dominguez Hills, said the university is looking into ways to build housing for students and faculty while at the same time generating income for campus improvements and academic programs. One possibility is partnering with a real estate developer, which would lease land from the university, build the facilities and collect rent. In this model, both the developer and the school could generate revenue, Hagan explained. About 14,000 students attend the university. (Photographs by the Business Journal's Larry Duncan)
"In terms of buying and living in the community, 65 percent of graduates live within 25 miles of the campus," Hagan told the Business Journal. "So these folks get their degrees and work in the community, and help benefit the community in that way."
CSUDH partners with community groups and local schools on a variety of efforts. Recently, college officials met with the Watts Labor Community Action Committee to discuss partnering on a program called A Better Watts Initiative. "We're looking to partner on some studies that are going to look at if there are various health issues in the community that might be environmentally derived, and if there is an impact from that," Hagan said. The concept was sparked by the recent water crisis in Flint, Michigan, he noted.
"We do a tremendous amount of work in the K-12 school districts, working not only with students but also working with teachers and administrators on training programs," Hagan pointed out. With a large education program, the university graduates many teachers who end up employed in local school districts, particularly the Los Angeles Unified School District, he added.
Last year, CSUDH was recognized by the White House for its efforts in the local community, winning President Obama's Community Engagement Award. "That award is given to four colleges nationally," Hagan noted. "The award is given for campuses that make engaging in the community a significant part of their curriculum as part of their educational goals," he explained.
The university is also proactive in supporting and partnering with entrepreneurs and local businesses. CSUDH is home to the Entrepreneurial Institute, a business incubator providing free resources to small businesses and start-ups.
"We feel pretty proud of the fact that we continue that mission of engaging the community, to transform the community," Hagan reflected. "That also in turn helps transform our students, because you have these learning experiences that are out in the community."
There are currently about 14,600 students enrolled at CSUDH. With applications continuing to increase – the university now receives about 30,000 a year – Hagan wants to accept more students to meet growing demand. "There is tremendous demand, and we can't meet that demand," he said. The university can only accommodate as many students as it receives funding for, he noted, explaining that the entire CSU system is experiencing the same issue due to budget constraints.
While the current six-year graduate rate at CSUDH is 41 percent, Hagan pointed out that this metric accounts only for students who entered the school as freshmen and attended full time. About 30 percent of CSUDH's students attend part time and are transfers from community college or universities, so this figure isn't reflective of the entire student body's graduation rate, he explained.
The university is taking part in a study by Stanford University to identify a better graduate rate metric that is more reflective of the student body, Hagan said. Early findings show CSUDH's overall graduation rate may be twice what has been reported previously.
A high percentage of students at CSUDH are the first in their family to attend school, and many purposefully attend part time and expect to graduate in six to eight years so they can work while they earn their degrees. "What we're really proud of is that our students do succeed and get the degree. They don't get them on the traditional time frames," Hagan said.
The most popular programs at CSUDH are business administration, psychology, criminal justice administration, sociology, health science and biology, according to a university spokesperson. Hagan said the school is considering adding more programs to accommodate student interest.
"There have been discussions about a new bachelors degree in media studies. We're looking at a masters degree in cybersecurity. We have had discussions in the chancellor's office about establishing a masters degree in systems engineering," he said. "I'm sure there are other ones being considered by the colleges and departments that I'm not even aware of at this point in time."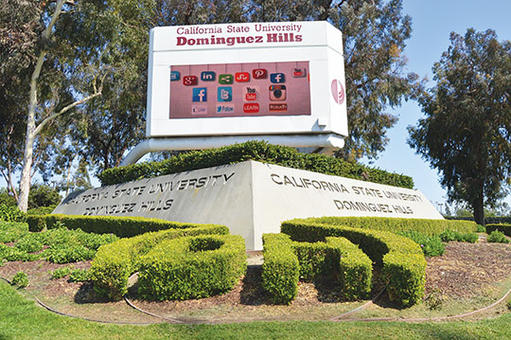 In order to meet demand and grow the university, as well as to meet existing facility needs, Hagan is looking into ways to generate additional revenue by leveraging CSUDH's land. "We need dormitories for our students. We need some new academic buildings. . . . We still need additional classroom buildings so we can get rid of some of the older temporary buildings," Hagan said. Some buildings on campus also need to be renovated.
Hagan is hoping to partner with a real estate developer to meet some of these needs. The university would lease some of its undeveloped land to a developer who would build facilities the school needs – most likely student and faculty housing – and collect rent to get a return on investment.
The university would make money from leasing the land, and would also be able to meet its needs, Hagan explained. "It's that revenue that comes back to the university that we would use to strengthen our academic programs or to pay to have another building built, or buildings renovated," he said.
In order to generate more revenue as state funding wanes, the university is also strengthening its grant writing program and its fundraising efforts, Hagan noted.
According to Hagan, the current state of the university is "good." He added, "I won't say 'excellent' because I want more money before I say things are excellent."
Overall, he sees the future for the campus as bright. "When you have the kind of demand on behalf of the students and community to attend the university, that always bodes well for the future."