With the exception of the first race, Judge Joseph DiLoreto has never missed the Toyota Grand Prix of Long Beach. Now, the 67-year-old former Los Angeles County Superior Court judge and longtime racecar driver/collector is participating in a new event on race weekend – the Can-Am Challenge.
"We have been sitting in the same seats – grandstand five, row one – for 25 years," he said.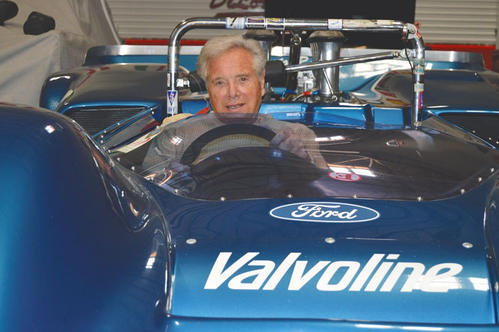 Former Judge Joseph DiLoreto is pictured in the driver's seat of his 1968 McLaren M6B, which he is racing in the Can-Am Challenge on April 8 during the Toyota Grand Prix of Long Beach. (Photograph by the Business Journal's Larry Duncan)
Although DiLoreto's name had been thrown in the mix for the Toyota Pro/Celebrity Race – a now retired event in which professional drivers would compete against celebrities – he never quite made the cut. "When I was a judge, a couple of the other judges tried to submit my name into the celebrity race, but they wanted a real celebrity, not a judge," he said. "So I never got in. Now, I get in. I've got the car."
DiLoreto owns a 1968 McLaren M6B, a classic racecar that participated in the first three years of the Canadian-American (Can-Am) series from 1968 to 1970. He purchased the car in 2000 and has since raced it in other events.
"The car was in a real bad fire in 1972, and it virtually burned to the ground," DiLoreto said. "And a famous race car builder who actually worked on the car when it was racing, a guy by the name of John Collins, he put it [back] together." The original car had a Ford engine in it, but after the Can-Am series ended, Ford took the engines back, DiLoreto noted.
When DiLoreto bought the car, it was in pieces. Thanks to his friendship with Carroll Shelby, the famous automotive designer and racecar driver, DiLoreto was able to acquire Ford engine parts for the McLaren. "Got it back together, and now it's a real famous car – the only M6B McLaren with a Ford engine that's left in the world," he said. "And it's a Carroll Shelby car, so it's famous in its own right."
Bob Habermehl, who has been DiLoreto's mechanic for 32 years – "longer than most marriages last," DiLoreto joked – put the car together. Much of the motor was in pieces. "We just had pictures of what the motor looked like. And so from the pictures, we spent two years working on the car, putting it back together, putting the suspension and everything in it," DiLoreto said. "Everything had to be rewired and all that. And special parts had to be made to fit the engine."
The car puts out about 725 horsepower, has mechanical fuel injection and weighs 2,200 pounds, according to DiLoreto.
A native of Downey, DiLoreto grew up with an affinity for racing. "I did a little drag racing when I was in high school," he recalled. "And then when I went to college, I had no money so I didn't really have any trick cars. Then after I became a lawyer and started making some more money, I started buying cars."
After law school, DiLoreto started out as a prosecutor in the Orange County District Attorney's Office and then became a trial lawyer in Downey for 25 years. Former Gov. Pete Wilson then appointed him as a judge, and he oversaw civil cases at the Superior Courthouse of Los Angeles in Downtown Long Beach for 19 years. "And here I am now at my age, retired, and I get to drive in the Long Beach Grand Prix," he said.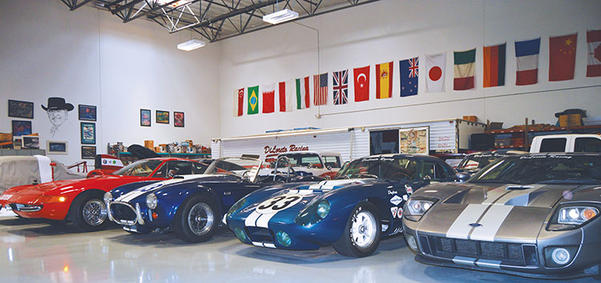 DiLoreto's garage is full of classic race cars and racing memorabilia. He has participated in many vintage car races over the years, including while he was serving as a Los Angeles Superior Court judge in Long Beach. (Photographs by the Business Journal's Larry Duncan)
DiLoreto estimates he has owned 40 cars over his lifetime. He currently owns 20. "Most of them are race cars or performance cars," including five original Carroll Shelby cars – two of them Cobras, he said.
The first car DiLoreto ever bought was a "little, tiny car that weighed 800 pounds" and had a 50-horsepower motor. "I started out meager because I wanted to make sure that I didn't do anything stupid," he said. "And then gradually I started buying bigger and bigger cars until finally I end up with these really powerful race cars."
Over the years – including when he was a judge – DiLoreto has driven in vintage car races and also participated professionally in the International Motor Sports Association (IMSA) series. "We had a GTO Corvette, and the last race we ran was 1988 – the L.A. Times Grand Prix six-hour race," he said. "We were the highest-finishing non-sponsor team. I think we finished seventh out of 25 cars, which was an accomplishment."
With a chuckle, DiLoreto said it was a miracle that IMSA granted him a professional license. "We practiced pit stops in front of my house when I lived in Downey," he recalled. "We had an all-volunteer team, and we did better than most people thought we would do."
Vintage cars DiLoreto has raced over the years include a Cobra, Lola, Ferrari, Mustang and Corvette, among others. In that time, he has met racing greats like Bobby, Al and Louis Unser; Bobby Rahal; Mario Andretti; and actor Paul Newman. "I was the only racing judge in the United States," he noted.
"I think they are going to love the Can-Am race," DiLoreto said of Grand Prix attendees. "Most people have never seen them before because, remember, they raced in the late '60s, early '70s. . . . But when they see the cars and they hear them, they are going to be impressed because they make twice as much noise as an IndyCar. When they go by, the whole grandstand is going to shake."
DiLoreto said he is going to keep racing until he physically is no longer able to do so. "That day is coming. Let's not kid each other," he said. "This may be close to my last year, but in any event, we're still doing it."
"Bob and I have been to hundreds of races, and we're still doing it, even at our advanced age," DiLoreto reflected. "You know, let's hear it for the old timers."
The Can-Am Challenge takes place Saturday, April 8, at noon. Visit gplb.com for tickets and more information.