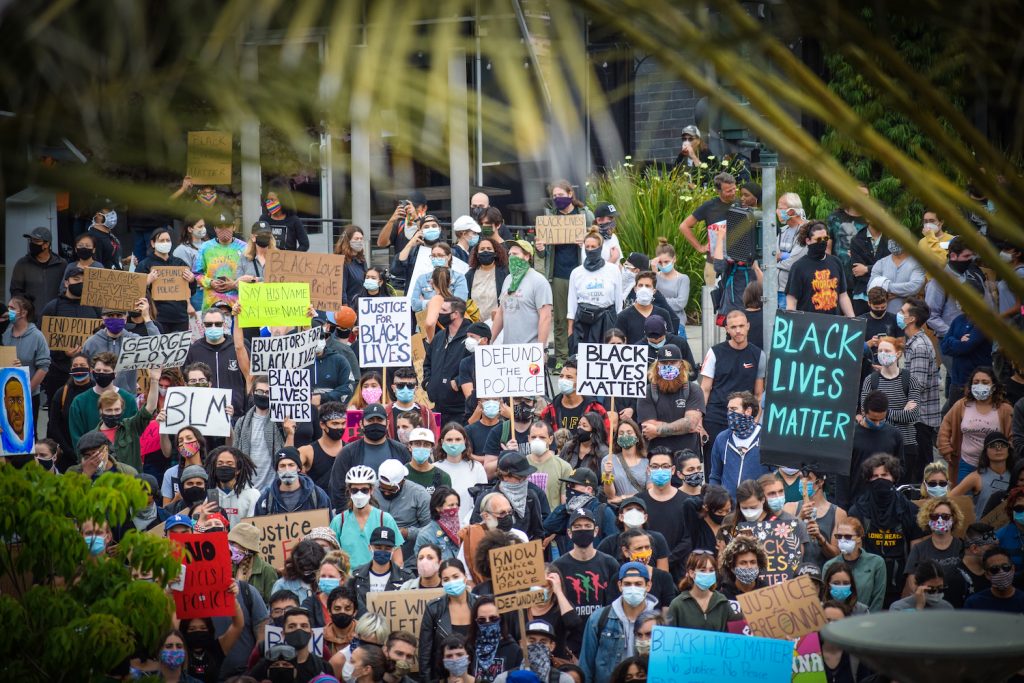 The protests over the death of George Floyd at the hands of Minneapolis police and the broader issue of racial injustice have sparked pledges to address racial inequity from a broad swath of businesses across various sectors of the U.S. economy. Banking has been no exception.
In a statement issued at the end of July, American Banking Association President and CEO Rob Nichols said his organization, the largest trade association in the banking sector, was committed to addressing racial inequity.
"ABA is engaging in an open discussion of how the banking industry can advance two key principles that everyone should agree on: that all Americans should have a truly equal opportunity to prosper [and] that economic inclusion is essential to creating these opportunities," Nichols said.
But some experts on the issue have questioned how much of a difference even the most committed banking institutions can make in a country where, according to the Brookings Institute, the typical White family holds 10 times the wealth of the typical Black family. 
The economic effects of the coronavirus pandemic are likely to exasperate the racial wealth gap, preliminary research suggests. 
According to data collected and analyzed by the consulting firm McKinsey, 31% of Black respondents said their income had been negatively impacted by the pandemic, compared to 24% of their White counterparts. 
In a different survey, the consulting company found that Black- and minority-owned businesses were also more likely to be hurt by the economic impact of the pandemic. Many were already in a precarious financial situation before lockdown orders slowed down the economy and they tend to be concentrated in the most affected industries, like personal care and grooming.
"It would require a very dramatic step for banks to actually close the racial wealth gap," said economist William Darity Jr., who has spent decades researching the economics of racial inequity. 
Darity, who also serves as director of the Samuel DuBois Cook Center on Social Equity at Duke University, has come to the conclusion that nothing short of reparations will be sufficient to fix the disparity in resources that slavery and discriminatory practices have created over centuries.
"I think people underestimate the magnitude of the task," Darity said. Overall, he estimates that it would take an investment of $10-12 trillion to eliminate the racial wealth gap, a figure that far surpasses the reserves of any bank in the nation.
Black capitalism, a concept that relies on Black-owned businesses and banks to bring prosperity and wealth to their communities, has been heralded as a solution to economic racial inequity by thought leaders across the political spectrum. 
The issue Darity and other prominent researchers have raised with this solution is the underlying lack of resources that has continuously plagued Black communities, and by extension, the businesses and banks that serve them.
"You would have to build Black wealth independently by something like a reparations program, to build Black businesses," Darity explained. "You have to address the wealth disparity first."
Others have retained hope that banks can play a major role in resolving racial inequity early in the process, before the contentious issue of reparations has been debated and decided on.
Kenneth Kelly, chairman of the National Bankers Association, said he is hopeful and optimistic that the current momentum can translate into real change for Black communities. 
In its letter, the American Bankers Association cited a partnership with the National Bankers Association, which was created to advocate for the nation's minority and women-owned banks, as one pillar of its commitment to resolving racial injustice.
Many of the national association's member banks were founded in response to previous uprisings focused on racial inequity. First Independence Bank of Detroit, of which Kelly is the current chairman and CEO, emerged shortly after the city's riots in 1967.
Kelly said that mentorship and training resources provided by the American Bankers Association could make a significant difference for Black-owned banks and their customers, using education on new technologies as an example.
"Many of our banks don't have the wherewithal and staff to really spend a tremendous amount of time to understand the different technologies that are out there," Kelly said. "Something as simple as that is a big deal to a small institution like ours."
Kelly acknowledged that Black banks have been stifled by the lack of economic power their client base holds. "If you don't have the underlying economics to support it, it's very difficult to have the basis to grow," he said.
Still, Kelly warned that talk of reparations may risk slowing down the momentum for more incremental process that was kicked off by the recent wave of protests. Reparations are a politically contentious issue and as such, he argued, they could distract from more tangible and achievable solutions.
"Let's focus on what we can do today that will have an outcome that will be positive for tomorrow," Kelly described his credo.
The current momentum, he noted, can create awareness and engagement on the issue of economic inequality between Black Americans and their white neighbors. But Kelly said it will be everyone's task, from the banking industry to the news media, to hold mainstream institutions to their promises. 
"The reality is, this is not history we're not familiar with. We have seen this movie before," he said. The important question, Kelly argued, was what the outcomes of these efforts are a year, two years or five years down the line, and whether they represent real systemic change.
"I think it is incumbent on all of us, to continue to ask these questions along the way," Kelly said.