There's lots of movement when it comes to transportation and infrastructure in Downtown Long Beach, including the renovation of the newly minted Metro A Line, a growing e-scooter program and the planned addition of 17 new battery-electric buses to the Long Beach Transit (LBT) fleet. As a result, the area's transit options continue to grow and improve, according to Kraig Kojian, president and CEO of the Downtown Long Beach Alliance.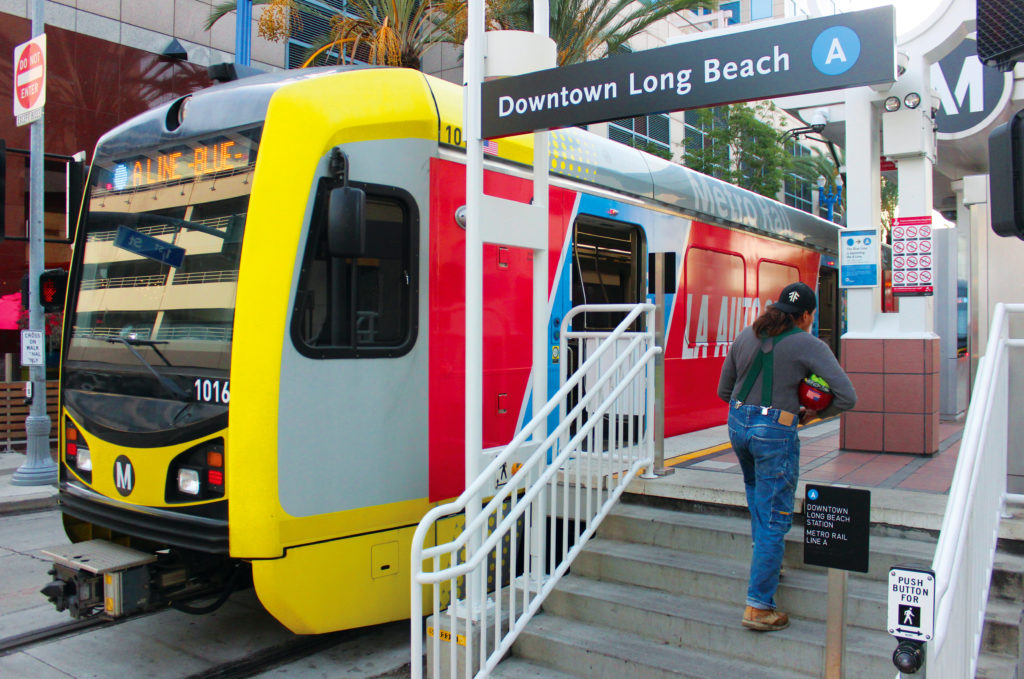 "Even though there's always room to improve, I think Long Beach is doing a great job," Kojian told the Business Journal. "Still, in Southern California, a lot of folks are married to their cars." But, he added, "that is one thing we're overcoming on a step by step basis."
For Long Beach Transit, the move toward a lower-emission fleet has been front and center this year. The agency's board of directors recently approved the purchase of 14 new battery-electric buses from Chinese manufacturer BYD, adding to an existing fleet of 10 such buses. The agency is also planning to replace three of its traditionally fueled buses with BYD buses, bringing its electric bus fleet to 27 vehicles, once all units have been delivered.
"That's rolling toward our goal of having a zero-emission fleet, and it gives us the opportunity to continue phasing out the older buses – especially the diesel buses," Michael Gold, LBT's executive director/vice president of customer relations and communications, explained. Formerly used exclusively on the complimentary Passport shuttle route, the buses have recently been deployed on the agency's 45/46 line between Westside Long Beach and Park Estates.
The agency also plans to continue and possibly expand its commuter services to the West L.A. campus of the University of California, Los Angeles. Gold said the service was so successful, LBT began utilizing larger buses than initially planned. If the service's popularity continues, he noted, the agency is considering a switch to coach-style buses to accommodate demand.
"As downtown continues to grow and more housing units are coming online, we continue to work with the city and other partners to make sure that we're connecting," Gold said.
A potential collaboration with the Downtown Long Beach Alliance is on the horizon, according to Gold and Kojian, but details won't be released until early next year. Gold said LBT is interested in pursuing any programs that would allow new and existing downtown residents to rely more heavily on public transit options instead of cars. "We're looking into that and hoping to expand some partnerships there," he noted.
For those who want to forgo cars and other emission-producing vehicles entirely, the City of Long Beach is creating an ever-expanding network of bike lanes and bike paths. "I think we had a fantastic year, with a lot of big projects that got done," Craig Beck, director of Long Beach Public Works, said of his department's work in 2019.
The Daisy/Myrtle Bike Boulevard, which connects Downtown Long Beach with Uptown, entered its first full year of operations in 2019. For those biking north, the 9.5-mile bike path starts at Daisy Avenue and 3rd Street in downtown and leads up all the way to Myrtle Avenue and 70th Street in North Long Beach. "It allows people to enjoy so many exciting neighborhoods in our city, so we [were] excited to finish that," Beck noted. The bike path was completed in December 2018.
The city further expanded its bike infrastructure by making temporary bike lanes on Broadway and 3rd Street permanent, as part of a street resurfacing project. Bus islands, allowing passengers to step onto a bus from elevated curbs couched between the new bike lanes and the road, were also added to both streets. "Adding the bus islands provides good throughput on the bike lanes," Beck explained.
Don't have a bike? No problem. The city's bike share program continues to grow. In November, 150 more bikes were added to bikeshare system, according to Beck, allowing the program to expand to Bixby Knolls. And there's more. "Our next bike share expansion will include e-bikes as well," Beck foreshadowed.
E-bikes are also allowed as part of the city's micro-mobility program, which governs the implementation of small mobility devices deployed by private companies in the city. Currently, that market is dominated by e-scooters, with four e-scooter providers currently offering their company's devices in a number of Long Beach neighborhoods, including downtown.
"All [the pieces are] integrated into overall mobility in Long Beach," Beck said. "We have to recognize that we can't keep adding [residential] units in downtown and expect everyone to drive around in single-occupancy vehicles, because we can't build more streets. We're a built-out city."
Micro-mobility and other short-distance transit options help residents connect to mass transit, taking them across the region without ever setting foot on the gas pedal, Beck explained. In that lane, the renovation and renaming of the Metro Blue Line constituted the biggest change for Long Beach this year.
"The changes made through the project will extend the service line, improve reliability, enhance safety systems, and improve frequencies," Metro Los Angeles Communications Manager Jose Ubaldo said. For example, Ubaldo noted, A Line trains now travel all the way through Downtown Long Beach during rush hour, instead of turning back toward Los Angeles at Willow Station, as they did prior to the completion of the project. Additionally, the transit agency worked with the City of Long Beach to update traffic signals along the line, reducing the overall travel time of trains between Downtown Long Beach and Los Angeles, according to Beck.
And the name change? "Our current naming convention is inconsistent and not scalable to the needs of L.A. County's expanding transit system," Ubaldo said. "While we have employed both color names and regular names such as 'Expo Line' to date, we would soon need to choose shades of colors rather than basic colors for new lines." Using a variety of hues or complex naming conventions would potentially create language and visual barriers for passengers, he pointed out.
Upgrades to mass transit, expanding micro-mobility options and a modernized fleet for local connections all add value to the downtown area, making it more attractive to businesses and visitors alike, Kojian noted, adding that the successes other cities have seen in embracing multi-modal transit options was a testament to that. "The easier it is to access those destinations, the more welcoming those communities become," he noted, highlighting the importance of offering alternatives to cars. "It's really just a matter of changing our lifestyle, our culture."