Each year, Carnival Cruise Line brings about 500,000 visitors through Long Beach for its cruises to Hawaii, the Mexican Riviera, and Ensenada and Catalina. The cruise company wants to expand on that number by replacing one of its three cruise liners in Long Beach with a larger ship, which would require expanding its terminal within the dome adjacent to the Queen Mary.
Carnival has wanted to expand for years, according to Carlos Torres de Navarra, vice president of commercial port operations for the cruise company. In 2003, Carnival began operating in Long Beach with one cruise ship.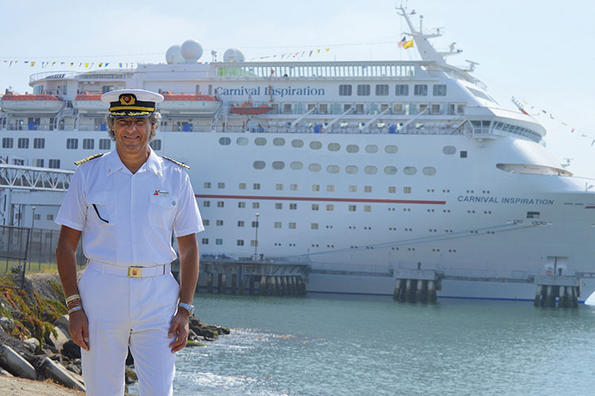 Carnival Cruise Line hopes to grow its existing operations in Long Beach by replacing one of its current ships with a larger one and expanding its terminal within the dome adjacent to the Queen Mary. The firm operates three ships from Long Beach, including the Carnival Inspiration, pictured here behind Captain Vincenzo Miele. The Inspiration sails on three- and four-day cruises to Ensenada and Catalina.­ Carnival's other Long Beach ships are the Carnival Imagination, which also sails to Ensenada and Catalina, and the Carnival Miracle, which sails to the Mexican Riviera and Hawaii. (Photograph by the Business Journal's Larry Duncan)
"We only occupy about 45% of the dome," de Navarra said. "The other 55% goes mostly unused year-round. You have some events like CHILL and at times other things that the Queen Mary folks use it for," he noted.
"Currently, we have a total of three ships doing five calls a week," de Navarra said. Carnival would like to replace the largest of these ships with an even bigger one, which would translate to more passenger movements through Long Beach. "What is a passenger movement? You get on the ship and you come off the ship, so for the purposes of economic benefit and fees and all that, they are counted twice," he explained. "So it's about 1.2 million guests per year that we bring through the terminal, in and out."
In 2009, Carnival brought a larger ship to Long Beach but was unable to negotiate taking up the remainder of the dome to expand its terminal, de Navarra recalled. "What we decided was to build shade structures outside to act as a quasi two-way terminal," he said. "But after several years of trying that, we realized that it just didn't work for us. There wasn't enough space." So, Carnival swapped its larger ship for a smaller one.
About two years ago, Carnival approached its landlord, Garrison Investment Group, to again discuss taking up the remainder of the dome. Garrison wouldn't act on the request, so Carnival moved on to discussions with the City of Long Beach, the owner of the property. "We went to the city and we said, look, we'd like to grow. Whatever you guys decide to do in the future, please keep in mind we'd like the other side of the dome," he recalled.
Shortly thereafter, Garrison transferred its lease to the Los Angeles-based firm Urban Commons. "There was an understanding – this is all public information – that the city had put onto Urban Commons not a demand but a preference that Carnival be given the other side of the dome with commensurate new lease terms," de Navarra said. "But for whatever reason, when the transfer happened there wasn't an amendment at that time."
After the lease was transferred to Urban Commons – which controls the entire site, including the Queen Mary – Carnival staff met with key city staffers to discuss their desires yet again. "We met with [City Manager] Pat West and [Economic and Property Development Director] Mike Conway . . .  as well as with Mark Taylor, who is the mayor's chief of staff, in a separate meeting."
Carnival "couldn't be happier" with its relationship with the city, de Navarra said. "In the past, if we've ever requested anything, they have been more than accommodating. They understand the value of our business. So there are no issues," he said. "The purpose of my meeting with them was to say thank you for the relationship, and also to say, look, we're still having some issues with the new landlord and the city's timing in terms of getting our approval to move forward with the improvements . . . to allow for this two-way terminal and thus to allow for a larger ship."
Carnival's desire is to expand sooner rather than later, de Navarra said. Considering that cruises are planned up to a year and a half in advance, the firm needs a decision made soon in order to plan where to deploy its assets in 2018.
"[Neither] the city nor the landlord would be on the hook for any type of terminal improvements inside the dome," de Navarra said. "That would be all coming through us. So it seems like a win-win."
While de Navarra said the city seems to understand Carnival's desire to move quickly, he speculated that Urban Common's efforts to master plan the area may be holding things up. "Like with anything, these decisions and processes take four years or more to get completed, so it doesn't necessarily correlate with our immediate desire to grow the business," he said.
Another issue for Carnival has been that it hasn't had a say in the Queen Mary Land Development Task Force's visioning process for the site. de Navarra said that when the mayor was forming the task force he asked for his company to have a representative included in the group.
"For whatever reason, we never got the invitation and we never received any inquiries from the task force in terms of what is our long-term outlook for Long Beach from a cruise perspective," de Navarra said. "I just wish that they had maybe spoken to us at some point just to get some feedback in terms of what our experience has been and what we see for the future of our business there, which is a big percentage of the land that constitutes the Queen Mary property."
He added, "It would be interesting to see what they say to that question – why hasn't Carnival been asked to participate in some of these meetings or been asked its opinion on things?"
Jeff Hoffman, vice chair of the task force, told the Business Journal that Carnival hasn't presented at a meeting simply because "they didn't ask to come and speak." He added, "I mean, if they wanted to speak, we would have been happy to have them. But it was as simple as no one approached us from Carnival expressing an interest to come talk to us."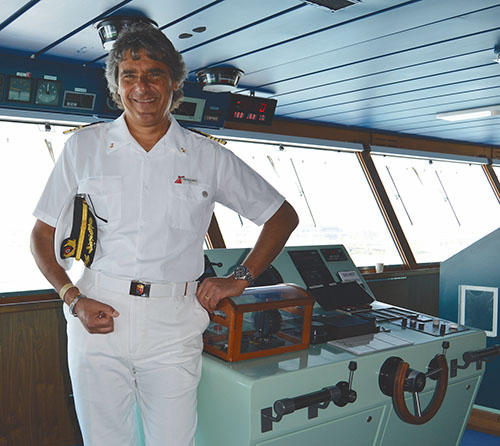 Carnival Cruise Line's Captain Vincenzo Miele at the bridge of the Carnival Inspiration, docked in Long Beach. (Photograph by the Business Journal's Larry Duncan)
Michael Bohn, chair of the task force, said Carnival's expectation of receiving an invitation to speak before the group "sounds like a reasonable request." He noted that city staff schedules presenters for the meetings. "Typically folks that have interest, when I have gotten [their] calls, I direct them to the city and the city will schedule those folks to either appear on the agenda or come to one of our public meetings to speak," Bohn explained. "I can't speak for the task force, but I can speak for myself that they are a major stakeholder and we would like to understand how they see themselves fitting in to the site."
When asked if the task force has ever invited a party to speak at a meeting, Bohn said no, but that city staff has set up some presentations by some "key" people.
"Now, we have gotten a lot of information about Carnival Cruises and the increased capacity that they're seeking," Bohn said, referring to taking over the dome. "But if they have any other ideas or expansion or any plans, we would definitely be interested in hearing them." In a follow-up e-mail to the Business Journal, he encouraged Carnival to reach out to him or to Hoffman if they would like to present at a meeting.
Regardless of whether Urban Commons moves on Carnival's request in the near future, the cruise company has a long-term lease and is here to stay. "We're not going anywhere. We like our business there," de Navarra said. "Like I said, we'd love to grow our business there in Long Beach."
While there are no statistics available, it is known from local hotel managers that many passengers drive or fly in from as far away as Utah and spend at least one night at a Long Beach hotel. Others combine the shorters cruises with a longer vacation in Southern California.
Currently, Carnival Cruise Line offers cruises year-round through Long Beach aboard the Carnival Imagination, Carnival Inspiration and Carnival Miracle. The latter is the largest of these ships, weighing 88,500 tons with a 2,124-passenger capacity.
The Queen Mary Land Development Task Force is holding a public meeting to discuss the future of the Queen Mary site this Saturday, July 9, 11 a.m. to 1 p.m., at the First Congregational Church, 241 Cedar Ave.