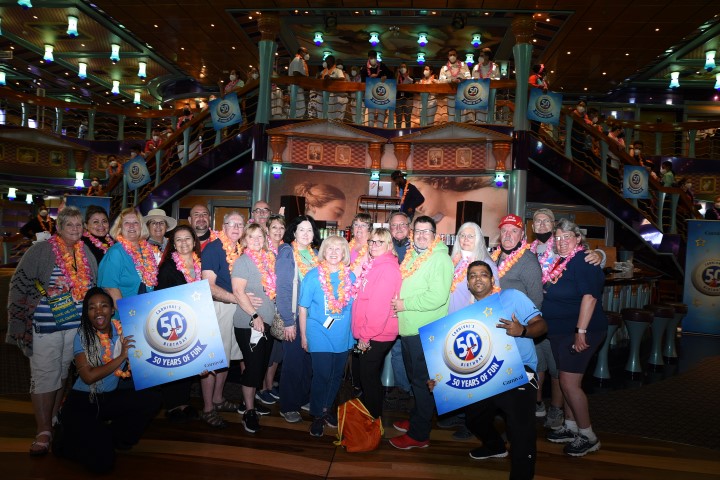 The Carnival Miracle and 2,000 guests aboard departed from the Port of Long Beach on Sunday, marking the beginning of the Carnival Cruise Line's 50th anniversary celebration.
The company is commemorating its golden anniversary with 17 special cruises, which run through March 10 and feature at-sea ship meetups, special entertainment and programming.
Miracle guests enjoyed a 50th "birthday party" event, including music and decor, ahead of embarkation, the company said. The 14-day cruise will make stops in Honolulu, Maui, Kona and Hilo before meeting up with Carnival Radiance on March 5 in Baja, Mexico, outside of Ensenada, to host "one of history's biggest birthday parties at sea," according to the announcement.
"As we kick-off our year-long 50th Birthday celebration, we are thrilled that Carnival Miracle is the first to set sail on our special Sailabrations cruises," Carnival President Christine Duffy said in a statement. "We're ready to show our guests the celebration of a lifetime with unique entertainment experiences and exciting limited-time offerings."
Carnival has operated on the West Coast for about 40 of its 50 years. The cruise line moved from San Pedro to Long Beach in 2003 and has been a major economic engine for the city, which relies heavily on tourism, ever since.
The cruise industry at large was battered by the COVID-19 pandemic, with Carnival reporting billions in losses. After 17 cruiseless months, Carnival jump started operations in late August 2021.