With numerous developments, both residential and commercial, the City of Carson is seeing tremendous economic growth, according to Mayor Albert Robles.
The mayor attributes the growth in business popularity to less burdensome tax structures, including no local property tax, a low utility tax, and a lower sales tax and business license fee than surrounding communities.
"And the fact that we have areas of Carson, about a 20-square-mile area, that is focused on catering to the business community," Robles said. "You know, we have industrial parks, business centers. And I think businesses like that."
Carson Chamber of Commerce President John Wogan said he has been involved with the community for 20 years and that this is a great time for the city. He said the location between Los Angeles and Orange County and two airports – Los Angeles International and Long Beach airports – makes it ideal for business. Wogan explained that things are coming together and the city is coming into its own.
"Business is booming. We have new stores opening up. The feeling is excellent. We have so many new businesses that want to come to Carson. People now want to come and move here. We're going up."
Auto Dealerships
The City of Carson is home to five major car dealerships, including Carson Honda, Carson Nissan, Carson Toyota, Car Pros Kia and Win Chevrolet/Hyundai. The auto dealer industry generates 29% of the city's $24 million in annual sales tax revenue, according to city staff.
Carson Toyota has been located in Carson since 1974, according to General Manager Diaa Ahmed. He said the dealership employs 168 people, about 70 of whom are Carson residents.
"I think 2016 was better so far, but maybe things will switch around in the next couple months. We don't know," Ahmed said. "Year over year, we're growing, like, 4% or 5%."
Ahmed said the construction on the 405 Freeway at Wilmington Avenue has created a challenge for the dealerships in the area. He noted that sometimes the exit will be closed, making it difficult for customers to get to the dealerships. Despite the construction, Ahmed said the city treats the dealerships well.
"I think they are doing their job. The city is clean. The streets are clean. I think they are doing their share," Ahmed said. "And when we really need them, when we are having a problem, they dispatch an officer to us right away. They've been helpful."
Health Care
Kaiser Permanente has two facilities serving the City of Carson, including its Carson Medical Office building located at 18600 S. Figueroa St. in Gardena and its Main Street Health Education Pavilion located at 23621 S. Main St. in Carson.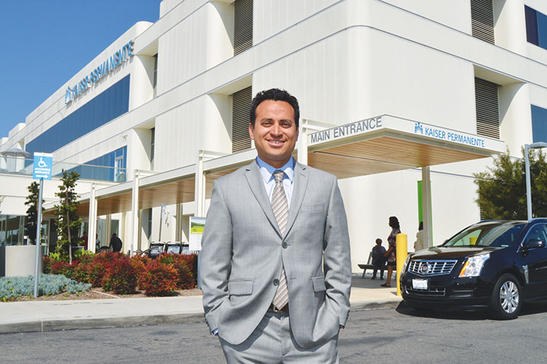 Ozzie Martinez, chief administrative officer for Kaiser South Bay, said the company's Carson Medical Office is currently having 45,000 square feet built out to be used for a comprehensive women's health center and outpatient surgeries. (Photograph by the Business Journal's Larry Duncan)
"Now we serve, in the South Bay service area, over 242,000 members," Ozzie Martinez, chief administrative officer for Kaiser South Bay, said. "What's exciting about that is that a large portion of those members – about 50,000 of our members – live in the Carson and Rancho communities."
Martinez explained that a large population of patients also work in the area, so the company is excited to be able to provide health care to its members at a location conveniently located close to home or close to the workplace.
The Figueroa facility is currently having 45,000 square feet of space built out on the third floor of the building, according to Martinez. He said the space would be utilized as a comprehensive specialty center, including a comprehensive women's health center and an ambulatory surgery center for outpatient surgeries.
The new services will increase the facility's provider count by 60 and is scheduled for completion in early 2019, according to Martinez. The Main Street facility provides addiction medicine and health education services.
"Kaiser Permanente is really doubling down on looking at mental wellness, psychiatry, addiction medicine," Martinez said. "We're really trying to make a huge impact in this work and really eliminating the stigma."
Health education classes are offered in both English and Spanish, and they aim to help patients live the healthiest lives possible, particularly while managing chronic illnesses, Martinez explained. He said the goal is to drive a partnership with the city and residents to improve quality of life.
Kaiser staff said the medical office serves approximately 2,000 patients per week, while the Main Street facility serves about 700 in health education.
"Things have been going great. We appreciate the partnership with the City of Carson," Martinez said.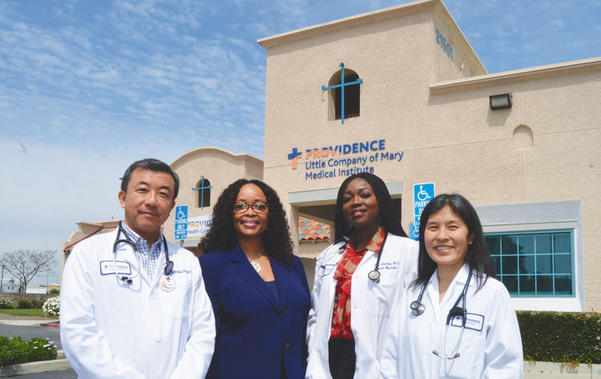 The Providence Medical Institute – Carson Primary Care opened at 21501 S. Avalon Blvd. in 1996. The facility currently offers family medicine, internal medicine, and industrial and occupational health services. Pictured from left: Tu (Alfredo) Om, MD, site lead; Alwyne Barbee, practice manager; and doctors Jane Ekejiuba and Joyce Chang. (Photograph by the Business Journal's Larry Duncan)
The Providence Medical Institute – Carson Primary Care was established in the center of Downtown Carson at 21501 S. Avalon Blvd. in 1996. Today, the office provides services related to family medicine, internal medicine, and industrial and occupational health. Additionally, the facility offers radiology and laboratory services.
"Our philosophy is to provide the best patient experience by serving our patients with respect and compassionate care," Alwyne Barbee, clinic manager, said. "The pioneering physician of this clinic was Dr. Thomas Jasperson, who practiced in the Carson community for over 30 years and joined Providence Little Company of Mary. As a result, we have served over four generations of families in the Carson community."
Barbee said the facility will open its immediate care and walk-in clinic in the fall of this year, which will provide an affordable alternative to emergency care for non-life threatening illnesses and injuries.
Hospitality & Tourism
The DoubleTree by Hilton is Carson's most prominent hotel, conveniently located off the 405 Freeway at 2 Civic Plaza Dr. near city hall. The hotel has 225 guest rooms, a fitness center, a pool, a 24-hour business center and conference facilities.
"We've been very lucky for the last couple of years with the hospitality business in Carson," General Manager Greg Guthrie said. "This year, . . . our first impressions and budgeting for the year is slightly down from what we've been used to the last couple years. But we're still anticipating [5%] growth year over year."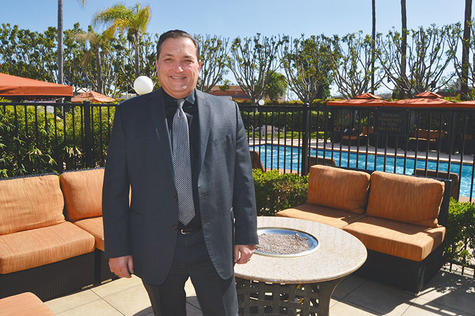 Carson DoubleTree by Hilton General Manager Greg Guthrie said he anticipates 5% business growth year over year for the hotel. (Photograph by the Business Journal's Larry Duncan)
Guthrie said the amount of business in Carson and the South Bay makes it a great location for the hotel. He noted the opening of the Porsche Experience Center has been good for business, bringing in national and international business executives to the area. This has increased the amount of meetings and events held at the hotel.
"The news with the Chargers is also exciting for us. We know that we will definitely draw from people who will be going to the games for those weekends," Guthrie said. "There's [also] a possibility of us getting some business from the NFL in some form. So we're excited about that."
A hot topic in the area is whether or not tourism will decline due to government activity, according to Guthrie. He said he has heard reports of tourism declining on the east and west coasts. However, he said DoubleTree has not seen any drop yet and doesn't expect to.
Industrial Real Estate
Industrial real estate is one of the largest economic drivers for the City of Carson. Watson Land Company alone owns, leases and manages approximately 12 million square feet of industrial space in Carson and Rancho Dominguez. It corporate office is in Carson, and it has an Inland Empire office in Chino Hills.
"The market continues to be very strong. And industrial [real estate], for lots of reasons, seems to be the darling amongst many real estate sectors," Watson President and CEO Jeff Jennison said. "So while retail and self-storage and other sectors have had some issues, industrial continues to flourish."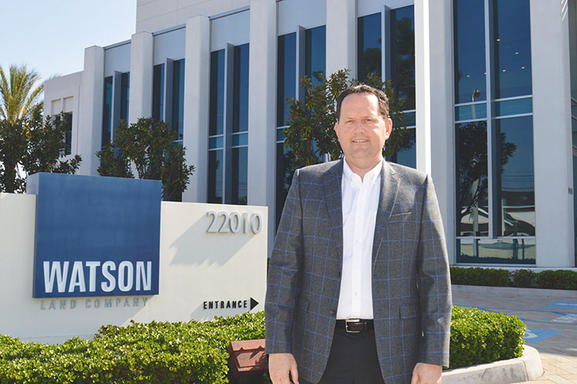 Jeff Jennison was named president of Watson Land Company in August 2015, and recently added the title of CEO. The company owns, leases and manages about 12 million square feet of industrial space in Carson and in the adjacent Rancho Dominguez area. (Photograph by the Business Journal's Larry Duncan)
Some of Watson's big-name clients include Price Transfer, Damco Distribution Services, Dependable Highway Express and Custom Goods, Jennison said. Currently, Watson's portfolio in the South Bay is full, and on the rare occasion that there is a vacancy, it is filled quickly, according to Jennison. Because of the high demand, Jennison said the company can be selective about to whom it leases.
"We tend to not always pick the user who is willing to pay the highest rent but the one who's going to bring the most jobs to the area, the biggest amount of investment, and who we think will be a better fit for the community long term," Jennison said.
The Carson Companies manages about 3 million square feet of industrial space in the city and another 12 million nationwide, according President Jim Flynn. The Newport Beach firm has a corporate branch office in Carson, along with offices in Texas and Pennsylvania.
Flynn also said demand is high and business is good in the area. He attributed it to the uptick in the national economy, low unemployment rates and consumer activity.
"So you have those dynamics that are occurring – strong economy, strong consumer and the evolution of e-commerce," Flynn said. "All of those are supporting a vibrant industrial market, both manufacturing and logistics."
City Council Moratorium On Development, Leases Irks Business Owners
However, despite the demand for space in the area, industrial real estate landowners and tenants are currently at odds with city officials over a surprise emergency moratorium. The city approved the moratorium at its March 22 meeting. The decision blocks any new industrial development and requires new and renewal leases longer than three years to receive council approval for 45 days.
"It is an opportunity for the city to review its land use regulations," Mayor Albert Robles said. "Our land use regulations have not been updated – comprehensively reviewed and updated – since Ronald Reagan was governor of California. That's a long, long time ago. And I would submit to you that Carson is a completely different city today."
Robles said the temporary pause is allowing city officials to assess land use regulatory structure to improve the quality of life for all residents. He claims that under current regulations, the city cannot stop projects that may be hazardous to public health from being constructed near schools or residential areas.
Another concern voiced by landowners and businesses alike is the fear that the 45-day pause will be extended, which adds a great deal of uncertainty to doing business in the city. A comment by the mayor does little to quell this fear.
"I can tell you this: As the ordinance was approved at the city council meeting last Tuesday, it will not be extended like that at all," Robles said. "If it is extended, there will be amendments, adjustments to it."
Kim Snyder, president of the southwest region for landowner and manager Prologis, which has just under 5 million square feet of industrial space in Carson, said he understands that the city is having a hard time keeping up with infrastructure improvements and knows this has been an ongoing issue.
"I'm not crazy about it, but I understand where they're coming from," Snyder said. "We really care about that community's infrastructure and how it looks and how safe it is to drive and so on. So we kind of get what they're driving at and appreciate it."
Snyder said he views this as a way for the city to determine how to get more money in the coffers to keep pace with infrastructure needs, something that is sorely needed, especially if the area continues to grow in both development and population.
The city council said lease approvals could take between one to three months, according to Flynn. He noted that most leases are longer than three years due to the fact that many companies need more time to recuperate their investment in the property. Because of this, he said some companies are opting to look for space elsewhere. Flynn said the moratorium should never have been needed because city officials could have been looking into the problem already.
"They could have been doing that over the last five years. Why all of a sudden a moratorium? The city already has a lot of tools in its toolbox to regulate what's happening," Flynn said. "We're pretty dismayed about it and have talked to the city about it and tried to figure out what their endgame is."
Jennison said he understands the city's issues and concerns and that he is sympathetic to them, but that the surprise moratorium, which feels like an attack, is not a good way to treat the largest employment and investment sector in the community.
"We're really concerned about it. We're concerned about the unintended consequences of a moratorium," Jennison said. "It's a large bubble of uncertainty that is already causing customers who are considering Carson to look elsewhere and, in one case already, to decide to go elsewhere."
One thing that Snyder, Jennison and Flynn can agree on is the fact that the city gave no advanced warning to landowners or tenants that it was considering the moratorium. Snyder and Flynn said the first he heard of it was two days before the council was set to vote.
Manufacturing
Carson is home to various manufacturers, including General Mills, which has operated a Yoplait yogurt products plant at 1055 E. Sandhill Ave. since 1979. The company also has a warehouse in the city.
"General Mills, across all of our locations, including Carson, tries to develop really strong relationships within our communities," Plant Manager Jon Woodworth said. "In terms of business . . . there are really no dramatic changes for the business here locally."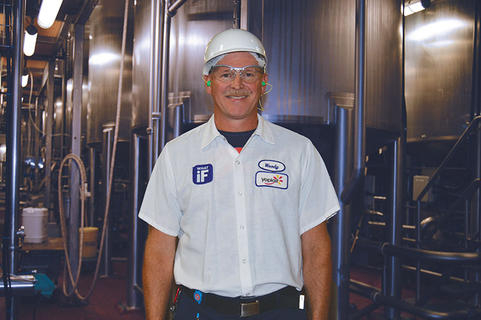 Jon Woodworth has been with General Mills for 16 years and has served as the Carson plant manager for the past year. The Carson plant has produced Yoplait yogurt products since 1979. (Photograph by the Business Journal's Larry Duncan)
Woodworth said he has been with the company for 16 years but only relocated to Carson a year ago. However, he said his initial outreach to Carson city officials and the city's chamber of commerce has been positive and that the city makes it easy for manufacturers to operate.
Ducommun Incorporated, a supplier of products, engineering services and support services to the global aerospace and defense industries, has had a facility in Carson for more than 20 years and renewed its lease recently for at least another five years, according to Vice President Douglas Groves.
"Our business is stable," Groves said. "We've got a couple hundred people here, so it's a nice-sized factory that provides a nice base of employment for a multitude of different levels of employment – from the people working on the manufacturing shop floor [and] up through executives."
The company occupies about 100,000 square feet of office and industrial space in the city and has a supportive relationship with its landlord and the city, Groves explained. The Carson facility has also served as the company's headquarters for the last 10 years, previously located in Downtown Long Beach.
Groves said the company anticipates continuing slow but steady growth at the rate of about 5% per year. Earlier this year, Ducommun announced a multiyear, multimillion-dollar contract with Airbus to produce additional titanium structures for engine support and frames on the A320neo.
"It's a good location for us for a multitude of different reasons," Groves said. "We have a lot of long-tenured employees that live in this area. It's a pretty good labor market to draw from. We've been very happy here."
Oil Industry
Tesoro Corporation, a major player in the city's and state's oil industry, is currently facing roadblocks with the development of a $460 million project in Carson. City officials have concerns regarding the project's environmental impact report, claiming it focuses on regional benefits rather than impacts on Carson itself.
Kenneth Dami, director of government and public affairs for Tesoro, said the project consists of shutting down a fluid catalytic cracking unit at the company's Wilmington refinery, which would reduce emissions by 70,000 metric tons – equivalent to removing 13,500 vehicles from the road – while creating about 4,000 jobs.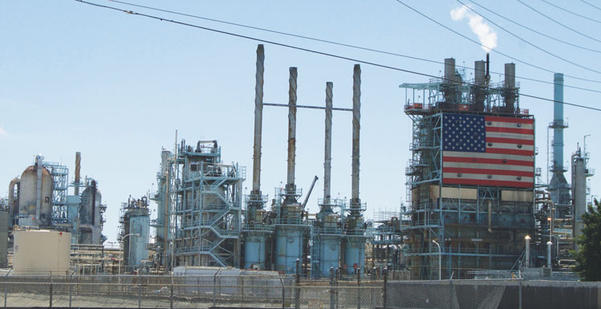 Tesoro's Carson refinery off the 405 Freeway is located between Alameda Street and Wilmington Avenue, and stretches to Sepulveda Boulevard. (Photograph by the Business Journal's Larry Duncan)
"It's going to be a big economic boom to the area," Dami said. "We're in discussions with [the city] about where their concern is. We're addressing their concern, and I think we have a very good story to tell."
In a letter to the South Coast Air Quality Management District on April 5, Long Beach Mayor Robert Garcia weighed in on the issue, asking for the certification of the environmental report to be delayed while local environmental impacts are examined.
"With some of the highest asthma rates in the nation in West Long Beach and the surrounding area, it is important to be cautious and deliberate while considering this project," Garcia said.
Should the project receive certification and proceed, Dami said construction would begin this year, with completion set for sometime in 2019.
The California Resources Corporation also has a modest presence in Carson's oil industry with two wells that produce approximately 100 barrels of oil per day, according to Amy Fronzo, manager of external relations for the company. She said no significant change is expected to Carson production in 2017.
Retail And Restaurants
Carson has seen continued increase in the number of retail stores and restaurants with ongoing construction, renovations and conversions, according to John Raymond, director of community development for the City of Carson.
Recently, work was done to bring F21 Red, a Forever 21 concept, to the South Bay Pavilion. The store is scheduled to open at the end of the month. The former Sears Automotive is being converted to restaurants, including Chipotle, Smashburger, Jersey Mike's and Applebee's, which is still under construction.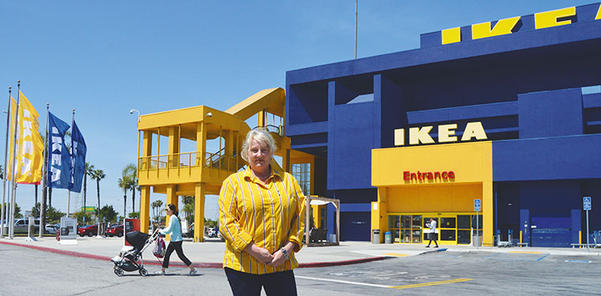 The Carson IKEA at the SouthBay Pavilion employs more than 255 people, according to Store Manager Maike Buhmann, pictured. She said many employees have been at the location since the store opened in 1992. (Photograph by the Business Journal's Larry Duncan)
Raymond also said there is a proposal to convert the former 50,000-square-foot Kmart facility into a John's Incredible Pizza, which he described as a play place between Chuck E. Cheese's and Dave & Buster's.
"Their facades are very colorful with yellow and purple and blue and checkerboard and all that," Raymond said. "They've come in with that plan, and we think that's going to go forward. That's on Figueroa near the 110 Freeway."
John Desco, executive vice president of asset management for South Bay Pavilion owner Vintage Real Estate, said the site has seen pretty solid growth in retail and restaurant sales, which can be attributed to the city's growing popularity and development.
Besides F21 Red, which he thinks will have resounding success, Desco said the company is working with a couple other notable retailers that will hopefully be announced soon. Sears has plans to subdivide its building to allow for two tenants to share the space with the company, which recently announced store closures throughout the country. The plans have not been finalized.
"We've been very pleased, impressed, and certainly we're going to continue to try to develop the center and bring more good venues for shopping and dining to the City of Carson," Desco said. "We're always working on the mall itself – doing improvements, keeping up the facilities there, trying to keep it clean and lively and fresh and a good shopping environment."
IKEA is one of Carson's largest brands, with the company making just under $40 billion worldwide last year, a 7.9% increase from 2015. The Carson store currently employs more than 255 people, including many who have been at the location since it opened in 1992, according to Store Manager Maike Buhmann.
The company often launches new products, according to Buhmann. She explained that the store gets a lot of business from people moving into the area, as well as current Southern California residents. She said the company's goal is to create lifelong customers, who will use the store for every major life event, including marriage, buying a new home and having children.
"We look forward to constantly growing and working with the City of Carson and neighboring cities," Buhmann said. "The [city] really has blown up a lot, and we were pleased to learn about all the housing development and senior living center. That's really great. We're pleased to see that positive growth in the City of Carson."