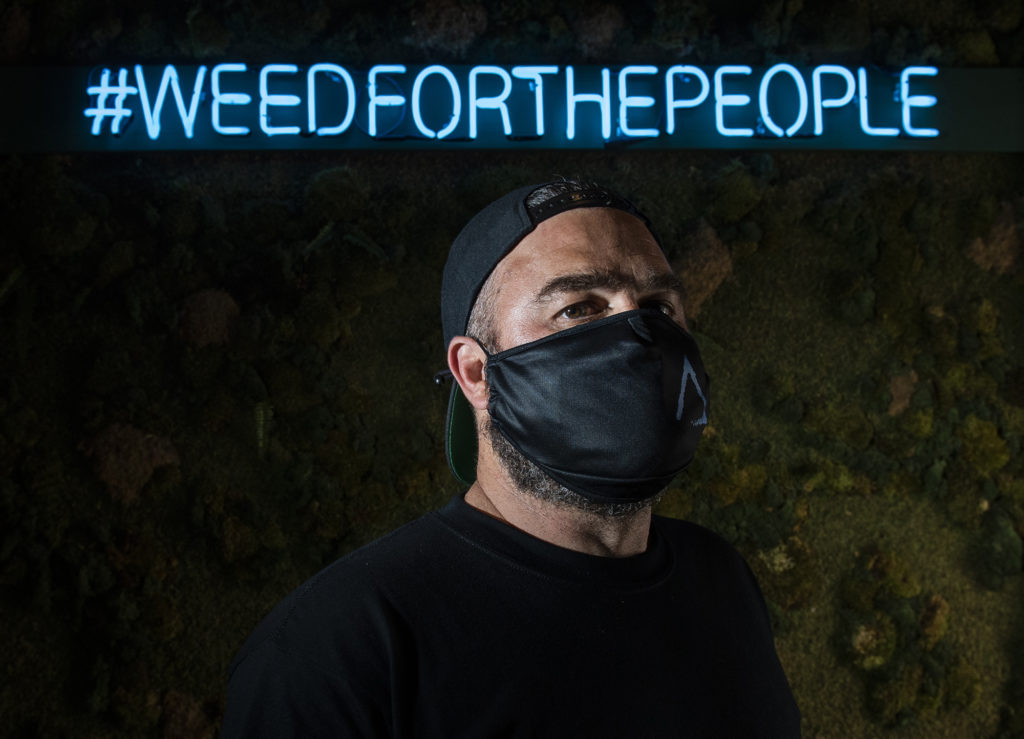 With the exception of a small, gold-trimmed bar cart, the Long Beach office of Catalyst Chief Executive Elliot Lewis contains little that holds the eye. A couch, a sideboard, a desk made of imitation wood and a cash-counting machine atop a black metal safe—any attempts at decor fall short of inspiring.
The true centerpiece of the office is mounted on a wall with a direct view from Lewis' desk chair.  There, on a large whiteboard, is a rundown of future dispensary locations, complete with anticipated opening dates. Pomona, El Monte, Oxnard—the list is long and, judging from earlier erasures, subject to constant corrections, revisions and additions.
"We're always planning and plotting," said Lewis, whose aggressive strategy in obtaining cannabis licenses has garnered him fans and foes alike among fellow cannabis entrepreneurs and government staffers across the state.
Lewis isn't afraid of conflict. He seems to seek it. His public persona and loud voice on issues like social equity and cannabis taxes—he was the only dispensary owner to lobby the city council to raise taxes on the industry—have made him a controversial figure in the local industry and beyond.
Some praise his activism for social equity applicants, a group long disappointed by a malfunctioning city program meant to support those most affected by the War on Drugs in entering the local cannabis industry. But others counter that his brash style and political advocacy smack of self interest.
In September, Lewis became only the second member to be kicked out of the Long Beach Collective Association, a trade advocacy group founded in 2010 to represent the interests of the local cannabis industry.
"I think some of the positions they took were stupid," Lewis said. "Not just greedy, but stupid."
He said he disagreed with the association on how best to advance social and racial equity in Long Beach's cannabis industry and on a proposal to raise the local cannabis tax by 0.5% to help the city meet budget shortfalls during the pandemic.
On Sept. 18, The Grunion published an op-ed by Lewis in which he argued that the cannabis industry's designation as an essential business made it one of "the luckiest business types in the entire city" and that business owners thus had "an obligation to step up" in the city's time of need.
Less than a week later, on Sept. 23, Lewis received a letter of termination from the cannabis association, citing—among other reasons—his "lobbying for city wide policy change for personal gain" against the organization's code of conduct.
The association declined to comment on the circumstances of Lewis' ouster, but a source privy to information on the decision suggested that Lewis' pitch for higher taxes was less about altruism and more about currying favor with city leadership to benefit his business prospects down the line. It's a charge Lewis doesn't completely deny.
"We live in the real world," he said. "I would never take a position that I don't believe in. But at the same time, I realize that every position I take has a business impact, has a political impact. Anybody who says that's not part of the calculation is just being insincere."
Lewis has come a long way from growing a few plants in his basement as a student at UC Berkeley.
After 10 years spent in the real estate business, an experience he credits with providing him the necessary know-how to secure the most suitable locations for his cannabis businesses, he began entering the market with a few grows in the northern part of the state.
In 2015, he returned to his native Long Beach, where he obtained four dispensary licenses and became a partial owner of two more licensed dispensaries, in addition to licenses in Santa Ana and Bellflower.
The growth of his businesses have not only been accompanied by scuffles with competitors but also with municipal battles throughout California.
Just months before his conflict with the industry association, his company had a parting of the ways with Connected, a well-established brand of cannabis products that had lent its name to Lewis' dispensaries since their inception.
Connected did not respond to a request for comment on why it decided to terminate its licensing agreement with Lewis last year, but the Catalyst CEO said his aggressive pricing and overall reputation impeded Connected's ability to sell to other retailers in the area.
"They initiated it because we were essentially hurting their sales," Lewis said.
Lewis' rough-and-tumble reputation and, by extension, that of his newly-minted Catalyst brand, extends beyond Long Beach.
Over the past few years, Lewis and his associate, lawyer Damian Allen Martin, have sued cities from Morro Bay to San Bernardino in efforts to force changes in their cannabis licensing process that would give them a better shot at securing a license.
When the city of Oxnard received a complaint from Martin, acting as general counsel of Catalyst Cannabis Co., Chief Assistant City Attorney Ken Rozell said the city knew what was coming.
"Catalyst is known for being litigious," Rozell said. "They're known for their aggressive behavior."
While it wasn't the only factor, Rozell said, the company's reputation played a role in the city's decision to revise its licensing process. "We considered all factors and that was definitely part of it," he acknowledged.
Formerly shut out of the first round of licenses in Oxnard, the revised process allowed the company to reapply. This time, it made the cut. "I was told they did well," Rozell said.
To hear Lewis tell it, his aggressive actions aren't just good for his business, they also serve to support those he takes under his wing—including formerly disadvantaged entrepreneurs.
"Our ruthlessness helps the social equity issue," he said. "In order to affect change, there has to be some level of political savvy and sharky-ness to make it work."
At least one social equity applicant in Long Beach can vouch for that.
Carlos Zepeda, one of the original applicants to the city program, found himself disillusioned with the city's commitment to helping entrepreneurs like himself succeed. Now, he will be opening a cannabis delivery service under the license of Catalyst Eastside dispensary scheduled to launch within the next month.
Lewis, Zepeda said, was the only established dispensary owner who responded to his request for support, despite a city policy requiring licensed businesses to help social equity applicants develop their business plans.
"Right from the jump he started helping me, and that was before the social equity thing was what it is now," Zepeda said. "He's deep into the cannabis game, he has a lot of knowledge and he's shared that knowledge with me."
Most recently, Lewis has argued for more dispensary licenses in the city to be created specifically for social equity applicants. Under the title "Catalyst Cares," the company has also participated in food drives, an event for veterans and expungement clinics to help people clear their cannabis-related criminal records.
These efforts, of course, aren't exclusively charitable either. "We do the community outreach for its own good, but I think that's also its own form of branding," Lewis said.
In terms of growing his own brand, Lewis is currently in the process of obtaining a special permit from the city to open a cannabis dispensary in Downtown Long Beach, a proposal that has garnered support from a number of organizations, including the Downtown Long Beach Alliance.
"It's basically built out, we're just putting the finishing touches on it now," Lewis said of the million-dollar project.
With several new dispensary locations on his whiteboard, it doesn't look like Lewis' campaign for dominance in the California cannabis industry will end anytime soon. Nor will his whatever-it-takes approach. "I'm not going for sainthood," he said. "When it comes to winning licenses, this is bloodsport. We play for keeps."