In a matter of weeks, the cities of Long Beach and Huntington Beach joined forces with local tourism agencies, businesses and property owners to put together a comprehensive and creative proposal for the cities to become home to Amazon HQ2. The Internet giant put out a request for proposals for a second headquarters in September, and cities throughout the country are competing for what promises to be an economic boon to any region.
The beach cities announced their proposal on October 18 with the release of a video pitch featuring Kevin Pollak, an actor and comedian who has been featured in countless films and television shows. The pitch, dubbed "Amazon Coast: Portal to the World," proposes three locales named "Amazon Sand," "Amazon Sea" and "Amazon Air" spread across the cities to serve as Amazon's headquarters.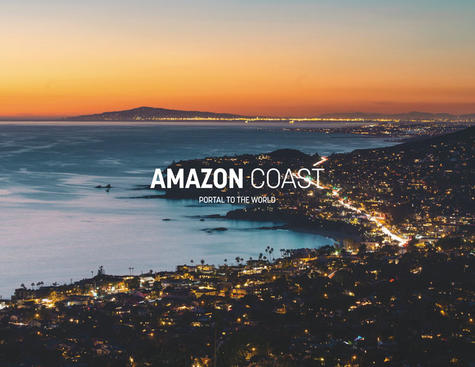 Amazon Sand is a Boeing facility in Huntington Beach that includes a 300,000-square-foot office building and conference center. The site is already entitled for a second office building, according to Huntington Beach Assistant City Manager Lori Ann Farrell Harrison, who is a Long Beach resident and also serves on the Long Beach Board of Harbor Commissioners. Amazon Sea is a campus including Long Beach's One World Trade Center and office towers at 1 and 11 Goldenshore. Amazon Air is the former Boeing C-17 Globemaster III production site off of Wardlow Road at the Long Beach Airport.
"We have sites that are virtually move-in ready. And I think we have a lot of the elements that Amazon is looking for when you combine the two cities," Farrell Harrison said. "I am really proud and thrilled to be a part of it. I think my prior relationship with the City of Long Beach, having worked there and then being a commissioner [and] being a former boardmember for the Long Beach Transit entity, also was a great way to build the bridge between the two cities and put something like this together, which is very unique and very creative."
Farrell Harrison added, "We're hoping that with our Amazon Coast pitch we can really make a strong case that we're move-in ready [and] we have an enviable talent pool that they are not going to be able to find anywhere else." She noted that Long Beach has its own university and city college, and that the greater region has several other prestigious academic institutions as well as award-winning school districts.
While abroad on a port-related trip to South Korea and Japan, Mayor Robert Garcia e-mailed his thoughts on the collaboration to the Business Journal. "Long Beach is thrilled to be able to work with Huntington Beach to bring Amazon HQ2 to our coast," Garcia wrote. "A key component of the Amazon Coast proposal is the combined strength, resiliency, and economic opportunity that both cities bring to workers and businesses like Amazon. Cities, industries, and innovators will need to work together if they want to shape the future of consumer economies. We're proud to have a partner in this proposal and look forward to welcoming Amazon to our beach cities."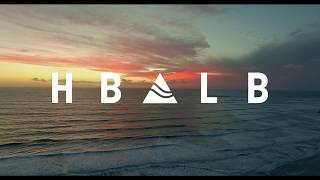 (Official Amazon Coast pitch video courtesy of the City of Long Beach/YouTube)
Garcia noted that, to his knowledge, this is the first time Long Beach and Huntington Beach have partnered on a proposal like this. "Our cities each have a proud history as centers of aircraft manufacturing and sit in an ideal location for quality of life and access to the Southern California markets. I think it stands to benefit both Long Beach and Huntington Beach to partner on a large economic opportunity like this HBLB Amazon proposal and other opportunities that may arise," he wrote.
In addition to the video, which features sweeping footage of the Port of Long Beach, both cities' beaches, transit, the three area airports and more, a coffee table book-style version of the proposal was delivered to Amazon. According to Farrell Harrison, more than 41 people from both cities' governments and tourism agencies worked together on the proposal.
The creative coffee book and video pitch were done pro bono by Long Beach's own InterTrend Communications, a downtown advertising firm, according to Steve Goodling, president and CEO of the Long Beach Convention & Visitors Bureau. "We realize and recognize that there are many cities bidding for this. But we believe it will cut through some of the clutter because of the creativity of the proposal," Goodling said. "InterTrend came up with the idea, since Amazon really started off as a book company, that they present this as a coffee table book." He added that InterTrend's staff, led by CEO Julia Huang, worked 24/7 on the proposal over the course of three weeks.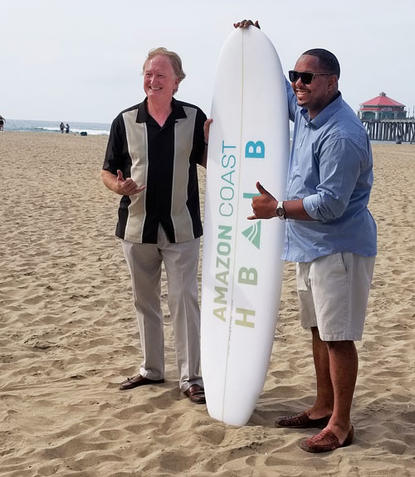 Huntington Beach Mayor Pro Tem Mike Posey, left, joins Long Beach Vice Mayor Rex Richardson on the beach to debut a surfboard commemorating the collaborative bid between their two cities for Amazon's second headquarters. The proposal is dubbed Amazon Coast. (Photograph courtesy of the City of Huntington Beach)
John Keisler, director of economic and property development for the City of Long Beach, said he and his staff have been meeting with private property owners, state and county officials, and the governor's GO-Biz office to identify incentives to tie in to the proposal.
Keisler said that Amazon has described the potential economic impact it would bring to a new headquarters as comparable to its impact in Seattle, where its first headquarters is located. "That is a tremendous economic impact because it involves as many as 50,000 employees with a median wage of about $100,000," he said. "They state in terms of their own projections about $5 billion in capital expenditure. They state every dollar invested by Amazon in Seattle has generated another $1.40 for the economy."
Long Beach is also participating in a Los Angeles County region proposal spearheaded by the Los Angeles County Economic Development Corporation, according to Keisler. "We are excited. Either way, it provides a real wide range of options for Amazon to consider," he said.
"I want to thank all the local business and property owners and property managers in Long Beach who helped us with this," Keisler said. "I want to thank the local business associations and InterTrend, our local communications firm, as well as Huntington Beach. Because it is really neat to be able to partner together and to . . . dream big in an aspirational way."