The Long Beach City Council has tabled reviewing the proposed Long Beach Minimum Wage Ordinance for 30 days pending the completion of a meet and confer process on the matter with the International Association of Machinists (IAM) and Aerospace Workers. The union represents the largest number of city employees.
City Attorney Charles Parkin had placed an item on the July 12 agenda requesting further direction from the council on the proposed ordinance that the council had ordered his office to draft in January. Further direction was needed because the ordinance would be applicable to city employees, and IAM had not yet completed its meet and confer process on potential impacts to its members.
Parkin also requested more input because of variances between the ordinance and the state's new minimum wage law, including the city's more expeditious timeline (see chart).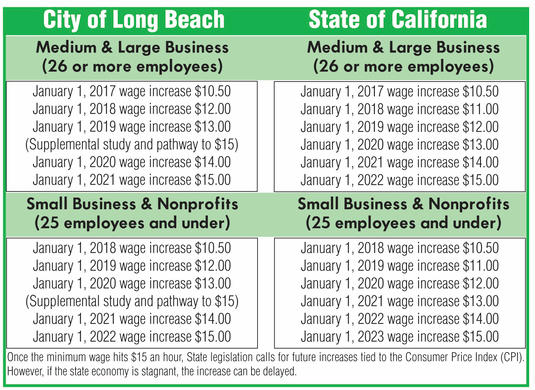 Vice Mayor and 2nd District Councilmember Suja Lowenthal kicked off the discussion with a four-part motion to address these concerns, including removing city employees from the ordinance to "allow the city and its employees to negotiate MOUs [memoranda of understanding] outside of the ordinance."
Lowenthal also proposed maintaining the existing schedule for implementation of a higher minimum wage as originally approved by the council, aligning the city's minimum wage with the state's after it reaches $15 an hour, and amending the ordinance to make a learners' exemption consistent with existing labor code.
Her proposal was met with dismay by a representative for IAM, Richard Suarez, shortly thereafter. "I don't know how you circle this. You purport that every other employer in the city must pay a Long Beach minimum wage, but you exclude yourselves from paying that minimum wage," he said. "We're speaking about the folks that I represent here in Long Beach, who is the only unit really that is affected by this. . . . And to exclude people in this manner is just simply wrong."
Suarez indicated that the city manager has suggested Suarez or IAM would bring litigation against the city if IAM employees were included in the ordinance, and he called this notion "preposterous." He suggested tabling discussion of the ordinance for 30 days to allow IAM and the city to meet and confer. "After we waited from January to now to get the ordinance – we waited seven months – we seem to be in a real hurry to pass something this evening that in reality does not go into effect until January of next year," he noted.
Lowenthal rescinded her proposal and instead made a motion, as Suarez requested, to delay drafting the ordinance for 30 days until the IAM meet and confer process is completed. The motion passed unanimously.