In March 2020, Long Beach voters will likely face a controversial question: should Measure A, which added 1% to the city's sales tax for infrastructure and public safety funding, be made permanent? The Long Beach City Council recently directed City Attorney Charles Parkin to draft an ordinance that would place the permanent extension of Measure A on the ballot next spring.
"This new extension could allow us to not just put together a five-year plan, which we currently have in front of us, but a plan that could last 20, 30, 40 years and that could really rebuild our community," Mayor Robert Garcia said at the July 2 meeting of the Long Beach City Council. "This really is an era that we will look back on and remember as a time when we really fixed our city when it came to infrastructure." The item passed unanimously, with all council members present.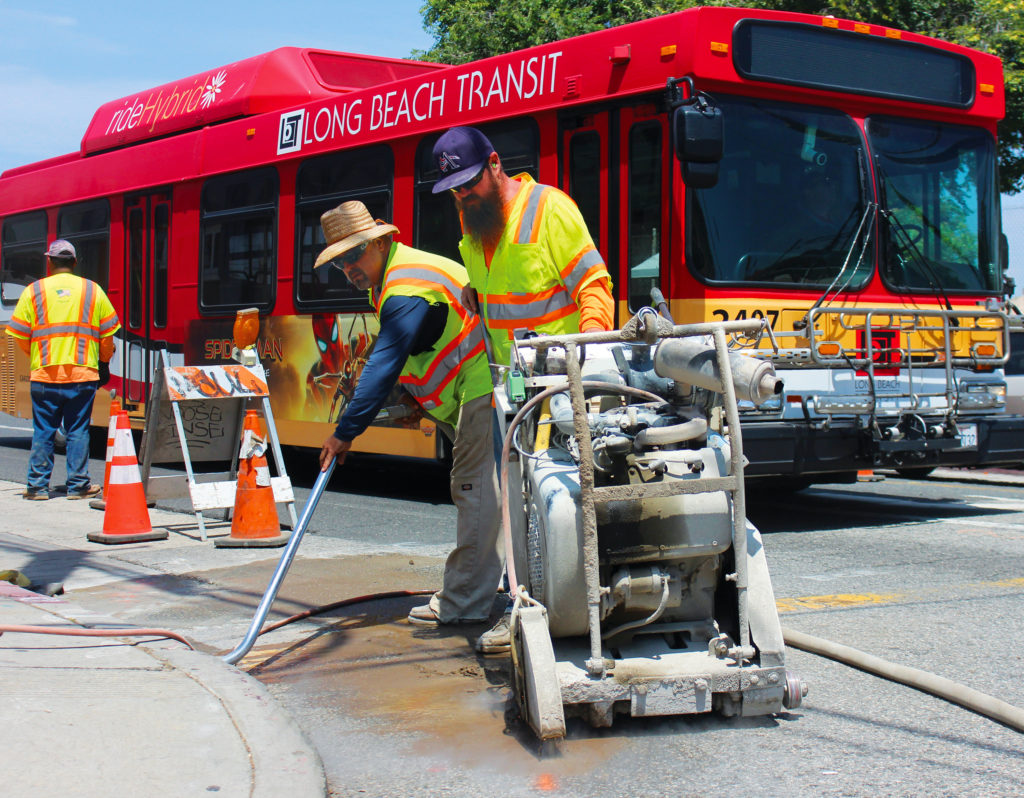 The ordinance will come back to the city council on July 16 for approval before it can be placed on the March 2020 ballot. The item attracted a number of public speakers, including members of the city's law enforcement and emergency response communities. "If we don't act now to make Measure A permanent, we'll lose our ability to invest directly in Long Beach," Paul Meisel, boardmember of Long Beach Firefighters Local 372, told the city council. "Instead we will pay the same tax rate we are paying now, however, the money will go to other agencies and not Long Beach."
Part of the pitch to extend Measure A has been the looming imposition of taxes from outside agencies, such as the South Coast Air Quality Management District. Currently, the city meets the maximum 10.25% sales tax cap set by the state. If Measure A expires and another agency is able to bump the city's tax rate back up to this cap, there would be no room for additional tax revenues to be collected by the City of Long Beach. These additional revenues are necessary, the city argues, to support further investments in public safety and infrastructure. This includes the city's commitment to pay $25 million towards the seismic retrofit of Community Hospital.
"It's been really unfair to have to make a choice between rusted playgrounds and roofs that are collapsing. And that's been a reality for a long time. And since we adopted Measure A, I think that proposition has changed for our citizens," 9th District Councilmember Rex Richardson noted. "If we don't come together and band together, and make sure to keep our safety net in place, it's going to impact all of us across the whole city."
Jim Foster, president of the Long Beach Police Officers Association, pointed out the importance of Community Hospital as a resource for law enforcement. Before its closing in July 2018, the hospital served as the primary location for the Long Beach Police Department's sexual assault response, mental health referrals and inmate treatment. The LBPD has also received direct funding from Measure A tax revenue.
According to Meisel, the additional tax revenue has funded a total of 150 public safety positions, including 37 new hires. Measure A funds have covered the costs of reinstating the LBPD's police academy, according to city documents.
Even though public speakers during the city council meeting mainly expressed support for an extension of Measure A, and polling results indicate a similar position among voters overall, some have spoken out against the proposed extension. Ian Patton, executive director of the Long Beach Reform Coalition, said he needed to see more transparency on the spending of Measure A dollars before he would consider supporting a permanent extension.
"The issue I have and the Reform Coalition has, and this is our guiding principle, is transparency and accountability in government. And right now, where the Measure A money is being spent is very opaque," Patton said. He noted that his group struggled to establish a baseline of infrastructure funding prior to Measure A in order to analyze the value created by the additional tax revenue. "It's like chutes and ladders trying to see where it's all going, and the city wouldn't just give a number," Patton explained. "On the other hand, all the marketing on [Measure A] is very direct. We have signs on any project, labeling them Measure A." In addition to signs at project locations, the city also publishes maps, spreadsheets and project descriptions detailing Measure A-funded projects.
To create more transparency and allow voters to make a decision based on the additional value created by the tax, Patton argued, the city should provide before-and-after maps, in addition to the maps detailing only Measure A projects currently published by the Department of Public Works. "Our position is: if the city wants to extend Measure A, it needs to be more transparent about where that money has been going and how much additional benefit we're getting out of it," he said. "It's a little bit of a complicated accounting [process], but the city knows its own accounting."
The ordinance establishing a ballot measure for the extension of Measure A will go back to the city council for review on July 16. If approved, voters will be asked to decide on the issue on March 3, 2020.