In 2016, the voters of Long Beach passed Measure A, a ballot initiative to raise the city sales tax by 1% for six years. The tax increase will then be reduced to 0.5% for four years before it sunsets. Funds generated by the tax increase are dedicated to restoring public safety services and improving public infrastructure – a $150 million multi-year plan.

At a March 2 press conference, Mayor Robert Garcia, center, talks about the infrastructure improvements in store thanks to funding made possible by Measure A, a temporary sales tax increase approved by voters last year. Flanking the mayor, from left, are: Craig Beck, Long Beach director of public works; Measure A Citizens' Advisory Committee members Judy Ross and Jane Netherton; 8th District Councilmember Al Austin; Measure A Citizens' Advisory Committee Chair Steve Neal; 7th District Councilmember Roberto Uranga; and Assistant City Manager Tom Modica. (Photograph by the Business Journal's Larry Duncan)
Public safety investments in fiscal year 2017 include the restoration of Fire Engine No. 8 in Belmont Shore, the restoration of the Long Beach Police Department South Division and of police academy staffing, and maintaining police and fire services. Both Fire Engine No. 8 and the South Division have been restored, according to an e-letter by Mayor Robert Garcia.
Last year, the city released a detailed map illustrating where infrastructure improvements would be made throughout Long Beach. In this fiscal year, those investments include $17.57 million for streets, $6.098 million for parks and $2.071 million for public facilities.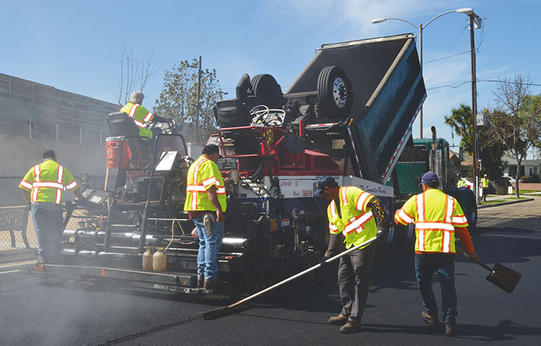 A crew slurry seals a street as part of the city's $150 million, 10-year infrastructure improvement plan funded by a voter-approved sales tax increase. (Photograph by the Business Journal's Larry Duncan)
Infrastructure improvements were kicked off on March 2, when members of the Citizen's Advisory Committee responsible for reviewing the city's use of Measure A funds joined Mayor Robert Garcia and other elected officials at East Jackson Street and Walnut Avenue in North Long Beach where the street was slurry sealed. Thirty-nine miles of Long Beach streets are expected to be slurry sealed by midsummer, according to an e-mail blast sent out by the mayor.
Garcia wrote, "This year will also see street and sidewalk repairs. In the coming years, crews will also work on arterial street reconstruction in various locations, sidewalk repair, replacement of select street signage, and the creation of an alley management plan."