In an effort to streamline city processes for the benefit of entrepreneurs and developers, the City of Long Beach is in the midst of launching new digital tools aimed at improving efficiency and accessibility to services, as well as reducing confusion.
Recently, the city launched BizPort, an online portal for entrepreneurs interested in starting a business in Long Beach. The portal was the brainchild of the Long Beach Innovation Team (i-team), a Bloomberg Foundation-funded entity of the city that is particularly focused on economic development efforts. It was created in partnership with Code for America, a nonprofit dedicated to bridging the technology gap between the private and public sectors.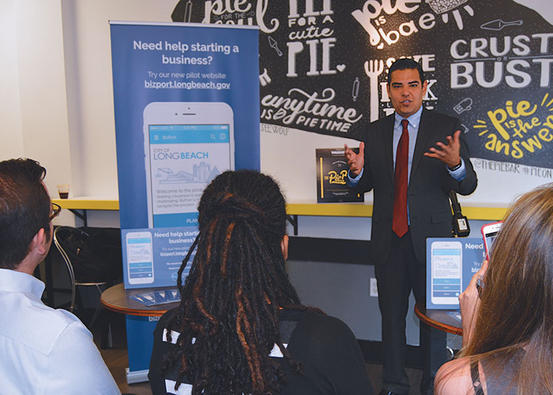 Mayor Robert Garcia unveils BizPort, the city's new online portal for entrepreneurs, at an event on October 5. The portal allows entrepreneurs to plan their future business via a wealth of resources, including checklists, information about funding, market analysis and more. (Photograph by the Business Journal's Larry Duncan)
In the summer of 2015, the i-team began surveying and interviewing hundreds of individuals in the Long Beach business community to identify where the city was lacking in terms of resources for economic development, John Keisler, head of the i-team, told the Business Journal. The i-team found that the business community felt the process of starting up in Long Beach "was very confusing and, as a result, wasted a lot of their time," Keisler said. "So it was very costly for them to start a business in the City of Long Beach."
He added, "We discovered that the process was very confusing because the entrepreneur had to interact with so many different agencies that didn't interact with each other. And there was no tool – there was no sort of clearinghouse or one-stop shop – that the entrepreneur could go to that would cut across those various agencies and requirements."
The i-team set out to address this problem through the creation of BizPort. Built with open source code, the portal launched in beta in March. Beta users gave feedback through a chat function, which influenced the design and functions of the portal, Keisler explained.
"We set out on the goal of reducing confusion by establishing a digital platform that would map across all the different agencies that the entrepreneur would have to interact with and would link out to those resources," Keisler said.
Entrepreneurs also told the i-team that keeping track of so many different identification numbers, permits and licenses was also confusing, and that they needed a checklist to ensure they had completed all necessary steps toward starting a business. "So we created a digital profile and a wallet that would track their process, and then they could put their numbers and their records in that digital wallet," Keisler said.
"They also told us that they didn't know if they were eligible for funding or grants, and that it was really hard to search to know if they were eligible for this or that," Keisler said. "So if you go into BizPort, you'll see that there is a funding search tool."
Conducting market analysis in areas where entrepreneurs are seeking to start a business is often costly and difficult, Keisler said. BizPort addresses that challenge, too. "We have links now where you can go and search for a building, and you can click on that building, drop a ring around it and look at consumer spending and demographics and do better business planning and market analysis," he said.
"There are a lot of different elements that seek to overcome different challenges that were identified by entrepreneurs in their own journeys. And it was completely designed around the entrepreneurs themselves," Keisler said of BizPort's design. The portal can be found at bizport.longbeach.gov.
At the same time BizPort was in development, the Long Beach Development Services (LBDS) department launched an effort to digitize its plan check process. To create an electronic plan check (EPC) system, the city contracted with e-PlanSoft, which has worked with cities like Fountain Valley, Fremont and Chino, as well as county governments and other agencies.
A beta version of EPC launched in June with the cooperation of three local architecture firms as beta users, including Environ Architecture, Studio One Eleven and M. Grisafe Architects, according to LBDS Director Amy Bodek.
"We are trying to create a system that makes it easier for applicants to submit to the City of Long Beach without having to show up in person during business hours at city hall," Bodek said. As the process stands today, anyone submitting plans has to go in person to the fourth floor of city hall, she explained.
"People have to show up in person between 7:30 a.m. and 4:30 p.m. So if an architect is trying to submit something at 8 o'clock at night, they can't do that," Bodek said. The idea behind having an online portal is not only to offer flexibility, but also convenience. "This way, the architects . . . or the contractors don't have to spend time driving here, standing in line, waiting to be called and then finally processing their plan check requests," she said.
Having the online system will also allow city staff to more easily to communicate with one another about documents, she noted. "As one engineer is reviewing it for one subspecialty or subtrade, another engineer can see those same notes. It makes things more consistent in how all the plan checkers are talking to each other as well," she said.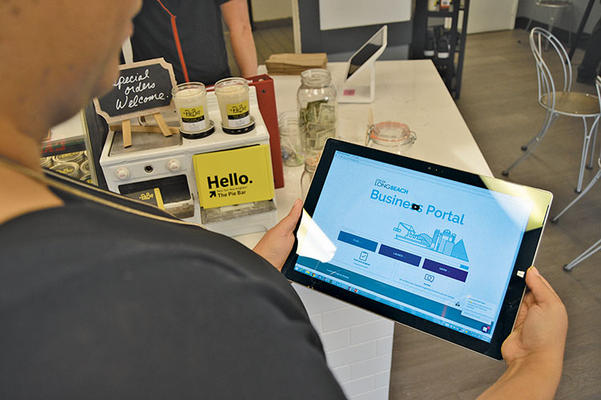 The City of Long Beach and its Innovation team recently launched an online portal for entrepreneurs called BizPort. The portal aims to help streamline the process for businesses to start up in Long Beach. (Photograph by the Business Journal's Larry Duncan)
Having an online plan check system would also create efficiencies for city staff. "Our hope is that it actually reduces the time it takes to do the plan checking because we will be doing it electronically, and there is more efficiency in doing it that way," Bodek said. For example, the current process generates "reams and reams of paper" and major storage issues, she explained.
So far, 25 projects have been submitted through the beta system by participating architecture firms, who have made suggestions for the system along the way, Bodek said. "They love it," she said, adding that if other firms would like to become beta users, she welcomes them to reach out.
A portal is now being built to connect the new EPC system with the city's existing plan check database. "What we'd like to do is create this portal where the external world can go to this website and upload all of their information. And then it immediately goes into our database and transfers the information to our database so that we don't have to do data entry twice," Bodek said.
While the system is currently within LBDS, the city plans to expand its use to other departments involved in the planning process, like public works, water and fire, Bodek said. "It's kind of a citywide effort. . . . But the bulk of plan checking is done through development services, and so we're taking the lead on it."
The service is primarily for professionals – developers, engineers, architects, contractors and so on – due to the level of expertise necessary for the process, Bodek explained. "But we're also moving towards making some of our smaller processes more simplified and more online," she noted. "If a homeowner is pulling a roofing permit, that should be able to be done online. It's straight, it's simple [and] there are really no variances."
Bodek hopes to have the EPC running through LBDS's website within six months and hopes the city will have made a significant transition to electronic plan check by the time the new city hall is built.