With a minority-majority population of about 54% identifying as a race other than white, according to www.suburbanstats.org, it stands to reason that the City of Long Beach would analyze methods to assist minority-owned businesses.
"One of the things that's very prominent in the city council's blueprint for economic development is economic inclusion," John Keisler, director of economic & property development, said. "Looking at our economic analysis from Beacon Economics, there is tremendous opportunity to support our minority-owned businesses to grow and succeed."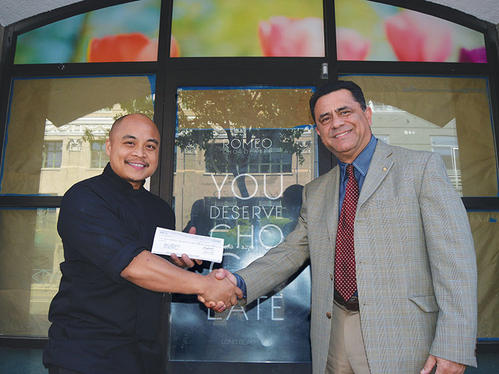 Romeo Chocolates has had a presence in Long Beach since November 2014, with owner Romeo Garcia (left) selling his treats at local retailers and hotels. In March, Seyed Jalali, economic development officer, (right) and the Long Beach Economic and Property Development Department awarded Garcia with a $50,000 loan to open his first brick-and-mortar store at 460 Pine Ave. (Photograph by the Business Journal's Larry Duncan)
Keisler said this renewed and deliberate focus on economic inclusion is meant to develop and implement a plan for increasing the number and size of minority-owned businesses in the city. He explained that once the economic blueprint is finalized, inclusion would be a major part of his department's work over the next year.
Some steps have already been taken to assist minority entrepreneurs in navigating the business startup process. Keisler explained that one major hurdle encountered by minority-owned businesses is a potential language barrier.
"An example of how we are trying to reach our minority-owned businesses is that we are trying to provide more navigators to assist people that might struggle with linguistic or cultural barriers," Keisler said.
BizPort, an online portal to assist entrepreneurs in starting and growing a business in Long Beach that was launched in October of last year, acts as a digital navigator through its translation into nine languages – Armenian, Chinese, Filipino, Japanese, Khmer, Korean, Russian, Spanish and Vietnamese. Keisler said this feature is one of the more innovative tools in the country and received an award from the American Planning Association.
As for other business support systems currently offered by the city, Seyed Jalali, economic development officer for the city, explained that none are designed specifically to assist minority-owned businesses but that outreach is strongest in communities with large numbers of small businesses that are minority owned.
Jalali explained that the Small Business Development Center and other assistance programs reach out to minority-owned businesses in disenfranchised areas because they are less likely to be aware of them. He said the city also utilizes business improvement districts (BIDs) to assist minority-owned businesses, such as helping in the formation of the Midtown and Uptown BIDs.
"Obviously, we have limited resources, so the way we are going to [assist] is through alignment and collaboration," Jalali said. "[We will] work with the DLBA, Bixby Knolls, all of these business associations that can sort of act as an advocate and be out there to promote and help deliver those services."
Both Jalali and Keisler noted access to capital as a challenge for minority-owned businesses. The city already offers launch grants and micro-loans for small businesses, but Keisler said his department is looking into smaller-scale loans that are even easier to access. He explained the city is in talks with nonprofit micro-lenders, such as the Opportunity Fund and Kiva International, for assistance.
Through the new economic blueprint, Keisler said the city is going to identify areas that have a deficit of economic development and investment, which lead to struggling to support businesses or to generate sales.
"We are partnering with our development services department, which manages the Community Development Block Grant funding," Keisler said. "They are identifying what are called place-based neighborhood investment areas, which actually overlay the same areas that we want to focus on that have a high concentration of minority residents and business owners. Our goal is to provide them with technical assistance, business outreach, outreach with our loan programs."
The city also provides technical assistance to local groups in grant writing for underserved communities, according to Jalali. He said looking at the portfolio of city services, many of the beneficiaries of those services happen to be minority- and women-owned businesses, which is partly due to outreach efforts and partly due to the composition of the business community in Long Beach.
Jalali said it is evident that more and more minority and immigrant businesses are opening in Long Beach and that it's the city's responsibility to reach out and inform them of the resources available in order for them to succeed and grow.
"I would say the best is yet to come. It's very important that the city and our partners in the community support our minority-owned businesses because they represent an incredible opportunity for growth," Keisler said. "We think that you are going to see a lot of exciting programs coming out as part of our economic inclusion focus area in the blueprint."