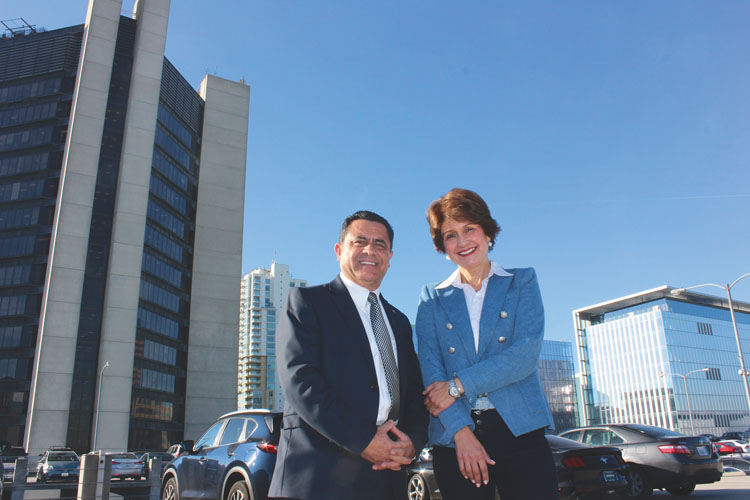 The City of Long Beach has joined forces with a Pasadena-based tech company to deliver mentorship and assistance to small business owners and entrepreneurs planning to start businesses in Long Beach. Together, the city and its partner, Start It Up, are developing an app that connects local entrepreneurs with experienced mentors who can guide them through the at times arduous process of starting a small business.
To jumpstart the project, the city invested $25,000 from its Innovation Fund into the development of the app, according to Economic Development Officer Seyed Jalali. "This was very unique," Jalali pointed out. "We like to see it as an example of how government can act as an investor."
After several months of testing and reviews by the first round of mentees, Start It Up and its Long Beach partners, which include Long Beach City College's Small Business Development Center and several local business improvement districts, are now looking for 60 more budding businesses to fill the remaining app subscriptions purchased by the city.
The app, which is subscription-based, works as a pocket coach for entrepreneurs, Start It Up CEO Goli Ameri explained. "Oftentimes, the entrepreneurs don't know where to start or how to start," Ameri said. The app is designed to help mentees overcome some of the initial hurdles of starting a business. It keeps users engaged through live chats with their mentor and checklists to monitor their progress. "It takes [them] by the hand and walks them through the process step by step," Ameri explained.
Belinda and Miguel Flores, a Long Beach couple with plans to open up their own breakfast restaurant, were among the first users. The two had already taken courses at the LBCC Small Business Development Center but felt like they needed something more tangible to move their project along. "We felt like we were missing something; we needed an extra push," Miguel Flores remembers.
Starting in January 2018, the husband and wife duo joined the initial phase of the program, testing the app and providing feedback to both Ameri and the mentor the company selected for them. A few months later, when the app moved towards a more functional phase, Miguel and Belinda said they started to see the benefits. "Before, it was just a dream," Miguel said. "It helped us push along, gave us more confidence."
A majority of small businesses fold within less than two years, said Ameri, a failure rate she attributes to a lack of support, especially compared to other business sectors. "When you're a tech entrepreneur there's a tremendous amount of help that's available to you. There's accelerators, incubators, advisors, money, you name it," Ameri said. "Small businesses really do not have the same opportunities."
Through its app, Start It Up is hoping to close that gap. "We developed our app based on what we understood the needs of small businesses to be and using the tools that had a proven track record of helping small businesses," Ameri said.
In her review of research on the subject, Ameri learned that mentorship had proven to be one of the most effective ways to improve entrepreneurial success. "Studies have shown that when you're paired with a mentor, your chances of success shoots up," Ameri explained. In addition to a designated mentor, the app also provides subscribers with access to an expedited licensing process and micro-loans provided by the City of Long Beach, Ameri added.
After an extensive pilot phase in Long Beach, Start It Up is hoping to expand its services to three other Southern California cities. "We were interested in Long Beach from the beginning, because it's a very innovative city," Ameri said. "Southern California is really a microcosm of the world; Long Beach is a microcosm of the world." The app's next trial roll-out is in Bakersfield.
Jalali said he's optimistic that the app will help local businesses like Miguel and Belinda Flores' restaurant, the couple is thinking of calling it "My Butter Half," succeed. "The whole point of this was to create and provide some innovative and efficient way for businesses to assess their readiness," Jalali said. "It's a toolkit that we feel is innovative, it's a public-private partnership and it's all designed to strengthen the survivability of new businesses."