Before a crowd of business owners, residents, media and city staff, City Place owner representative Tony Shooshani announced on September 2 that Studio One Eleven of Long Beach-based P+R Architects is going to breathe new life into the shopping center. The firm's designs aim to carry the momentum of what many refer to as "the renaissance of Downtown Long Beach" north of 3rd Street.

"Everyone talks about downtown going through a renaissance, and I think we're there," 1st District Councilmember Lena Gonzalez said at an event announcing the redesign of City Place, a shopping center in the heart of Downtown Long Beach. Pictured behind her from left are: Michael Bohn, senior principal of Studio One Eleven; which is designing the center's improvements; Mayor Robert Garcia; and Tony Shooshani, owner representative of City Place. (Photograph by the Business Journal's Larry Duncan)
Demonstrating their dedication to this vision, Studio One Eleven's senior principal, Michael Bohn, announced at the same press conference that P+R and Studio One Eleven are moving to the former Nordstrom Rack location on Promenade North.
The multi-million-dollar project to transform City Place spans four years, and includes building renovations that are more simple, contemporary and minimalist than the current center aesthetic, according to a City Place news release. Mayor Robert Garcia pointed out that the project includes reconfiguration of roadways and sidewalks, and building "bulb-outs" to create additional sidewalk space at corners.
The first phase of the project focuses on 3rd Street between Pine Avenue and Long Beach Boulevard, and Promenade North between 3rd Street and 4th Street. Some demolition work is expected to begin this November or December, according to Bohn.
Shooshani said plans call for City Place to be "integrated into the adjacent downtown." The six-block area will eventually become "a vibrant mixed-use district featuring a hub of unique restaurants, businesses and retail for all residents of Long Beach," he explained.
Bohn hopes the project transforms and revitalizes the surrounding neighborhood. "It's just been overlooked for so many years," he said. "And with the Nordstrom Rack leaving, it just hasn't reached its potential." Studio One Eleven plans to incorporate smaller "incubator spaces" for local artisans and makers with the intention of attracting the creative class to the area, Bohn said.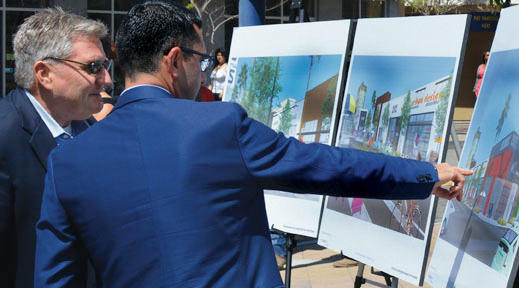 Shooshani discusses his plans with Long Beach City Manager Patrick West. (Photograph by the Business Journal's Larry Duncan)
Shooshani said he hired Studio One Eleven partially because the firm's principals expressed interest in relocating to City Place. "They came out and showed interest to look at the space, and immediately I said, 'Well if you are going to be there, I'd like to hire you to redo the whole center," he said. "So it was a partnership from day one, and it is a partnership that has been wonderful every step of the way."
The Downtown Long Beach Associates (DLBA), the nonprofit organization that runs downtown's business improvement district, is launching an online public forum to come up with a new name for City Place. Shooshani said he wants the residents to rename the center to give them a sense of ownership over the area. "If we're going to reface it and resurface it, why not give the opportunity as a community to come up with a name they're going to use for years to come?" he said.
Kraig Kojian, president and CEO of the DLBA, said that by hosting the name-changing effort, his organization is taking on a public role in the shopping center's future. "We want to brand it as part of the growing downtown and really give it some local identity and local flavor," he told the Business Journal.
Kojian hopes the redesigned City Place carries the growth that Downtown Long Beach is experiencing south of the area to the north. "We will continue working with this center as well as other parts of downtown from a business development, business recruitment and business retention perspective," he said.
Garcia said the City Place redesign is critical to the success of downtown. He hopes it connects all of the area's different districts. "This is going to be a home run, so we're excited," he said. "It's going to be great for visitors, but especially for residents [who] live there."