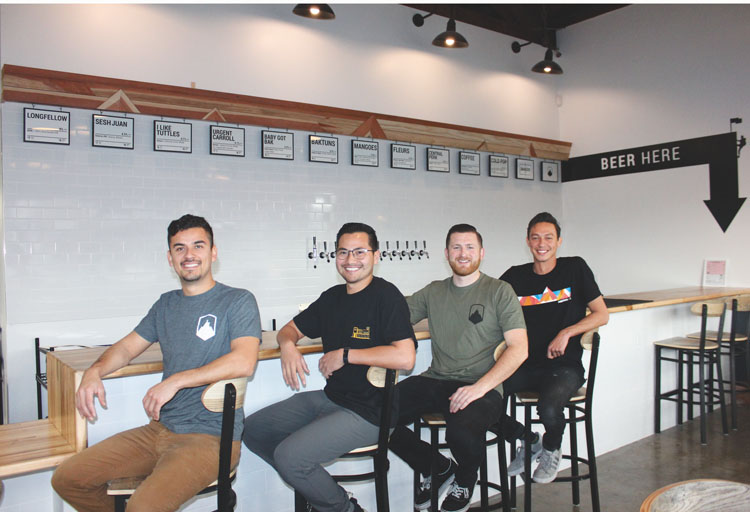 Bixby Knolls' latest brewery, Ambitious Ales, held its grand opening on February 16. Juan Carrillo, general manager and co-owner of Ambitious Ales, told the Business Journal that the Long Beach Economic Development Department and the Bixby Knolls Business Improvement Association (BKBIA), the nonprofit group that manages the neighborhood's business improvement district, were instrumental in making it happen. "They knew we were entrepreneurs," Carrillo said. "Our first business, getting it to the permitting process, everything was chaotic and new to us. They made us feel very welcome."
Eric Romero, project manager for the economic development department, met with the Ambitious Ales team early on to help them understand the various permits and licenses required for their facility. The department also assisted the entrepreneurs in obtaining a $10,000 Kiva loan to construct a patio and purchase new furniture for their tasting room. Kiva Long Beach is a 0% interest microloan platform for small businesses that matches crowd-funded dollars with money from the Los Angeles Local Initiatives Support Corporation. "The ultimate goal is to ensure that everyone who has an idea and wants to start a business in the City of Long Beach can do it successfully and hopefully stay around for a while," Romero said.
According to Carrillo, the Kiva funds helped the Ambitious Ales team to design a space that encourages community engagement. "The idea behind this space here is, how do we make it conducive to people meeting, people wanting to come here, to feel welcome," Carrillo said. The brewery contracted with a local designer, Kyle Shurtleff, to build a long communal table that is the centerpiece of the tasting room. "Kiva allowed us to do that," Carrillo said. "It gave us that money to really make our vision a reality. That was a huge help."
A 2015 amendment to Long Beach's municipal code was also a major factor in drawing Ambitious Ales to Bixby Knolls. Prior to the change, breweries could only be located in industrial zones or the downtown area. To capitalize on Southern California's growing taste for craft brews, the city council updated the municipal code to permit craft breweries, wineries and distilleries to operate within commercial and planned development zones. "It has really allowed and empowered people that want to open up breweries to consider other places in Long Beach," Romero said. "Places like Bixby Knolls are literally reaping the benefits."
Ambitious Ales is now part of the "Brewery Knolls" family, which includes Dutch's Brewhouse, Liberation Brewing Company and Smog City Brewing. "Everyone's really nice," Carrillo said of the other breweries. "They've taken us in and offered up as much help as we need."
Asked what convinced the team to set up shop in the former Tuttle Cameras building at 4019 Atlantic Ave., Carrillo said it was the community. He and his partners originally considered properties in Anaheim. In Bixby Knolls, Ambitious Ales had the opportunity to locate within a retail corridor close to homes. "Even at a soft opening, one of the cool things about it is we had a lot of local people that live down the street," he said.
Carrillo and his partners were encouraged to plant their stakes in Long Beach by Blair Cohn, the executive director of the BKBIA, who discussed with them new development and investment occurring in the neighborhood. Romero considered the BKBIA and the business improvement district major benefits for both Ambitious Ales and other businesses in the area. "The city contracts with the Bixby Knolls Business Improvement Association to make it a vibrant, safe and well-marketed district," he said.
Ambitious Ales is now open Fridays, Saturdays and Sundays. There are nine craft brews currently on tap, as well as non-alcoholic root beer and cold brewed coffee.
To learn more about Kiva Long Beach and other city business assistance programs, visit longbeach.gov/economicdevelopment.
(Growing Long Beach Is Presented In Partnership With The Long Beach Economic Development Department)