Initially passed by voters in 2016, Measure A allowed for much-needed progress on infrastructure and public safety improvements during its first year, according to Director of Public Works Craig Beck.
"I would have liked to have finished some of the projects. We had a little bit of a stumble but we're catching up," Beck said. "We kicked butt on slurry. I'm kind of proud of the team for what they were able to accomplish on that because they did it all. So, all the slurry work is done. The street team has really been doing some amazing work."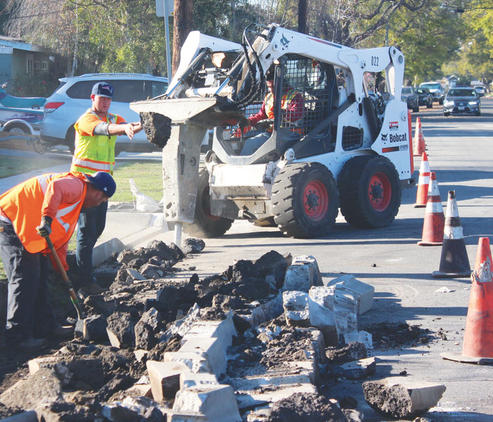 As part of Measure A-funded road work, portions of the gutters and curbs on Stevely Avenue at E. Mantova Street are being replaced. Public Works Director Craig Beck said the first year of Measure A was a success, will all street slurry projects being completed. (Photograph by the Business Journal's Brandon Richardson)
Overall, the Measure A three-year plan cost estimates came out to just over $150 million. For infrastructure, the city budgeted more than $25.5 million last year and more than $26.3 million this year. As of December 31, 2017, Measure A expenditures totaled about $13.1 million; however, city staff noted a two- to three-month delay from the time invoices are received for services rendered and when the payments go through.
While a year three (2019) plan has not been finalized, Beck said initial project estimates have not been accurate overall. He explained that some projects are coming in over budget, while others are under budget.
The City of Long Beach estimates mobility improvements under Measure A are $111.65 million for seven projects over three years, including street improvements, making it the most expensive improvement category. The city budgeted more than $17.5 million last year, more than $14 million this year and, as of December 31, more than $11.5 million of budgeted dollars has been spent.
To decide what streets to invest in, Beck said the city has a pavement management plan (PMP), which gives every city street a grade from zero to 100 known as its pavement condition index (PCI). Money is not invested in the worst streets first necessarily, but rather the streets citywide that will have the greatest impact.
"When I took this position, the PMP said the city should invest $430 million [over 10 years] to raise our average PCI to roughly 80. We were well below both the state average, which is 66 and the county average, which was about 64. We were at 59 when we did that last one," Beck said. "We did the most current update and, while we've made significant investment, we haven't yet pulled that number back. [The PMP estimate] grew to about $510 million. Again, the PMP is looking at making a 10-year investment to raise [the PCI] to an 80."
Upcoming street improvements include street reconstructions, making ramps and sidewalks Americans with Disabilities Act compliant and $5 million to pave all unpaved alleys in the city.
Public safety facility improvements are estimated to cost nearly $6 million of Measure A funds for 12 projects, and include upgrades to fire and police stations. The city budgeted $1.25 million last year and just over $2 million this year. Eight of the projects are underway, with two projects expected to be completed before summer, while three projects have not begun.
Initial estimates for community facility improvements under Measure A were $7.165 million for 17 projects, including library and animal care facility improvements. The city budgeted $1.216 million last year and just over $2.5 million this year. Fifteen projects are underway, with 13 expected to be completed by July of this year, while work has not started on two projects.
Parks and recreation improvements, including community center construction, upgrades and repairs, new playgrounds, turf improvements and new park development, as well as maintenance at the city-owned ranchos, Los Cerritos and Los Alamitos, were initially estimated at nearly $25.5 million. The city budgeted more than $5.5 million last year and more than $6 million this year. Of the 36 parks and recreation projects, 22 are underway, with 17 expected to be completed this year.
"We are focusing on the facilities we have. They are in challenging conditions," Beck said. "So, instead of investing in new, we're trying to save and reinvest and address some of our lacking maintenance."
According to Beck, the city's financial management team is preparing an update on Measure A, including an overview of funding, how it's allocated and how it's trending compared to revenue estimates, to be brought to the city council on February 20. The presentation will have more information related to public safety spending, which was unavailable at press time.