Currently, 10 trash haulers are permitted to work in the City of Long Beach as part of a nonexclusive franchise system. Within this system, companies compete with one another citywide to offer customers the best service at the best price. However, stakeholder outreach has begun in an attempt to alter the system and make it more exclusive.
"We are looking into analyzing the current commercial waste system in the city of Long Beach," Robert Nothoff, director of Don't Waste Long Beach, a LAANE (Los Angeles Alliance for a New Economy) affiliate, said. "With an exclusive franchising system, we see this as a way that can really mitigate the amount of air and noise pollution that we see for residents in the city of Long Beach, as well as our businesses."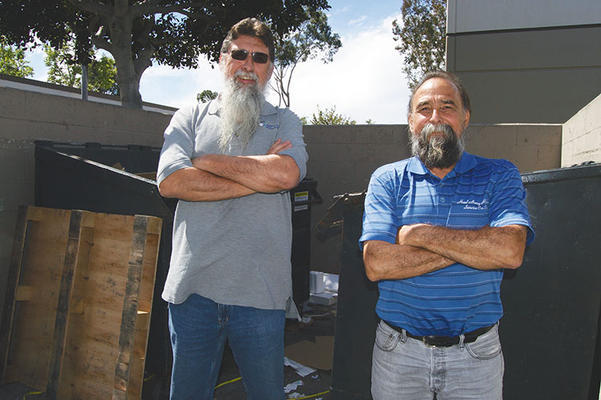 Jim Nevarov, left, owner of Serv-Well Disposal and Recycling, and Morrie Beliakoff, owner of Haul-Away Rubbish Service Co. Inc., are concerned that recent discussions about changing the city's waste hauling system could bring disastrous outcomes to residents and businesses alike. (Photograph by the Business Journal's Larry Duncan)
In 2014, the City of Los Angeles approved an exclusive franchise zone system for trash hauling, which broke the 65,0000 accounts into 11 zones. In December, the city awarded $3.5 billion worth of contracts to seven trash-hauling companies, which will go into effect later this year. Talks of a similar system coming to Long Beach have local trash haulers worried about their livelihood.
Morrie Beliakoff, owner of Haul-Away Rubbish Service Co. Inc., and Jim Nevarov, owner of Serv-Wel Disposal and Recycling, operate in Long Beach and, for the time being, L.A. – neither company put in a bid for an L.A. contract. The pair know several family-owned haulers that are shutting down due to losing their L.A. contracts, some of which have operated in the city for three generations.
"They are all looking for jobs because, come July, they are out," Beliakoff said. "I don't think the City of Long Beach rolls that way. I don't think they think that way. I think there's opportunity for good, hardworking companies."
Nevarov described how AAA Rubbish Inc., a family-owned hauler that has operated in L.A. for more than 85 years, was not awarded a contract because the city deemed the company too small. However, Nevarov explained that the city told AAA they could become a sub-hauler for a larger company that was awarded a contract – a promise Nevarov said the city did not follow through on.
"My grandfather told my father, 'Be a servant to this country. It's a good country. If you work hard, you are rewarded,'" Beliakoff said. "And what's happening now? Here we are – I'm 60, Jim's 58. We're working pretty hard, and we're fighting just to keep our business[es]."
Los Angeles-based attorney Harold Greenberg plans to file a lawsuit against the city in the coming months over the new trash-hauling system. He claims the system is discriminatory against smaller trash-hauling companies, the African-American and Hispanic populations, and small businesses. He described the system as a monopoly.
"I would hope they would [repeal the system]," Greenberg said. "All we're talking about is something where it is competitive, where the owner and the tenant will be in a position to have lower rents. Because if the owners get hit, they are going to want to pass it on to the tenants."
Though Nothoff said discussions are very preliminary, pricing for customers has been a hot topic for all stakeholders. Nothoff explained that the trash-hauling industry has no rate structure that is universal across the board. He said in a competitive atmosphere, owners with several businesses or apartment complexes are able to negotiate a lower fee than business owners with a single location. Nothoff argues that small businesses are essentially subsidizing larger ones.
With the exclusive system, the city sets pricing and caps rate increases – in L.A.'s case, 5% per year. Proponents of the system explain that while prices may increase for some, they will decrease for others, creating a more level playing field.
Nevarov noted an extreme increase in cost for the customer. Taking the new L.A. rate structure and applying base rates to his current Long Beach contracts, Nevarov said every $10,000 billed would become $25,000.
"So now, you're looking at all your small businesses are going to be spending a lot more money. All your apartment complexes are going to be spending a lot more money," Nevarov said. "And no one took that into consideration in L.A. They had a goal, and they thought when the bids came out that it would be competitive."
Additionally, Nevarov pointed out that with an exclusive franchise system, there is no accountability. If a business or apartment complex owner has an issue with their hauler that is not being resolved, they cannot seek another hauler for a cheaper price or better service.
Long Beach property owner Joani Weir serves as president of Better Housing for Long Beach (BHFLB). The advocacy group was founded last year by property owners concerned with practices such as rent control, just cause eviction and mandatory inspections coming to Long Beach and surrounding cities. Some of the members own property in L.A. and say they are already feeling the adverse effects of the new trash-hauling system.
"If you take away options, you drive the price up," Weir said. "We're trying to keep housing affordable. But when you continue to bring in more and more fees, who's paying? It's going to be shared with the property owner and the renter. I think that the best thing to do is keep housing more affordable and not add more expenses."
Both the California Apartment Association and the L.A. Area Chamber of Commerce opposed the exclusive system because of the anticipated higher costs.
Beliakoff and Nevarov also noted the millions of dollars they say it would require to conduct a study and implement the program, considering the current Long Beach system appears to be working very well. However, Vice Mayor Rex Richardson disagrees.
"It's clear to me that the system has some challenges. The system is broken," Richardson said. "There is no set trash day per week. [There is] consistent wear and tear on our alleys from multiple trucks driving the same route without any level of coordination or optimization."
Richardson said quality of life and safety impacts are his greatest concern related to trash hauling in the city. He explained that the current system has trash being picked up seven days per week in some areas, which creates health and safety hazards for families living in apartments, who may treat alleys as backyards and are forced to deal with air pollution.
Diko Melkonian, Long Beach Environmental Services Bureau manager, explained that the city's current nonexclusive franchise system, which has been in place since 2009, included environmental requirements and incentives as part of hauler contracts. He said every hauler is required to comply with every piece of state and local legislation, such as recycling programs, waste diversion and organic recycling.
Melkonian noted that the most important incentive was for the introduction of alternative fuel vehicles. Companies who met deadlines early were given extensions on their contracts. All Long Beach haulers now operate fleets made up of at least 50% natural gas trucks and equipment, some are even nearing 100%.
Within the current system, the City of Long Beach still provides trash hauling for single-family residences and apartment complexes 10 units or smaller and offers commercial services, acting as an 11th hauler in the city. City participation helps to regulate rates, according to Melkonian.
"They set their own pricing, which allows for competition to be there and allows businesses to negotiate the best prices they can get," Melkonian said. "Since they are competing with the city and they are always aware of the city's rates, it has kind of stabilized their rates too."
Long Beach currently boasts a 74% waste diversion rate, far exceeding state requirements and putting it among the top in the country, according to Melkonian. He said that in 2010, the year after the current system was set in place, Long Beach was awarded the gold medal award from the Solid Waste Association of North America as one of the best solid waste operations on the continent.
Efrain Ramirez, vice president and general manager of EDCO Waste & Recycling Services, agrees that the current Long Beach system is working well and that it would be wise to review the impacts of the new L.A. system in the future before making any decision to alter it.
"We believe that it would be best to wait on it and evaluate how everything goes in the City of Los Angeles," Ramirez said. "The City of Long Beach has a very good system in place, and if they want to ratchet it up to be cleaner and to be oriented to more recycling, they can put steps in the existing contracts if certain goals on diversion and cleaner air are not achieved."
Another aspect of the trash-hauling industry Richardson is interested in analyzing is providing young people a path to become a truck driver as a career. He explained that he would like to work with Long Beach City College, the city's workforce partners and trash haulers to create a pipeline for young people to enter the industry. Richardson said this is a huge opportunity to get people into a skilled trade.
"There are benefits to a lot of different alternatives. Show me a way to significantly diminish trips without exclusive franchises. Otherwise, if exclusive franchising can achieve that, then that's something we need to look at as well," Richardson said. "So there's enough here to have a conversation in the city. You've got potential for environmental benefits, very clear quality of life benefits, public safety benefits. And we have to be smarter on how we treat our alleys."
Nothoff said the exclusive system is not a set structure and it allows cities to be creative; however, he noted he would like the L.A. model explored here in Long Beach. Richardson explained that he has no plans to begin outreach at the city level or to bring the issue to the city council until May at the earliest.
When asked if Don't Waste Long Beach is advocating for union trash hauling, Nothoff denied it.
However, "something smells" said Business Journal Publisher George Economides. "LAANE is the same group behind the push to unionize the local hotel industry. This is nothing more than a ruse to eliminate non-union companies from competing for contracts. This is not an idea pushed by city staff. If anything, staff says the current system is working just fine. If anyone thinks prices will not increase if this is pushed through by this union-friendly city council, they're naive."
"Sometimes, the city council doesn't get all the facts. It's hearsay. And so we hope that the city council . . . gets the facts," Beliakoff said. "We hope that they'll consider talking with us. We have ideas. We just hope that the city has some faith in us and sees what we're all about."