The women who are leading the expansion of retail in downtown all have one thing in common: their commitment to unique products and local collaboration. With those key elements in mind, Michelle Molina and Heather Kern of MADE by Millworks, Kathleen Engel of MAKE Collective and Elizabeth Kobliha of Long Beach Vintage Etc. set out to create a different kind of retail environment featuring local vendors, artists and manufacturers in open spaces that invite shoppers to explore.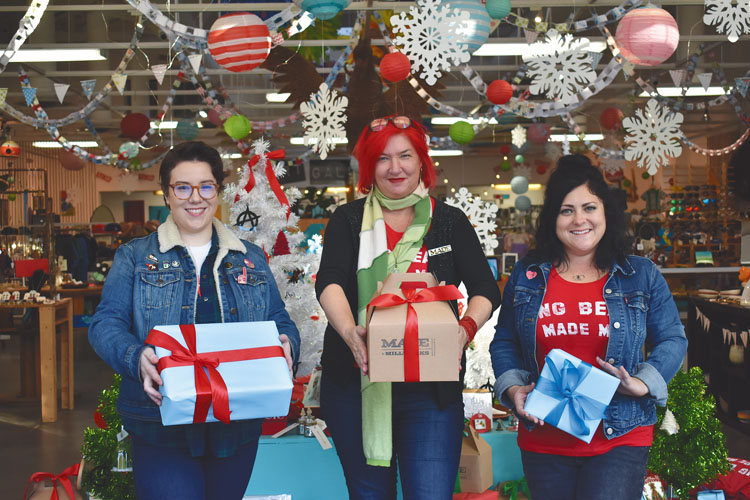 "It really evolved as I got to know my community and the neighborhood, being in the East Village Arts District, and I fell in love instantly," Engel said, recalling her store's transformation from selling vintage furniture, clothing and records to featuring more local artists. "Nobody was doing that in my neighborhood at the time." Engel left her nine-to-five job in the fashion industry in 2012 to start the collective, for which she curates locally produced artifacts and products. "It was the people, one hundred percent. It was the people and their artistry, that's what inspired me."
Just a 10 minute walk away on Pine Avenue between 3rd Street and Broadway, Michelle Molina's MADE by Millworks invites visitors to browse the light, airy store for unique, locally designed and manufactured souvenirs. Open since 2014, MADE by Millworks offers more than just a locally curated shopping experience for visitors. The centrally located venue also features a gallery and spaces to host talks and workshops. Early next year, Molina plans to open a bar featuring locally-brewed craft beer, an idea she credited to MADE's Dream Facilitator – even the titles get creative here – Heather Kern.
"I think that everybody who is paying attention to the economy knows that the traditional retail store is going to have to reinvent itself to stay alive, and we wouldn't be in the retail business if we didn't offer such a unique experience," Molina explained. In a fitting choice – given the female leadership of the venture – the bar will be named Elinor, after Elinor Otto, a real-life "Rosie the Riveter" who picked up work at a Long Beach airplane factory in 1942 and continued working in factories well into her 90s.
When Millworks decided to take over the store – the previous operator had decided they were no longer interested in running it – its downtown location was a major selling point, Molina said. Millworks is a development company run by Molina. "Downtown is unique from a retail perspective, because we're an urban center on the ocean," Molina said. In addition to the unique draw of restaurants and shopping right next to surfboards and beach towels, Molina had already worked on several projects in the area and developed a connection to it. "I couldn't imagine doing anything outside of downtown for many years, because that was like my home," she said.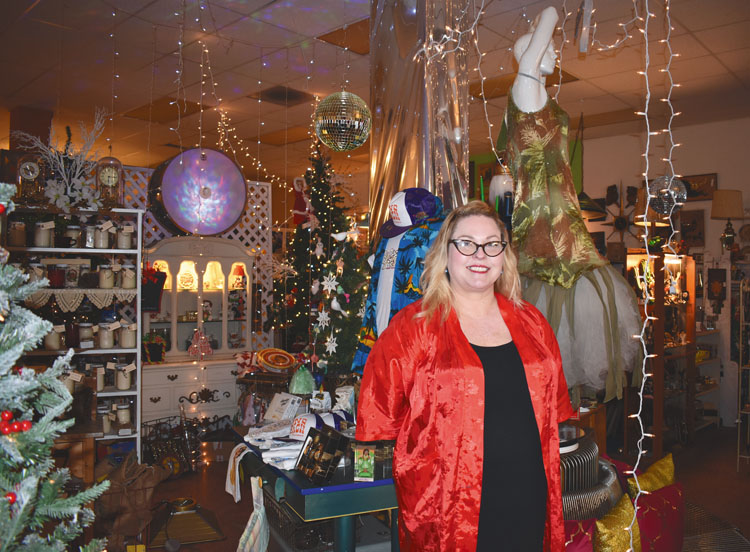 For Elizabeth Kobliha, the decision to set up shop on North Pine didn't come quite as naturally. She had been looking for the right space for a while, after she was laid-off and decided to turn her hobby of collecting and selling vintage items into a business. When her realtor suggested a property on North Pine, she was skeptical. "I've lived in Long Beach my whole adult life," Kobliha said. "I just remembered Pine as being kind of dicey." Without many other businesses around, she was also worried she couldn't draw enough customers on her own. "I was the only one," she remembered. "I feel like I was sort of a pioneer down here."
Since then, Kobliha has seen her store flourish, as vendors filled up the stalls and the area around her slowly began to develop into an eclectic neighborhood with a record store, barber shops and a tattoo parlor. "It worked out, we were able to fill it and then some," Kobliha said about her store, which is a modern take on the traditional antique mall. The shop features carefully designed nooks rather than caged-off stalls for vendors to present their merchandise in.
"When I opened this place, I wanted to do a little more freeform, free flowing, and have everyone create their own space," Kobliha explained. In Downtown Long Beach, she found the space to do just that. Now, she's planning to expand to a space next door, doubling her 5,000 square-foot store to add a showroom fully dedicated to larger, mid-century items. Today, she's confident that her neighborhood, paired with a pinch of social media marketing, can carry the weight of all this merchandise. "I feel really good about the direction that Pine, and essentially downtown is taking," Kobliha said. "It's a real community."