When it comes to Downtown Long Beach, businesses move in for the same reasons that people do: the sunshine, salty breeze and progressive social scene. New business owners who spoke to the Business Journal said they were attracted to the area's blend of history and hip vibe.
For Denise Maldonado, co-owner of Confidential Coffee, setting up a new coffee shop in the neighborhood made more than good business sense; it was a chance to be a part of the unique downtown community. "It's so diverse," she said. "You have everything in Long Beach, and downtown is the heart of it."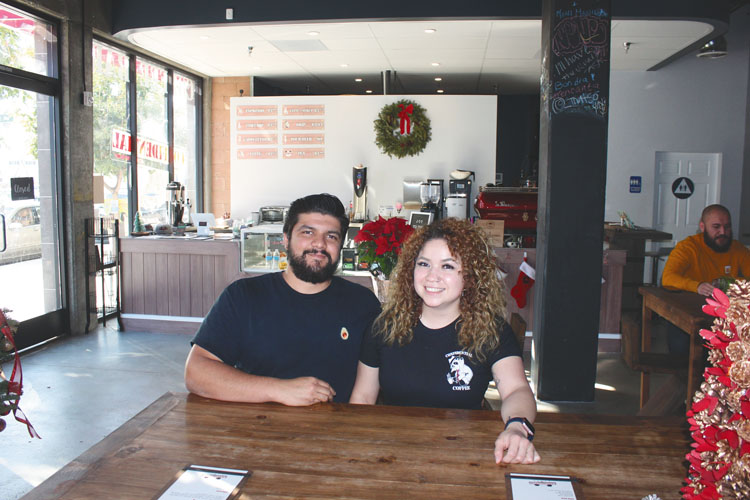 Confidential Coffee first opened at 137 W 6th St. in late August. Coffee is a passion of Maldonado's, and with her business partner Gustavo De La Rosa, the two hope to bring that passion to the city's residents and workers. From their location, Maldonado said, the shop sees cross-traffic from the surrounding apartments and businesses. "I know there's going to be a lot of new housing coming in as well, so that means good news for us," she said.
Maldonado's culture influenced Confidential's menu. One of her most popular drinks is the cajeta latte, a blend of Mexican caramel and goat milk. "It just reminds me of warmth, family, my grandmother at Christmastime," Maldonado said. "I grew up around cajeta. All my drinks have a story behind them, and it creates an experience for everybody."
Creating an experience for business patrons is key at Snake Eyes Society, a new women's clothing shop in the East Village Arts District that hosts a friendly happy hour on the first Friday of each month. A DJ comes in to spin records, a bartender serves drinks and shoppers can get their eyebrows done and enjoy B12 shots from health and wellness specialists right on site. "It's not so much sales-motivated, it's more of a communal thing," co-owner Ben Neuhaus said. "We just want guys and gals to come, hang out and listen to good music."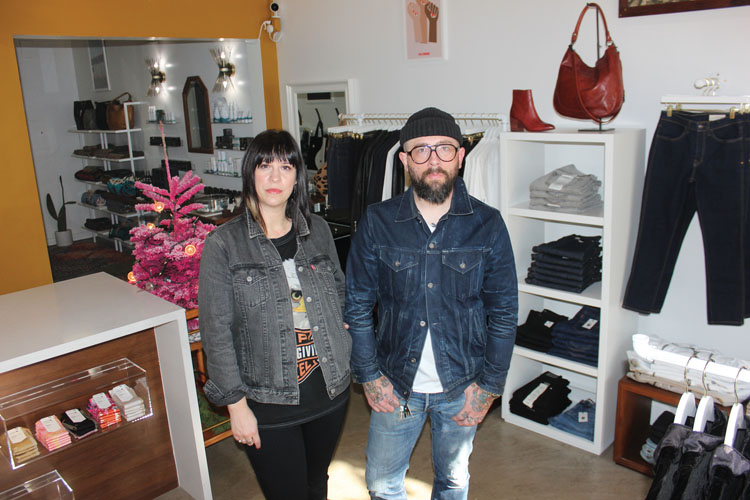 Neuhaus and fellow co-owner Miranda Malloy grew Snake Eyes Society out of Snake Oil Provisions, a men's clothing shop currently located on 132 Linden Ave. "We've been in three different physical locations," Malloy said of the men's store. With each move, she explained, the shop grew in size, brand recognition and inventory. After five years in the retail business, she and Neuhaus launched their second storefront at 435 E 1st St. The two are quite pleased with the space. "I would say the bang for the buck for the space that we have is better than any space that we've had for our men's store," she said.
Snake Eyes Society opened in April with the idea of using a similar aesthetic to their men's brand – fewer garments made of longer lasting quality than other retail brands. "We're not doing fast fashion or trend-driven [selling], which is what most women are used to," Malloy said. Many of their pieces are domestically made, with both footwear and denim manufactured in California.
Malloy and Neuhaus said the changes in downtown over the last few years, both aesthetic and commercial, have been striking. Their goal is to attract high-end retail into the area and to continue to host fun events that unite the community. "Long Beach residents are rabid for small business and very supportive," Neuhaus said.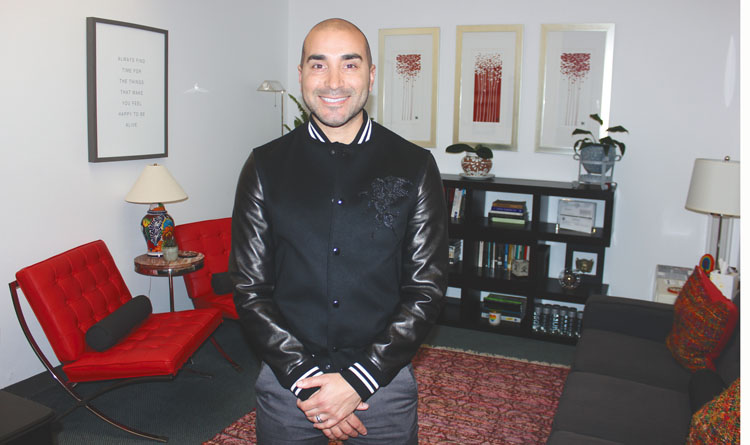 Licensed marriage and family therapist Henry Campagna cited the friendliness and diversity of downtown as a major factor in setting up his private practice there. Located at 121 Linden Ave., LBQTs (Long Beach Queer Therapists) offers mental health counseling for the LGBT community. "I found something affordable that was in a great area with other therapists," Campagna said of his office.
Campagna formerly lived in the Cooper Arms building, a historic Renaissance Revival apartment tower located in the East Village. Campagna and his husband have since moved into a house about 10 minutes across town, but their ties to the East Village remain strong.
"We still have friends in the area. There are a bunch of great dining options in the East Village Arts District, plus it has a really cool vibe," Campagna said. "It has a strong queer community."
Campagna bikes to work from his home, which he said is a definite plus. His clients also appreciate the short walk from anywhere within the East Village. Though his standard rate is $100 per session, Campagna said he provides payment options for clients who are committed to seeking treatment. "People who have a strong motivation to heal and work through their trauma . . . I definitely want to provide a safe, confidential space where they can do so," Campagna said.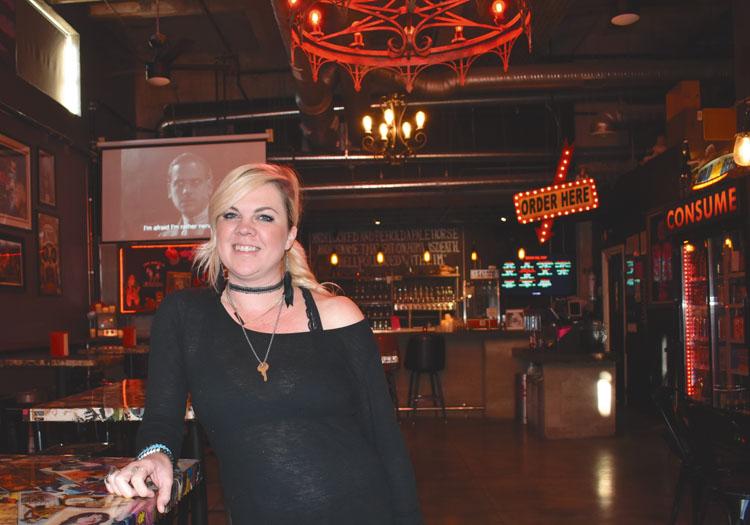 Over at 121 W 4th St. off of Pine Avenue, The 4th Horseman has begun offering downtown residents comfort of a culinary variety. With craft beer, fine wine and "apocalyptic pizza" on the menu, the three-week-old bar has already made an impression on the local scene. "The city has been wonderful, the community's been wonderful," co-owner Ryan Hughes said. "We had to shut down the Monday after our first opening weekend because we literally ran out of beer and dough."
Inside the Horseman, customers are greeted by original murals painted on the walls, horror movies on TV and comic books plastered to the tables. "It's not a sports bar," Hughes said. "It's something different for downtown." The bar and pizzeria is the brainchild of Hughes and Martin Svab, co-owner of the Phantom Carriage Brewery in Carson, and Jeremy Schott, the owner of the Dark Art Emporium, a downtown shop featuring oddities and original art.
The three partners have teamed up to offer the neighborhood craft beer in a gothic atmosphere, with tongue firmly planted in cheek. "There's something for everybody, literally," Hughes said. "We just wanted it to be not pretentious and approachable." That extends to the selection of drinks, he added, which includes everything from local brews to Miller High Life. "Everything is good and still affordable, and you probably still want to take a bottle home," Hughes said. The bar features a cooler with a rotating selection of drinks for those interested in picking up something to enjoy at home.
Finding a space on 4th Street was fortuitous, Hughes said. The downtown location is near where all three owners live, clinching the deal. "We are a small mom and pop shop, so this is perfect for us," Hughes said. "We're stoked to be here."
The 4th Horseman's grand opening is scheduled for Valentine's Day weekend 2019. By then, Hughes said, the bar plans to be open for lunch as well as brunch and offer menu items for delivery.
From its new vantage point across Ocean Boulevard, Pacific6 is counting down the days to its grand re-opening of the Breakers building. The investment group purchased the historic landmark in 2017 and is renovating its 13 stories into what they've termed a "boutique destination hotel." The company located its headquarters at 211 E Ocean Blvd. a little less than a year ago, where construction on the Breakers can be clearly viewed through its large, floor-to-ceiling windows. "It's like having a live feed of what you're doing right outside your door," founding partner Jon Heiman said.
With its soothing color scheme and open office design, the Pacific6 offices feel more like an art studio than an investment firm. Communications Director Brandon Dowling said the layout was intentional. "We're all being exposed to the work that everyone else is working on," he said. "It really contributes to a great flow of information."
"We've been trapped in corporate worlds for the last 15 to 20 years," Heiman said. "When we had the opportunity to have a say in what it looked like here, everyone was like, 'Man, we want to be as hipster as possible.' More like broken hipsters because of our age but . . . the views are amazing."
Before collaborating on Pacific6, four of the company's six founders previously worked at Molina Healthcare, also headquartered downtown. "Our kids go to school in Long Beach," Heiman explained. "I worked downtown for the last 12 years of my life and I really enjoy this area. I've seen it go through ebbs and flows and it seems like now it's going through a renaissance." Heiman added that he his partners in Pacific6 are excited to be on the front end of that wave.
Heiman also gave a shout out to the Downtown Long Beach Alliance, the Long Beach Convention & Visitors Bureau and the Long Beach City Council for establishing a good working relationship with Pacific6, which plans to continue making property investments in downtown and beyond. "What I love about Long Beach [is] it's sort of a big little city or a little big city, whichever you want to call it," Heiman said. "Everybody's on board."
The Breakers is slated to open in 2020 with 185 rooms, restaurants, a pool, jazz lounge and rooftop bar. Pacific6 is also developing the nearby Ocean Center building into an 85-unit apartment complex slated to come online around the same time as the Breakers. "I think our company's going to be in a position to talk about a lot more of our projects coming up next year," Dowling said. "Stay tuned for 2019."