MemorialCare Community Medical Center, a Long Beach hospital operated at a historic site owned by the City of Long Beach, will cease acute care operations by June 2019 due to the location's noncompliance with state seismic regulations, MemorialCare Health System announced in early November. A geological survey of the site at 1720 Termino Ave. has revealed that the hospital sits on a larger fault line than previously thought, and under state law the facility will no longer be able to house acute care services.
This determination makes MemorialCare's future presence at the site uncertain, based on feedback from John Bishop, CEO of Community Medical Center, Long Memorial Medical Center and Miller Children's & Women's Hospital.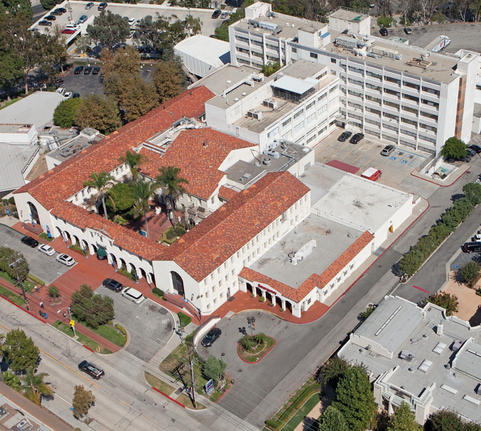 September 2014 Business Journal photograph of MemorialCare Community Medical Center. A report commissioned by MemorialCare Health System has revealed that Community Medical Center, which it operates, sits on a larger fault than previously thought. As a result, the health system says it cannot continue acute care operations effective June 30, 2019. (Business Journal photograph)
According to Bishop, it is up to the City of Long Beach, the property owner, to determine the best future use of the site. "We would like to find a use that supports the community's needs. If it's a use that isn't consistent with acute care, though, it's challenging for us to expect to be the operators," he said. "We did a community needs assessment that we provided to the city to assist them with that decision."
If the city decides to designate the site for another health care use involving MemorialCare, then the health system would begin that transition before the state-mandated acute care closure date of June 30, 2019, Bishop said.
The Long Beach City Council discussed the lease for the site in closed session on November 7, and held a study session about the hospital a week later.
During that meeting, councilmembers expressed a unified desire to keep the hospital open as an acute care facility as long as possible, and to investigate ways it might be able to remain open beyond 2019. Assistant City Manager Tom Modica explained that the city could issue a request for proposals to solicit other potential hospital operators who might be able to come up with a plan to keep acute care services open, or who could perhaps identify other medical uses for it.
Fifth District Councilmember Stacy Mungo suggested that the council might be able to work with state regulators and local legislative representatives to get an extension for the hospital to operate beyond the June 30, 2019 deadline.
MemorialCare Health System retained a third party to conduct a community needs assessment that revealed that there are seven acute care hospitals "within a short distance" from Community, and that they all have "a large number of available patient care beds and excess capacity." In a press release, MemorialCare concluded that these hospitals could absorb the acute care patients served by Community.
At the council study session, 3rd District Councilmember Suzie Price took issue with this determination, explaining that she feels the community in the area believes the hospital's acute care services are necessary. She pointed out that the two nearest acute care hospitals are five and 15 minutes away, additional travel time that would be detrimental in emergent situations.
MemorialCare has invested $22 million, including programmatic support, into the hospital since it acquired the lease for the site in 2011, according to Bishop. "When we acquired the facility back in 2011, we knew that there was an earthquake fault," he said. He noted that while a seismic study had been completed, MemorialCare felt it had not been in-depth enough, and thus proceeded with further analysis.
"At the time, we were very hopeful that we would be able to do the necessary retrofits to be able to continue long into the future," Bishop said. "But as we continued to investigate and plan, we realized that the earthquake fault was both larger than we thought and that it was an active fault. As a result, we looked at options to potentially retrofit and maintain an acute care presence. But it became clear that that was not going to be possible under the law."
Bishop added, "We wouldn't be able to retrofit and have a hospital that would be of a scale that would support an emergency department and a physician population, et cetera. So, it's not an issue of money. It's on an active fault."
Four hundred full-time equivalent employees work at Community Medical Center, according to Bishop. "We are trying to transfer as many employees as we can, based upon our needs at our other Long Beach hospitals as well as throughout the system," he said. "And we are also giving a generous retention bonus to all employees to incentivize them to stay during this transition period."
Long Beach Memorial Medical Center is undergoing seismic retrofitting for its main tower, which should be completed in 2018, Bishop said. After 2030, that tower must be rebuilt to comply with seismic regulations, he noted. "We are planning for it. It is in our 10-year capital plan," he said of the project. "We will likely fundraise for it as well, because we obviously think it is a very important asset for the community."
Miller Children's & Women's Hospital's new pavilion is in compliance with 2030 guidelines, but older areas of the hospital will require seismic retrofitting, Bishop said. "We will be fundraising for that as well," he noted.
"I would just like to say that we are saddened by the fact that we weren't able to make Community Medical Center seismically compliant for acute care services," Bishop said. "And we are committed to working with the city and other community stakeholders to find the types of services that best support the community's needs."