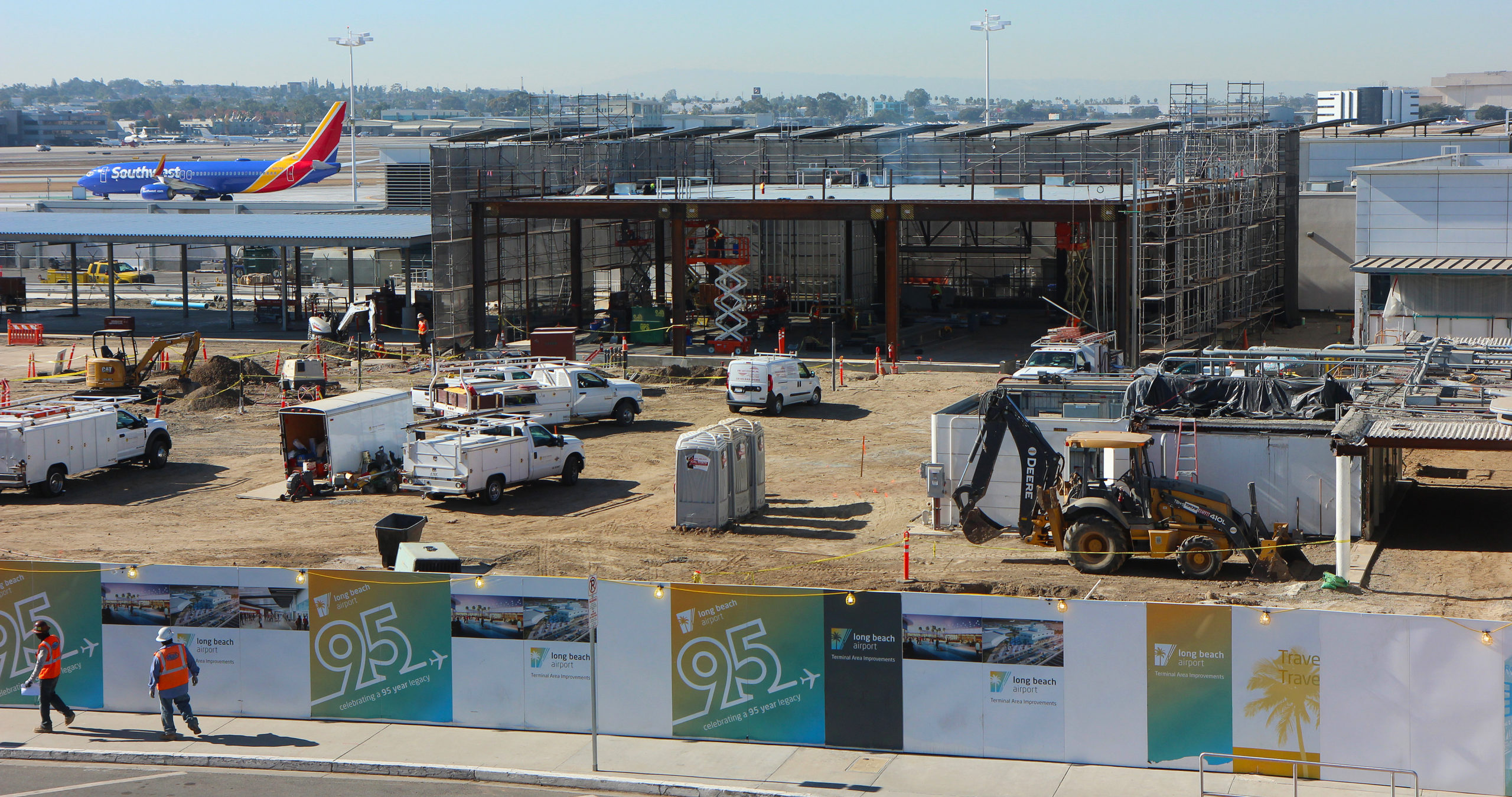 Construction is underway on the second phase of the Long Beach modernization program, but the ongoing pandemic has wreaked havoc on the completion schedule and a budget that has already been increased once prior to COVID-19.
The airport's Phase II Terminal Improvements include new checked baggage inspection and ticketing buildings, both of which are under construction. Other projects include baggage claim area improvements, historic terminal renovations, rental car customer service improvements, and a reimagined "meeter and greeter" plaza.
The entire six-project program was originally slated for completion in 2022 but airport staff had to reevaluate that timeline, pushing the schedule well into 2023.
"The decision to slow it down and resequence is because of our drop in revenue," Airport Director Cynthia Guidry said. "We really needed to ease our cash flow requirements to buy us time to see how the recovery goes and see how the travel demand bounces back."
The Transportation Security Administration provided 60%—$10.9 million—of the cost for the baggage check building, which is furthest along in terms of construction with the foundation poured and steel beams erect. Underground work is being done for the new ticketing lobby.
In February, the Long Beach City Council approved a contract increase, bringing the total for the revised phase two program cost estimate to just over $110.24 million, funded through customer facility charges, TSA, passenger facility charges, the Airport Fund Group and up to $21 million in bond revenue. However, the bond issuance has been put on hold indefinitely due to the pandemic, according to staff, while additional budgetary increases are likely to come before project completion.
"Costs are expected to increase due to escalations of materials and labor," said airport spokesperson Kate Kuykendall. "Total program cost increases have yet to be finalized."
Phase two originally consisted of nine projects but the proposed rental car ready-return-lot, the ground transportation center and terminal roadway improvements were deferred due to the cost increase and are to be rebid separately by early 2022.
On the airfield, the municipal airport has several runway and taxiway projects underway funded through nearly $40 million in grants from the Federal Aviation Administration's improvement funds. Long Beach Airport was one of the largest recipients of FAA grants in California this year.
The phase two program comes eight years after the completion of the $100 million phase one program, which included modern passenger concourses with local eateries, a new parking structure and improvements to the existing parking structure.
"We're going to reassess in early 2021 and we'll have to make a decision if we'll have to slow the schedule down again or make any other adjustments to phase two," Guidry said. "We're excited about phase two … but at the same time we need to watch how things are going."