In 2017, the Long Beach Convention and Entertainment Center hosted 297 conventions. Among them was ComplexCon, organized by Complex Media and put on by Reed Exhibitions. Thirty-five thousand people had attended the inaugural convention in 2016. In 2017, attendance swelled to around 50,000.
In 2003, Aaron Levant, senior vice president of Reed Exhibitions and head of ComplexCon, started Agenda, a creative lifestyle fashion trade show. Through this venture, Levant built a relationship with Complex Media founder and fashion designer Marc Ecko.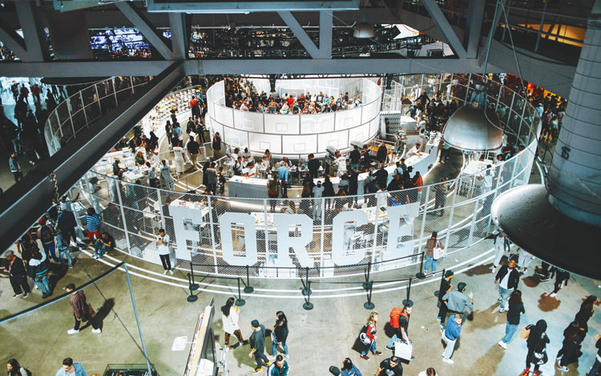 ComplexCon 2017 had 50,000 in attendance at the Long Beach Convention Center, which was 15,000 more than its inaugural event in 2016. The convention focuses on street culture and includes art, food, musical performances, panel discussions and brands such as Nike creating unique installations. According to Senior Vice President of Reed Exhibitions and head of ComplexCon Aaron Levant, ComplexCon is 'home to stay' in Long Beach. (Photograph courtesy of Reed Exhibitions)
"Around 2015, Marc and myself started putting our heads together to see how we could take these cool companies that we each have and put together what we think is the street culture version of Comic Con," Levant told the Business Journal. "They are a really big media brand, we're a huge events company, and putting our brains and power and resources together just kind of created a 1+1=3 kind of thing."
Reed Exhibitions is no novice when it comes to running events. In addition to Agenda and ComplexCon, the company has put on New York Comic Con and around 500 other fan-centric events. The company has built a relationship with Long Beach and its Convention & Visitors Bureau (CVB) and plans to continue Agenda and ComplexCon in the city.
In 2017, Reed Exhibitions held ComplexCon, TwitchCon and two Agenda events in Long Beach. Levant said working with the CVB and its President and CEO Steve Goodling is always a great experience. He explained that CVB and convention center staff are always supportive and accommodating in helping them navigate, and sometimes push, the boundaries of the convention, while representing the interests of the city and its residents.
Levant said he has a personal affinity for the city, having started Agenda here and returning after hosting the event in other cities. He said after experiencing other venues for the event he preferred the Long Beach convention center campus because it is an interesting facility due to its inclusion of an arena, theaters, exhibit halls and a diverse meeting and gathering space, both indoors and out. He said the combination of these features is unique.
"Some people might take this the wrong way, but I think we're a big fish in a small pond. Like, in New York and L.A., there are many big events that come through the city and we would just be another event," Levant said. "But we come to Long Beach and they really appreciate us there. Year one, the mayor came and gave us the key to the city. I don't think that would be happening in L.A. or New York. So we appreciate that our event is a big event."
Aside from the available facilities, Levant said Long Beach's location is important. He explained that ComplexCon attempts to draw its audience from San Diego, Orange, Los Angeles, Ventura, and Santa Barbara counties, as well as the Inland Empire. Long Beach's central location to these areas makes it the perfect meeting place to maximize attendance.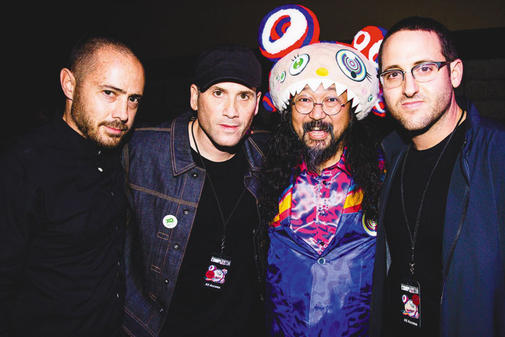 Pictured at ComplexCon 2017 from left: Moksha Fitzgibbons, ComplexCon chief revenue officer; Marc Ecko, Complex media co-founder and fashion designer; Japanese artist Takashi Murakami; and Levant. (Photograph courtesy of Reed Exhibitions)
Next year, Levant said the convention is expanding to utilize outdoor space around Rainbow Lagoon Park, as well as expanding in coming years to include comedy that will be featured in the Terrace Theater. As the event continues to grow in size, Levant explained that the goal is to transform it into a gathering similar to Austin's South By Southwest. This would mean expanding to other venues and event spaces throughout the downtown area, including bars, restaurants, the Queen Mary and hotels, in order to offer a wider array of activities and locations for people to congregate.
According to Levant, what makes ComplexCon such a special event is that it aggregates different event formats, such as fashion and sneaker conventions, music concerts, TED Talks, food festivals, arts fairs and pop-up shops, all in one space. He explained that this is culturally significant in that it brings such a diverse group of people and projects together, and embodies the event tagline – "the internet in real life." This year, the likes of Frank Ocean and Lana Del Rey attended the event as spectators and experienced it organically with other attendees, a phenomenon Levant said is not common at other events.
"Some people would see our audience as a nuisance – a bunch of young kids running around, and hip hop. In some communities, that's frowned upon. But in Long Beach we have been met with open arms by the community," Levant said. "That's very helpful because I've done events in other cities where the community was petitioning to keep us out. We're excited that Long Beach sees the potential in our audience and the economic impact that we can drive and how working together with the city can be a great marriage."
"Our company is home to stay in Long Beach with many of our different events," Levant added. "We're excited to continue to build and hold lots of events there."