With the forthcoming legalization of adult-use marijuana in California on January 1, the Long Beach City Council voted 5-3 on November 14 to move forward with the process of legalizing the sale of recreational marijuana in the city.
The passage of Proposition 64 in the November 2016 election legalized the sale of recreational marijuana in the State of California but allows for local governments to determine its legality within their city limits. During the election, statewide, 57% of voters approved of recreational marijuana, while more than 63% of Long Beach voters cast for legalization, according to city staff.
"So, City of Long Beach voters were higher than the county and higher than the State of California on this issue. This is one that is really clear that the voter's intent is there," Vice Mayor Rex Richardson said. "If we don't take decisive action and begin to own this issue and create public policy that is right for our city now, we could very well be in a position where folks will go to the ballot next year. We need to move forward."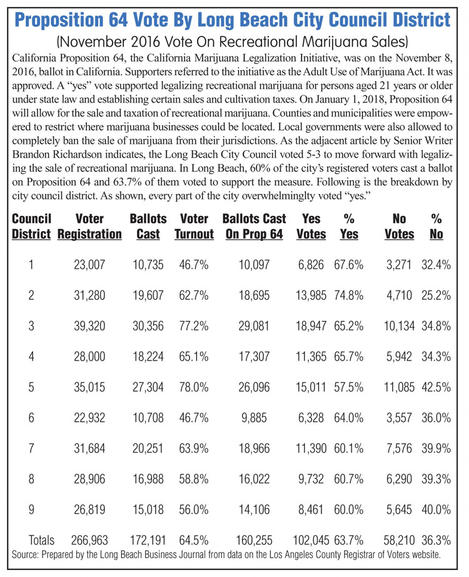 Richardson's substitute-substitute motion to develop an ordinance to allow, license and regulate the sale of recreational marijuana, with special care to include language regarding jobs, labor peace, and equity was passed. Councilmembers Suzie Price, Daryl Supernaw and Stacy Mungo  voted against the motion.
During the meeting Price voiced her concern over the impacts of legalizing recreational marijuana sales, particularly the amount of resources necessary to enforce the ordinance and how that would affect the quality of life for residents. Instead, Price suggested the council vote to ban recreational marijuana until such time that all medicinal dispensaries were operating and the city had more data to inform its decision.
"We have yet to see what the practical application of our regulations and what the resources will be once these facilities are operating, and we have a market that might be illegal in nature established in Long Beach," Price said. "We've only started to implement the medical marijuana voter-approved initiative here in the City of Long Beach."
Last November, Long Beach voters also approved the sales, cultivation, distribution, manufacture and testing of medical marijuana. Measure MA placed an 8% to 12% sales tax on recreational marijuana, while Measure MM allows for 32 dispensaries in the city, two of which are currently operating. Staff recommended that the recreational marijuana sale ordinance include a provision to maintain the 32-dispensary cap in the city, with the already-approved medicinal dispensaries serving as recreational sales locations.
To avoid legal complications while the city manager's office drafts an ordinance related to recreational marijuana sales, an ordinance enacting a 180-day temporary hold on recreational business licenses is expected to return to the city council in December. The ordinance to legalize recreational sales is expected to return to council by June 2018, according to city staff.
"I've been on this issue probably longer than anyone on [the council]. It's been up and down, up and down, but . . . the voters have made their choice," 6th District Councilmember Dee Andrews said. "The longer we wait, the more it's going to encourage illegal behavior. If we're going to do it, we better do it now. The voters have chosen, they told us what they want to do."