How many times have you checked off one of three options – chicken, steak or fish – for a meal on an RSVP card for a wedding?
These traditional sit-down meals are increasingly going by the wedding wayside as couples instead opt for food stations or family-style meals, which offer more variety for guests and even create an element of entertainment.
Customized cocktails and mini-food servings, as well as creative food displays, also make for a unique wedding menu and lend to a cocktail hour-reminiscent social vibe that is becoming increasingly desirable among young couples, according to local catering and events professionals.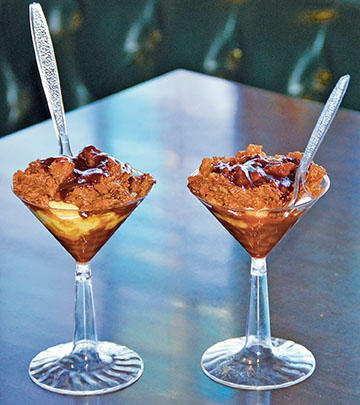 Naples Rib Company offers a unique spin on wedding reception appetizers with its brisketini. The creation includes beans, garlic mashed potatoes, brisket and barbecue sauce in a martini glass. (Photograph by the Business Journal's Larry Duncan)
"Nowadays everybody wants a taste of everything," Sofia Riley, founder and co-owner of Long Beach's Thank Goodness It's Sofia (TGIS) Catering, told the Business Journal. "It's like when you go out for tapas," she said, referring to Spanish-style meals made up of appetizers or small servings. To create that feel at wedding receptions, more couples are opting for food stations.
"We're doing things that are more geared towards fun and creative food rather than you sit down with one plate and that's it," Dan D'Sa, director of food and beverage for The Grand Long Beach, said. At The Grand, an events venue near Lakewood Boulevard and the 405 freeway, couples are increasingly opting for foods stations, which allows guests more options, he noted.
Food stations don't necessarily have to be set up as banquet-style, self-serve hot plates; D'Sa and Riley both pointed out that they are catering more wedding receptions with live food stations, where chefs prepare food in front of guests. "We will have a big paella pan that is six feet wide and they are making it right there," Riley said. "You see all the seafood being cooked and the saffron getting tossed into the rice. It's fun and interactive, and it's a little more entertaining."
"It's a performance," D'Sa said of live food stations. "We are performing for your big day. That's the way we envision our job."
Like food stations, family-style meals also lend to a less formal vibe. "Our take is we do family style for weddings," Gus Sverkos, who co-owns Kafe Neo with his brother Pete, said. "Family style is where you don't plate each individual meal, [but] you serve the food on platters. Then what happens is you either put the platter down on the table and let the guests serve themselves . . . or you walk around with the platter and have one of the servers take the items from the platter to the plate." The result is a communal atmosphere at the table, he noted. "[It makes for] better vibes at the table rather than everyone getting their own plate separately."
Family-style meals allow guests to choose their own portion size, and select from a variety of foods. "Usually at weddings you go to the banquet hall, you get your steak, you have one little carrot on the side. You know, it's pretty boring and uncreative and everybody has kind of the same exact cookie cutter plate," Sverkos said. "Whereas if you do family style . . . you might not be a big meat eater and just get a little piece of meat just so you can take a taste. You might take more of another side entrée. You might want to do more salad."
Rather than serving standard wedding dishes, Kafe Neo offers selections like roasted lamb with garlic and rosemary-infused marinade, swordfish skewers, chicken stuffed with imported Greek feta cheese, and other more creative options to create a unique wedding menu.
In addition to offering less-traditional meal options, such as food stations with ramen noodle cups, The Grand places an emphasis on presentation to add some flair to wedding menus. A particularly popular option is deconstructed dishes, according to owner Jim Choura. Salads are a great option to present in a deconstructed way, with all the elements – onions, olives, lettuce and so on – placed side by side on a serving dish. "It looks almost like an artists' palette," D'Sa said. Plus, it allows guests to pick out ingredients they don't care for, he added.
"Food can taste different if it's presented in a way that's more professional," Choura said. "That's the service side."
TGIS Catering works with couples to create memorable food displays for their receptions, according to Riley. Wall displays of small metal pails filled with mini-meals, hovering over tea lights on shelves beneath them, are such an option. "It creates something that gives them a little bit of a wow factor," she said.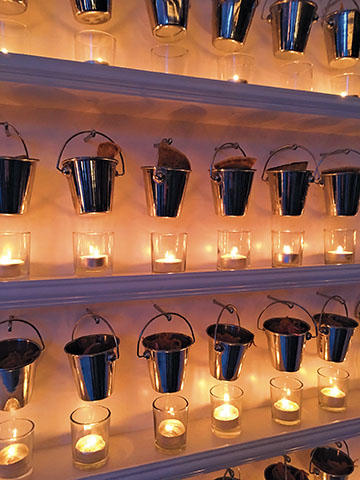 Interactive food displays are becoming a popular way to engage guests at wedding receptions, according to Sofia Riley of Thank Goodness Its Sofia (TGIS) Catering. This TGIS creation is one such wall display, with miniature meals in pails heated by tea candles. (Photograph courtesy of TGIS Catering)
Many couples are also opting for mini-meals and small appetizers served throughout the reception, which add both a personalized touch and lend themselves to the increasingly popular cocktail hour vibe. A popular pairing TGIS creates for weddings are margaritas served in miniature Patron bottles alongside spicy tuna or pork belly tacos. "We do the same thing with little mini pints of beer served with a little lobster roll," Riley said.
Naples Rib Company, a Long Beach restaurant that caters wedding receptions at several local venues, has a particularly popular, out-of-the-box mini-appetizer. "We have this thing called a brisketini (pictured on Page 1). What we do is we take a plastic martini glass and we put barbecued beans at the bottom, then we put garlic mashed potatoes, and then we add chopped beef brisket on top, then drizzle it with barbecue sauce," Dave Ursini, owner of the restaurant, said. "It's like a mini barbecue martini."
Other miniature food items, such as Louisiana hot sausage bites or barbecue sliders, make for an interesting alternative to vegetable or cheese trays, Ursini pointed out.
Signature and custom cocktails are also making a splash at wedding receptions lately, providing a fresh alternative to typical beer, wine and mixed-drink bars.
"Nowadays it's all homespun cocktails," Riley said. "Making your own bitters, infusing your own liquors, using a lot of fresh organic ingredients and different herbs, and incorporating fun fruits [is] just a little more exotic."
The Grand fresh-presses its own juices, which makes for "a completely different level" of standard drinks like greyhounds, D'Sa said. The venue also infuses vodkas to create interesting flavors. "Mixologists are very popular," he noted.
"Food is such an important part of the entertainment nowadays at an event," Riley pointed out. "People want to be wowed."