Innovatory, a new creative marketing and business development agency, has opened up shop within WE Labs in Downtown Long Beach. Headed by managing partners Lincoln Bauer, Amara Omoregie and Ted Sieving, the fledgling agency hopes to appeal to Long Beach businesses with its emphasis on local talent and knowledge.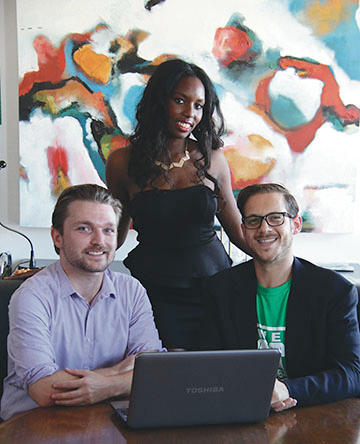 Pictured, from left, are the managing partners of Innovatory, a creative marketing and business development agency: Lincoln Bauer, Amara Omoregie and Ted Sieving. The firm is located in Downtown Long Beach. (Photograph by the Business Journal's Erin Kleekamp)
"Innovatory was inspired by the synergy created here at WE Labs between creatives and entrepreneurs here in Long Beach," Omoregie told the Business Journal via e-mail. "Our goal is to provide our local talent with the opportunity to work with bigger companies on major projects that they may not otherwise have access to," she continued. "We are also looking to provide local businesses with a hub to where they can come in, ask questions and seek expert support for creative services that they are looking to use for their business."
"We want to make sure that large scale creative, marketing, digital and business development stay local and support our local economy," Bauer said. "One of our goals is to ensure that our business and community leaders begin to consider local talent before looking outside of Greater Long Beach."
According to Sieving, the agency already has local clients. "We have worked with a longstanding local real estate brokerage, Buckingham Investments, on a number of projects, from web development to marketing to digital content," he said. "We're also finishing up a digital content project for Prime, a local hangover prevention startup that is just entering the launch phase."
As Innovatory grows, Sieving said he hopes "to set the industry standard and be the go-to for any business with short- or long-term needs for creative services."
Innovatory is located within WE Labs, a collaborative office space, at 235 E. Broadway, Suite 800, in Downtown Long Beach.