Along with new construction cranes dotting the landscape and new businesses opening throughout downtown, our public spaces are also evolving – into more welcoming, fun, engaging spaces for all members of our community. As more people and businesses move into downtown our public spaces will become even more integral in making downtown a more vibrant place. Several benefits emerge from investing in interesting and creative public spaces – enhanced economic vibrancy, fostering connectivity amongst neighbors, and greater marketing potential of downtown. The Downtown Long Beach Alliance (DLBA) is committed to creative placemaking because it understands the increasingly important role it plays in ensuring our public spaces reflect the needs of the community.
Giving People Reasons To Explore
In April the DLBA, in partnership with the City of Long Beach, opened The Loop at Pine and Ocean, a 7,500-square-foot public space that has transformed a dead corner into a fun and relaxing place for community members to gather. The Loop attracted over 67,700 visitors in its first six months and in the coming year attendance is expected to grow with more events and activities planned.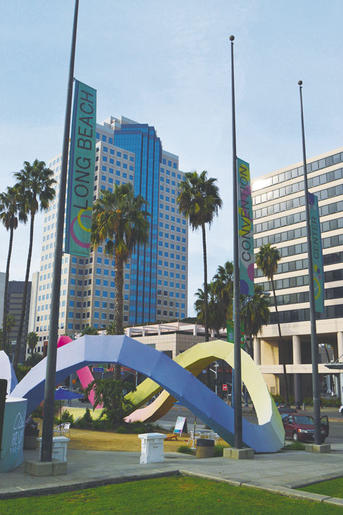 The Loop, an art installation at the southeast corner of Pine Avenue and Ocean Boulevard, was installed to activate an empty lot that sits on a key connection point between downtown's waterfront and its Pine Avenue business district. (Photograph by the Business Journal's Larry Duncan)
This year also saw the introduction of Long Beach Bike Share. Bike share has given workers, residents, and visitors to downtown a larger footprint of exploration. An office worker on the west side of downtown can now hop on a bike and grab a bite to eat in the East Village during her lunch break.
Encompassing more than just physical improvements, placemaking is also about activating spaces through unique programming. In March, downtown hosted Beach Streets, an event where city streets are turned over to pedestrians and bicyclists for the day. To activate the route the DLBA hosted mini-versions of several of our events held during the year and handed out an urban exploration map. Every second Thursday of the month unique public and private spaces become venues for live music during Live After 5. The Loop, Arts Park, Psychic Temple and Scottish Rite Event Center are just a small sample of out-of-the-way spaces that come to life every month.
Long Range Vision
Several of these projects are the result of foresight and planning. The Loop at Pine and Ocean was born out of a DLBA-commissioned study tasked with finding solutions to improve pedestrian connectivity between the waterfront and the downtown core. To further enact the solutions proposed in the study, the DLBA created a Waterfront Task Force. That task force is finalizing its recommendations for the next iteration of projects that will improve the downtown pedestrian experience.
In May, the Long Beach City Council approved the Downtown and Transit-Oriented Development Master Plan, a document that provides policies and guidelines that support increased walking and transit use. The plan includes a prioritized list of more than 30 pedestrian infrastructure projects that will be implemented over the next 15 years, including alleyway enhancements and improved beach access.
In August, DLBA launched an automated pedestrian counter system that provides 24/7 data on the number of pedestrians at eight locations in downtown. Understanding pedestrian traffic volumes and patterns will be a powerful tool for businesses, investors, city planners and the DLBA in making decisions on how to allocate resources.
On The Horizon
2017 will see new and improved park spaces throughout downtown. The opening of Gumbiner Park will introduce a new 0.8-acre park located at the confluence of Martin Luther King, Jr. and Alamitos avenues, and 6th and 7th streets. The project also reintroduces two-way traffic to 6th and 7th streets creating a safer environment for motorists, bicyclists and pedestrians.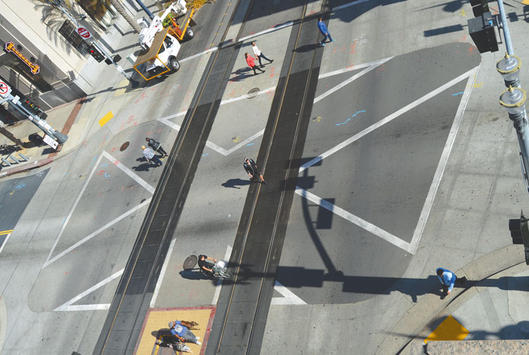 Scramble crosswalks in Downtown Long Beach enable pedestrians to cross to any corner. (Photograph by the Business Journal's Larry Duncan)
Changes will also be seen at Harvey Milk Park and Equity Plaza as the city begins work on re-imagining the park as a collaborative space that encourages creativity and interaction. This December, members of the community were invited to test and vote on the types of furniture, charging stations, and technology solutions they would like to see incorporated into the redesign. The DBLA is partnering with the city to test augmented reality technology that has the potential to teach visitors about the legacy of Harvey Milk, provide info about city and DLBA services, promote local businesses, and push advertisements for local events.
The DLBA has also partnered with the city on a new wayfinding signage project with the goal of making it easier for visitors to navigate downtown without feeling frustrated, confused or getting lost. Currently, much of downtown wayfinding is plagued with multiple aesthetics, aging signage, and conflicting or out-of-date information.
Creative placemaking is having a huge impact on how we experience downtown. Get outside and enjoy the uniqueness that is Downtown Long Beach. You'll always discover something new.