The morning of a Cambodian wedding ceremony starts with a procession. The groom's family members walk to the bride's house, bearing fruit, jewelry and food. They line up in pairs, and present two of every offering. Gifts include tobacco for the elders, tangerines to represent good fortune and red envelopes with money, as told by Sophie Meas, the owner of Sophie's Beauty Salon and Bridal Shop. A family member of the bride leads her out to greet her new in-laws.
According to Meas, a Cambodian wedding traditionally lasts two or three days, but is often condensed to one in the United States. The series of ceremonies require at least 20 outfits and different jewelry, which Meas rents at her boutique. She also provides hair and makeup services and gold boxes for the offerings.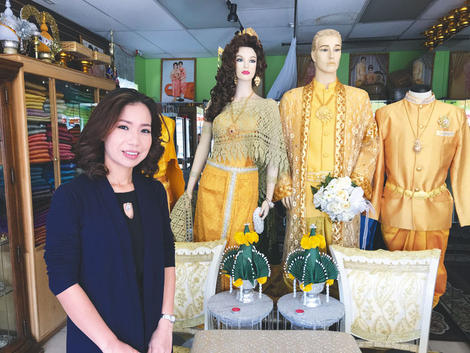 Sophie Meas, the owner of Sophie's Beauty Salon and Bridal Shop in Long Beach, provides hair and makeup services as well as outfits for Cambodian weddings. Traditionally, the series of ceremonies takes up to three days. (Photograph by the Business Journal's Anne Artley)
Meas emigrated from Phnom Penh, Cambodia's capital city. Her aunt also owns a bridal shop in Cambodia, so Meas said she has loved the specialty since she was young. "I like carrying on the traditions. It's a challenge because there are fewer customers from year to year since I opened six years ago," she said, as translated by Sinara Sagn, a business navigator for United Cambodian Community, a social services agency. "It's not only me; all the Cambodian bridal shops say the same thing. Not a lot of Cambodians who grew up here want to do the traditional wedding. It's really good to push the kids who grew up here to carry on the ceremony."
Sophie's salon and bridal shop is one of several Long Beach vendors that service cultural weddings. Others include Gemmae Bake Shop, a Filipino bakery; Broadway Hair Studio, where the majority of clients are attending Hispanic weddings; Pietris Bakery, a Greek restaurant; and Alpert Jewish Community Center, among others.
Catherine Tolentino, who owns Gemmae Bake Shop with her mother, said her customers have spanned generations in her 25 years of operation. "We're so lucky because a lot of the people who bought food and sent it to their kids, these kids are now getting married and coming to us for food." Tolentino estimated that the bakery caters 200 to 300 weddings every year.
Some of the delicacies Tolentino prepares for Filipino weddings are lumpia, an eggroll with pork filling; pancit, a noodle dish with fresh vegetables, chicken and shrimp; kare-kare, oxtail stewed in peanut sauce with vegetables; adobo, pork braised in soy sauce and vinegar; and roasted pig. Gemmae Bake Shop also provides wedding cakes, which Tolentino described as lighter in texture than those in America.
"Filipinos love to feed everybody and make sure everybody is fed," Tolentino said. "Family is really important to Filipinos, so weddings are usually big. All the recipes we use at our store my mom and grandma used growing up." Tolentino's mother, Prescilla, emigrated from the Filipino city of Bacoor, located about 11 miles from Manila, the country's capital.
Stephanie Madera of Broadway Hair Studio also manages a business with her mother, which she plans to take over after her mother retires. The hair studio provides makeup application and hair styling for all occasions, but Madera said the majority of her clients are attending Hispanic weddings.
"Some fly in from different states for Long Beach weddings," she said. "The majority of people like finger waves and a natural look, but with full [makeup] coverage and false eyelashes."
Madera's mother, an immigrant from Nicaragua, started the business because she had bad experiences with hair and makeup venues in her native country. "She wanted to make people feel good about themselves," Madera said.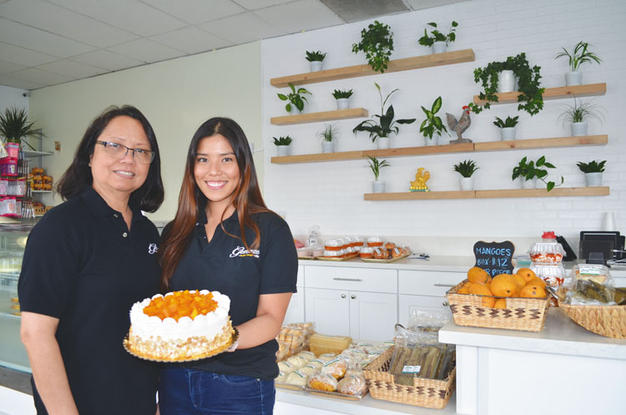 Catherine Tolentino and her mother, Prescilla, are co-owners of Gemmae Bake Shop, a Filipino establishment in Long Beach that also provides catering for weddings. Catherine estimated that they cater up to 300 weddings every year. (Photograph by the Business Journal's Pat Flynn)
For Fanis Pietris, the manager of the Long Beach location of Pietris Bakery, the store is an extension of a family bakery and catering chain with multiple locations in Greece. Located in Belmont Shore, it has been open for just over a year, but the original location was founded in Corinthia in 1930.
Pietris provides catering for weddings with traditional Greek food such as spanakopita, which are spinach pastries; moussaka, an eggplant or potato-based dish made with ground meat; and lamb chops. The bakery also makes Greek wedding cakes, which have a mousse filling, and a wedding rice with goat meat traditionally served in the south of Greece.
"Most of our recipes are from my grandparents, especially the pies, like the chicken pie and feta cheese pie," Pietris said. In Greece, the bakery has 20 locations and four factories. The family also operates three venues for summer weddings and one for winter. "Usually a Greek wedding ends the morning of the next day," Pietris said.
For a cultural wedding venue in Long Beach, the Alpert Jewish Community Center rents out space for events. It is open to the greater community, not only for Jewish weddings, said Membership and Rentals Associate Irene Velasquez. 
According to Velasquez, the center hosts about 20 weddings every year. Tables and chairs are provided for 250 guests. The rental also includes three six-foot tables for a guest book, cake and presents, as well as four security guards. Although the center does not provide a chuppah – a canopy under which Jewish weddings are performed – Velasquez said they have contacts for rentals, as well as preferred caterers that are aware of kosher eating guidelines.
The chuppah represents the new life the couple is creating together. Other Jewish wedding traditions include fasting before the wedding, the bride circling the groom three to seven times and the couple breaking a glass underfoot.
For smaller ceremonies, Velasquez said the center has a courtyard that seats around 80. The auditorium, where most receptions take place, accommodates up to 400 guests. According to Velasquez, events typically run from 4 to 11 p.m., and the center offers a reduced price for weekday weddings.