Imran Ahmed, general manager of the Long Beach Marriott, has worked in the hospitality industry since 1984, when as a young man he took a job as a banquet waiter at a hotel in Maryland after recently immigrating from Pakistan. He was just over 18 years old. Since then, Ahmed has worked in nearly every aspect of the hotel industry, from the front desk, to sales, to management. After five years in Long Beach, Ahmed has taken the reins as chair of the Long Beach Area Convention & Visitors Bureau (CVB), the nonprofit that oversees convention and tourism marketing for the city.
Most of Ahmed's career was spent in Maryland, where he went to college for marketing and raised a family, he told the Business Journal. There, he worked for Marriott, then Sheraton, and then Ramada before taking a job at a Marriott in Islamabad, the capital of Pakistan. After nearly five years abroad, Ahmed returned to Maryland in 1998 to work at a Courtyard by Marriott hotel owned by a franchisee, Ruffin Hotels. In 2013, the company sold the hotel, and offered Ahmed the position in Long Beach. It was a big move for him and for his family, but with one child graduating college, another finishing high school and the youngest just eight years old, he and his wife agreed it was good timing. "And I have been here ever since," he said.
Ahmed has worked in nearly every aspect of the hotel business over the years. "My first management position was with the Sheraton as night manager," he recalled. "Then front office manager, assistant general manager. And from there I switched from operations into sales. There are very few people who do that kind of career change." Ahmed continued, "The only department that I have not worked in a hotel is accounting and engineering. But I know how to manage them."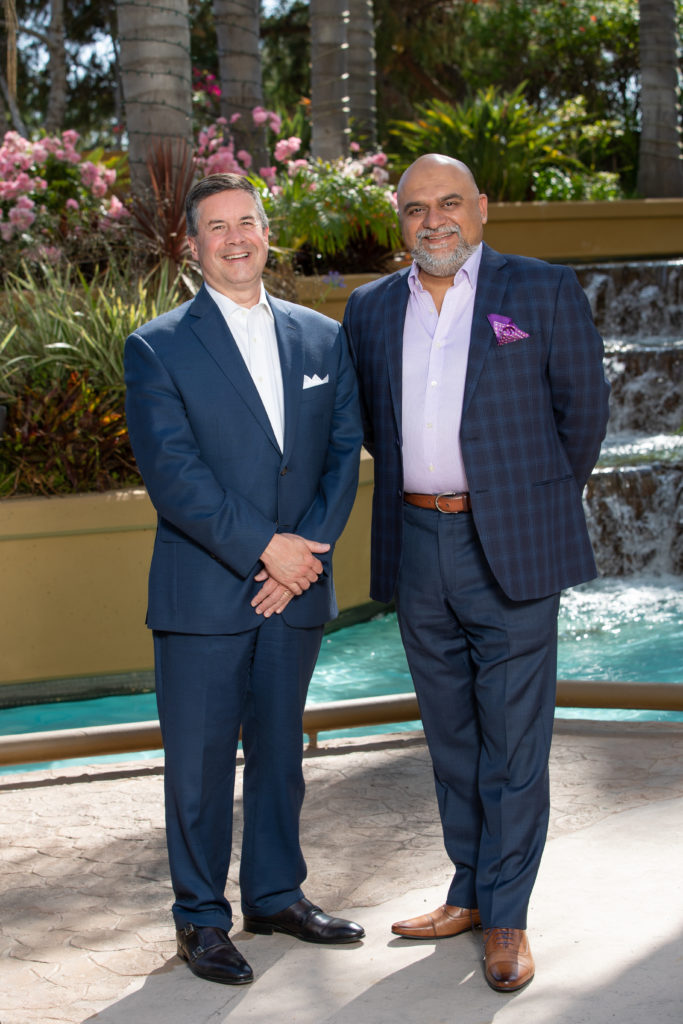 Working his way up over the years from banquet waiter to general manager took "a lot of blood, sweat and tears," Ahmed said.
Since Ahmed arrived in Long Beach in 2014, he has been a member of the Long Beach CVB board of directors. In that time, he has seen the hospitality industry change significantly. "Not only the hotel industry, but Long Beach as a city has transformed," Ahmed said. Areas of the city that were dark and vacant have been transformed into active vibrant spaces, he said, using The Cove at the Long Beach Convention & Entertainment Center as an example. Located beneath the Terrace Theater Plaza, The Cove is a segment of Seaside Way that runs between the center's parking garage and the entrance to the facility's Seaside Ballroom. While it was once little more than a dark, cavernous street, the center and CVB have invested in the space to transform it into a well-lit, active events venue.
Changes like these benefit the local hotel industry, particularly in downtown, Ahmed explained. "There are certain clients that were never interested in Long Beach. And then when they come in and they see how the city has transformed from the last time they were here 10, 12, 15 years ago, they are all intrigued," Ahmed said of potential convention and meeting clients. "Some of them have already had their conventions in Long Beach."
For the past few years, the local hotel industry has boasted high occupancy rates and increasing room rates. But Ahmed said the industry is faring on the scale of fair to moderate, at the moment. "The reason why I say that is because we have certain challenges within the City of Long Beach that we are trying to overcome," he said. "We are learning how to do business with WW passing. We have been doing our business in a way for the past 100 years. Now it's a different way of doing it."
Measure WW, which was passed by Long Beach voters in November, requires hotels to limit the workload of their housekeeping staff to a certain square footage each day. According to Ahmed, this has resulted in the need for additional staff, which has proven difficult at a time when unemployment is at a record low. "If you talk to any of the hotels – small, large, medium, whatever size they may be – we are having a serious problem finding people who want to clean rooms," he said. "It's a very tight labor market."
Having to hire more workers also increases the cost of doing business, and shrinks profit margins, according to Ahmed. "Every hotel is weathering through that cost right now," he said.
Hotel occupancy began decreasing slightly around November of last year, according to Ahmed, who speculated that decreases in travel may be attributable to economic or political uncertainties. "The travel industry in general is very connected to the stability of the country or the area," he said, adding that "one tweet or one tariff increase" is often enough to reduce travel in the business community.
There are multiple new hotels planned in Long Beach, including at least three in downtown and one near the airport. Ahmed said he views the additional competition as an opportunity. "I think the market will be fine. The rooms will be absorbed one way or the other," he said. "And, if not, then that gives us as a CVB a bigger opportunity to bring bigger conventions – the conventions we couldn't even touch [before]."
Being a member of the CVB is a benefit to Ahmed as a hotel manager because it helps him plan, he explained. "First of all, we know what's going on in the area. We can strategize, forecast and organize ourselves. If there is a big citywide [convention], we know there is going to be a push towards our area," he said. Ahmed's hotel is located inland on Long Beach Airport property, so his clientele mostly consists of business groups visiting the area's office parks. However, when a large convention comes to town, some of those visitors spill over from the downtown area to his hotel.
"The convention and visitors bureau . . . puts us in the right direction of where the rest of the country is going, because they have a lot more resources than what one hotel [has]," Ahmed said. "We get to know what is happening in L.A., what is happening in San Diego and other major convention cities."
Ahmed said that the CVB is active in attracting business to Long Beach, but also makes sure to distribute that business across the various hotels in the city. "Everybody thrives when there is a convention here on the weekend," he said.