In addition to a tourist attraction, the Aquarium of the Pacific is also a spot for milestone events. Guests attending weddings and proms dance and dine alongside the animals. Even corporate events allow visitors the opportunity to engage with the Aquarium, and learn something new about the environment or a particular species of animal.
Last year, the Aquarium hosted 140 events, according to Special Events Manager Erica Noriega. She estimated the breakdown at about 40% corporate events, such as offsite meetings, luncheons and out-of-town conventions; 30% school events, including homecoming dances, proms and winter formals; and 30% personal events such as weddings and birthday parties.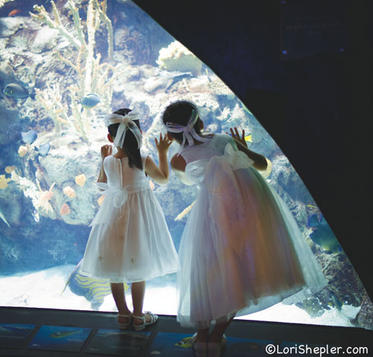 Two young visitors absorb their aquatic surroundings while attending the Aquarium of the Pacific for an event. According to Special Events Manager Erica Noriega, the Aquarium hosted 140 events last year. Personal events, such as weddings and birthday parties, made up about 30% of them. (Aquarium Photograph by Lori Shepler)
"People love the unique factor, especially those coming in from out of town," Noriega said. "It's something different you won't have in most cities."
The Aquarium provides its own catering service, called Premier, which specializes in sustainable cuisine. The catering packages come with wait staff and bartenders, but allow guests to bring in other vendors. Noriega noted that the Aquarium is open to customizing food choices to accommodate any dietary restrictions.
"We have a staff person who's constantly researching what's sustainable and choosing the greenest options," Noriesga said. "Our chef is very well versed in sustainable seafood." She added that the Aquarium employs environmental practices such as featuring locally grown food and produce that is in season. The latter reduces the energy consumption used to transport food.
During weddings, Noriega said most couples choose to use the entire interior for the event. A typical wedding starts with a ceremony in front of the Honda Blue Cavern, a three-story, 142,000-gallon exhibit featuring species found off of Catalina Island. A cocktail hour may take place upstairs in the Tropical and Northern Pacific Galleries before dinner in the Aquarium's Great Hall, which features a model of a blue whale suspended from the ceiling.
The wedding package includes a choice of dining options, a four-hour site rental, a complimentary cake cutting service, a champagne or cider toast, and accommodations for up to 200 guests. A Saturday night ceremony costs $1,000 and a Friday or Sunday ceremony comes out to $750. The cocktail hour pricing depends on the location, but starts at $750 for the California Terrace, which is where the penguins are located.
The pricing for weddings and conventions starts at $85 per person and prom pricing is kept around $45 per person. For smaller events, guests have the option of using the rooftop verandah, which starts at $65 per person and seats about 50 to 80 people. The pricing includes the fee to use the venue and covers food and beverages. Noriega said the Aquarium compares its pricing to other event venues in Los Angeles to ensure it is competitive.
"We close to the public at 6 p.m. and open for events at 7 p.m., so they only have an hour to set up," Noriega said. "We have vendors that we recommend that are used to setting up in that time frame who know the venue."
Noriega estimated that the Aquarium hosted 15 to 20 school-related events last year. The bigger proms usually result in a turnout of about 600 guests, she said. In addition, the Aquarium stages about 55 marriage proposals every year and 12 invitations to prom. The most popular choices are the sea lion and diver proposals.
"They're pretty popular. I still get a Christmas card from a proposal couple that was one of the first ones we did about nine years ago," Noriega said. "I feel like I've watched their family grow up."
Noriega also said she has noticed an increase in demand for corporate events, as people are becoming more interested in environmental issues and their impacts, such as global warming and the rising acidity of the ocean.
"People like to come here because guests can be entertained but they also get to learn something," she said. "For example, they can take a picture with a penguin, and we'll give a short presentation on penguins and where they come from. People like that they're not just sitting in a ballroom. They like something hands-on and different."