Choosing a location to open, relocate or expand a business is an important decision with many potential pitfalls and challenges. It can be a daunting task for a budding entrepreneur who is unfamiliar with the ins and outs of Downtown Long Beach. However, free or low-cost resources are available to assist potential small business owners.
Before viewing properties and talking leases, John Keisler, director of the Long Beach Economic Development Department, advises entrepreneurs to browse the 'Launch' tab at bizport.longbeach.gov.
"They can zero in on the downtown and the type of property they are looking for, and this will provide them not only with all of the available sites that are lists on the MLS but they can then also click on the building and do ring studies of consumer, demographic and all kinds of economic analysis," Keisler said. "It's really an awesome tool if you want to poke around."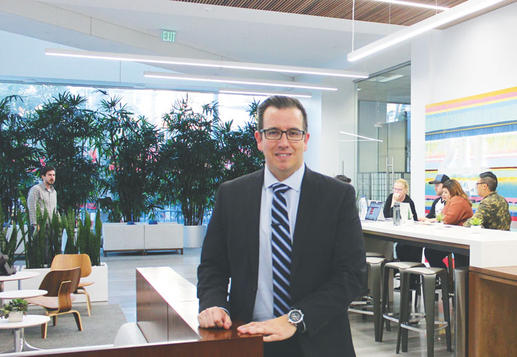 Adam Carrillo, economic development manager at the Downtown Long Beach Alliance (DLBA), said utilizing city and DLBA resources, as well as hiring a broker familiar with Downtown Long Beach, are the best tips he can give to young entrepreneurs looking to locate a business in the area. (Photograph by the Business Journal's Brandon Richardson)
One thing to consider that often gets overlooked, according to Keisler, is the impacts of future development. He explained that, with the amount of new construction underway and planned downtown, realities, such as a loss of surface parking, could have a negative impact on some types of business. However, he noted residential developments could have positive impacts due to an increase of foot traffic.
For more direct assistance, Keisler recommends prospective business owners reach out to Adam Carrillo, economic development manager at the Downtown Long Beach Alliance (DLBA). He said Carrillo has intimate knowledge of the group's membership and vacant space in the downtown area and can offer entrepreneurs a wealth of information and resources.
"Really educate yourself with data," Carrillo said. "That's really one of the biggest reasons why we launched our Entrepreneur and Business Education series: we wanted to provide education that worked well with existing and potential business owners in the downtown, especially small business owners."
Carrillo looks toward the successes of business that have utilized the DLBA's education and data, such as Romeo Chocolates, The Pie Bar and 6th & Detroit, as models of ideal startup processes. He explained that, when entrepreneurs engage in discussions with the DLBA, the organization can walk them through all the steps required to open their business.
For many retail, restaurants and service businesses, Carrillo said connecting with the community is key. He explained that downtown residents love supporting small businesses and, once they are hooked, they become advocates for a business and actually drum up more business. However, to build the initial clientele, Carrillo said soft opening and ribbon-cutting events work well, as does e-commerce and a solid online marketing presence, through social media and other tools.
As for choosing a physical location in the downtown area, Carrillo said it is really up to the prospective business owner to do their due diligence when looking at properties. Part of this process should be consulting with an architect and general contractor to determine build-out costs and whether or not they fall within budget. This also includes understanding if the type of business can legally operate at the locations of interest.
"As a business owner, I think having an understanding of the Downtown Plan is good. Just knowing what the approved use is within a neighborhood, that's a question I get asked quite a bit," Carrillo said. "Outside of a general retail or restaurant, if there is a very specific use, it's always best to double-check with the city if that use is approved."
Noel Aguirre and Sean Lieppman, senior associates at Lee & Associates Commercial Real Estate Services, agree, and said not verifying permitted use is one of the major pitfalls they have experienced with entrepreneurs. Lieppman pointed out that it is a simple mistake to avoid by making a phone call to the city's development services department.
A second major pitfall is underestimating startup cost and buildout time, according to Aguirre and Lieppman. Without appropriate input and estimates from architects and general contractors, the project budget can get derailed by the first curveball, ultimately costing the owner more money.
"Construction timing is a big one because, when we are negotiating leases, we are trying to bring in a realistic time frame. If we're working with a bar or restaurant operator, they might think they can complete the construction process in four or five months but realistically it might take six to eight months."
In order to be successful downtown, Lieppman said it's important to understand the changing dynamics and demographics of the area. He noted that, to some people, current data might not paint a completely enticing picture, but that current stats don't reflect new developments set to come online in the coming years.
"With downtown in general, for the past couple of years, the transformation, whether it's in concepts of restaurants or retail or services, it's very dynamic now," Aguirre said. "For a while the reputation of Downtown Long Beach was not the best in the public. But talking to companies now that want to move to Downtown Long Beach, they come down here and do tours and they see the DNA has changed and they want to be a part of it. It's been great seeing that."
Becky Blair, president of Coldwell Banker Commercial BLAIR WESTMAC, said first and foremost anyone seeking space downtown should seek out a broker to lead them through any challenges, which is typically free for the tenant. She explained that, while a property owner negotiates a lease in their best interest, a broker would work toward the best interest of the small business owner.
According to Blair, priorities have changed for those seeking office space in Downtown Long Beach. She said business owners are being driven by a younger workforce, which equates to personal space being replaced with modern terraces, open lounge areas, coffee bars and smart technology. She explained some building owners now offer added services, such as dry cleaning, bike racks and gyms, which a broker would be able to inform entrepreneurs of.
Brokers who are familiar with Downtown Long Beach already have base knowledge regarding current prices per square foot and funds available for tenant improvement, Blair said. These and a number of other factors are important when working out the details of a lease. However, entrepreneurs most likely do not have this information.
Blair noted that there are certain factors to consider when looking for office space in a downtown, urban environment, such as surrounding amenities for employees. One challenge in dense areas is employee parking.
"Parking may be a challenge – it's a challenge for all urban cities," Blair said. "But at the same time we're working with excellent developers to really be able to build more market rate housing so the working class will be able to have affordable places to live where they can actually walk. I don't see a downside right now. I see more opportunity than I have ever seen in this downtown area."