In the spring of 2016, 75 construction workers, a 182-foot excavator and a 15,000-pound demolition shear worked almost two months tearing down the old Long Beach courthouse to make space for the new Long Beach Civic Center, which will house both Long Beach City Hall and the Port of Long Beach's headquarters. Soon, the old Long Beach City Hall building will meet the same fate. But what happens to all the rubble these kinds of teardowns leave behind?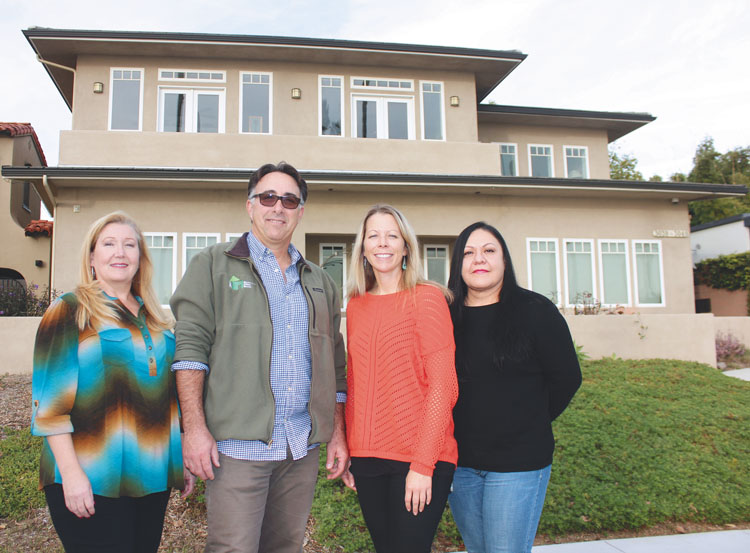 The Long Beach Environmental Services Bureau is hoping that, in the future, a larger portion of materials will be salvaged and reused. Through deconstruction, used materials such as kitchen fixtures or wooden planks can help build a home for a family in need or provide building materials for community organizations. "It ensures that material that can still be used, is still used," Erin Rowland, a waste diversion and recycling officer with the bureau, said.
Currently, the City of Long Beach requires developers to show proof that they've either recycled any materials left behind in the demolition process or that they have deconstructed the old building, sorting out any reusable materials for future use. It's unclear exactly how many developers choose deconstruction, but it remains a niche practice, according to experts interviewed for this story. In August, the Long Beach Development Services Department began implementing a new data collection process for the program to track the deposition of materials in more detail, according to Community Information Officer Richard de La Torre.
In the meantime, the ESB had started to look for ways to promote deconstruction and reuse. "We were curious if there were companies in Long Beach providing that service," Rowland said. Through online research, Rowland and her team discovered the Deconstruction and ReUse Network, "a hidden gem here in the city," as she described it. The nonprofit, which is headquartered in Belmont Shore, offers low-fee deconstruction services for commercial and residential projects. The recovered materials are donated to other nonprofits, such as Habitat for Humanity or Corazon, an organization that builds homes for families in need in Mexico's Baja California region.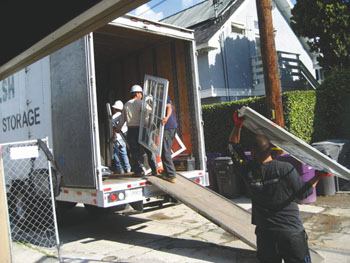 "To be able to take an item that's in its original state and re-use it is much more beneficial to end-users, and it reduces the [carbon dioxide] footprint," Paula Wise, manager of the Deconstruction and ReUse Network, explained. Additionally, reusing construction materials means that a smaller portion of it ends up in landfills and fewer resources are used to produce new wooden frames, metal faucets and the like.
"We are running out of landfill space. I don't know where we're going to put it. We've got to come up with a solution," Wise said. Take Santa Monica as an example. Wedged between Los Angeles and the Pacific Ocean, the city has a very limited landfill capacity, prompting its government to be more aggressive in promoting deconstruction and reuse, Wise explained.
Private companies and government agencies alike have become increasingly aware of the challenges presented by the steady decrease of available space, especially in urban areas. "Everyone's come a long way," Wise said. "We're more alert to the situation." The increased awareness has sparked an interest in innovative solutions, like salvaging construction materials. "In 2008, people looked at us like we were insane; they had no idea what we were doing," Wise remembered. "It's so exciting that people actually know what it is now."
Younger companies and those in the emerging tech industry are starting to include environmentally-conscious practices in their corporate mandates, the Deconstruction and ReUse Network's founder Lorenz Schilling said. "They're going to be the ones that are going to be more receptive to these types of approaches than companies that have been doing things a certain way for a long time," Lorenz noted. "That's not to say that these other, let's say, older industries cannot or won't also adapt in time."
For companies and individuals who donate their old construction materials, the benefit goes beyond clearing their environmental conscience. Donors qualify for a tax deduction based on the assessed value of the donated materials, and the value of smaller donations of up to $5000 can be assessed by the donors themselves. In addition to the financial incentive of tax deductions, Wise said many of the organization's clients are happy to see their disposables put to use for a good cause. "I've talked to our donors, and they really like to see where the materials go," Wise said. "It's nice to see that it's not just thrown away. It makes them feel good, too."
Just like the construction industry itself, interest in deconstruction fluctuates based on market demand. "It comes in peaks and valleys," Wise said. "Deconstruction takes longer. That's just a fact." The time deconstruction adds to the overall development process and the associated upfront costs make it a hard to sell concept at times when construction is booming. A downturn in business has the opposite effect, Wise explained. "In 2008, when the recession hit and there weren't a lot of fish jumping in the boat, [companies] were looking for other opportunities to expand their marketplace," she remembered. "They were much more open to saying 'Oh yes, we will add that to our offering!'"
For many developers, deconstruction and other efforts to make buildings more environmentally-friendly immediately raise economic concerns. Scott Choppin of the Long Beach-based Urban Pacific Group said his company hasn't used deconstruction on any of its sites so far. "We like the idea of it, but to be quite honest with you, the offers that are out in the marketplace for deconstruction are really pretty narrow," Choppin said. "Presently, there's very few actual deconstruction companies, therefore their prices are generally higher."
Choppin believes that nonprofits like the Deconstruction and ReUse Network are perfectly positioned to promote the practice, eventually making it a more viable option for everyone, including the for-profit companies necessary to introduce deconstruction into the mainstream. "Nonprofits have an advantage because they can be innovative and aren't driven by profit motives," Choppin said.
As a first step, the EBS is planning to promote the nonprofit's services through the bureau's social media profile and promotional materials to be shared by the development services department. "I think this is just the beginning of a conversation," Erin Rowland said. "Hopefully through increased awareness, people will seek out services as they fit for them." Wise agrees, but hopes that, in the future, people will not only think about reuse once a building is nearing the end of its life cycle, but at the beginning of it. "Building with the idea of deconstructing at the end," Wise said. "If you build with that in mind, you make different decisions."