Dede Rossi announced her departure from the Belmont Shore Business Association at the end of last month, but old habits die hard. 
On a sunny Friday morning, the association's executive director can still be found peeling tape scraps from light posts along Second Street and chatting it up with local business owners.
"I'm in no hurry to leave," said Rossi, whose decade-long tenure with the association has been the longest in its history.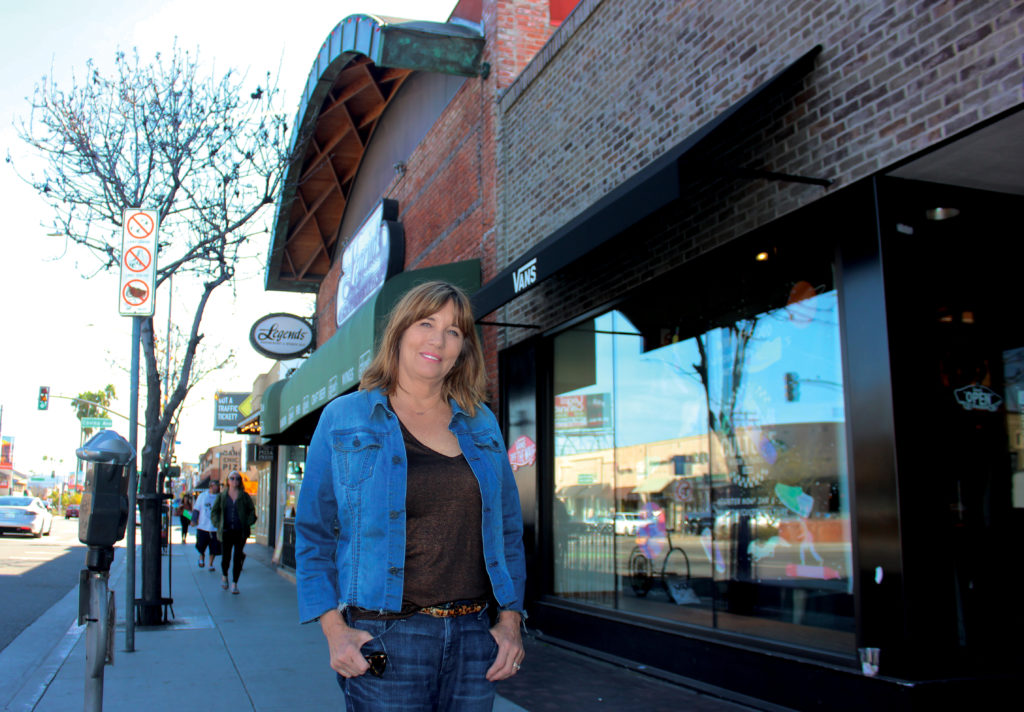 Rossi said she's determined to help the association find a qualified successor, a process that is currently underway and will likely take up to three months to complete. But Rossi's also excited for the opportunities ahead. 
"I've been thinking about it for a while," she said. "I wanted to take a break, maybe try something new." 
What's next remains to be seen, she noted.
Talking to Rossi, it's clear that the pressure of leading the association in charge of a transforming business district hasn't always been easy. 
"A lot of the property ownerships are changing," she said. "There's still a few locals that own property, but not like it was years ago." 
A shift toward more corporately-operated stores has also impacted the association's ability to influence whether a store front is vacated or not, she said. "[Corporations] look at their bottom line and decide up in a corporate board room somewhere: we're not going to renew the lease," Rossi explained. 
Corporations and small businesses alike are scrambling to adapt to a changing retail landscape and shopping districts like Belmont Shore's Second Street are bearing the brunt. 
"The retailers are trying to figure it out," Rossi said. But all hope is not lost. "Food is huge right now and I think food is what attracts people down here," she noted. And she's not ready to give up on product retailers either. "People still love to shop, people still love to move around and go places," Rossi said. "It's social."
But the competition for foot traffic is stiff, as shopping districts across the city and the region are contending over a shrinking brick-and-mortar clientele. "We're not the only game in town," Rossi acknowledged. The city, she noted, has put an emphasis on promoting Downtown in recent years. "I love that, because I'm a Long Beach person, but we need a little more love over here," Rossi said. 
Being the designated point of contact for business owners, on anything from homelessness to storefront vacancies and trash collection, has taken a toll on Rossi. "I've been here for ten years. I was just thinking: maybe let somebody else who isn't jaded by having to deal with certain things [take over]," she said. "I will be able to go to the gym down at the Belmont [Athletic Club] without somebody asking me: what's going to go into so and so [space]?"
As for her successor, Rossi said a passion for the city and the job are crucial to success. "You've got to feel deeply about your job," she said. And: "You have to know Long Beach. I think that's really important," she added. Rossi also had a word of advice for whomever will follow in her footsteps: don't fight your critics on social media. "You're not going to win," she said. 
The district's direction for the future will depend highly on the priorities of Rossi's successor, but there are some debates she expects to continue. Safety has been a primary concern for businesses in the area, she noted, and a shift of funds from the district's subsidized bus pass program for local employees toward the hiring of a private security provider might be on the horizon. "We want people to feel safe down here, that's really important, and that's something we're working on," Rossi said.