Don't let the flannel, jeans and flip-flops fool you. Dede Rossi is all about business – on 2nd Street in Belmont Shore, that is.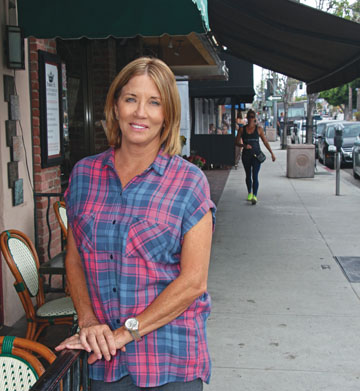 (Dede Rossi, executive director of the Belmont Shore Business Association. Photograph by the Business Journal's Evan Patrick Kelly)
After working as head of fundraising for California State University, Long Beach's athletic department scholarship program for 20 years, she was ready to retire in 2010, but instead the mother of two put her skills to use in another avenue.
Five years ago, Rossi, a Long Beach native, was hired as the executive director of the Belmont Shore Business Association (BSBA) and has been utilizing her expertise in networking, planning and marketing ever since.
"I've lived here all my life, so I haven't gone far," she said in a recent interview with the Business Journal at the BSBA's office, located in a commercial building at 2nd Street and Nieto Avenue.
Governed by a 12-member board of directors, the non-profit organization receives funding by assessing an annual fee on member businesses to promote, protect and enhance the commercial corridor, much like other business improvement districts (BIDs) throughout the city.
The BSBA works alongside the Belmont Shore Parking & Business Improvement Area Advisory Commission, which makes recommendations to the city on the use of revenue generated from parking meters in the district.
As the BSBA's executive director, Rossi, an avid golfer and volleyball coach, attends monthly board meetings, interacts with business owners, works with neighborhood groups, coordinates street cleaning and markets 2nd Street, which stretches a full 15 blocks and boasts more than 200 merchants.
As the voice of Belmont Shore businesses, she also partners with the Long Beach Council of Business Associations (COBA), collaborating with representatives from six other business districts in Long Beach on city issues.
One of her favorite parts of the job, Rossi said, is organizing and attending BSBA events, which aim to attract regular patrons to "The Shore," as locals call it.
"I want to make sure [the events] go off smoothly and that everybody is happy," she said. "The whole idea of the events is to bring people to the Shore so people are aware of the Shore and so, hopefully, when they come back, they want to 'shop, dine and indulge' here."
The slogan, "Shop, Dine and Indulge," was created as a way to promote 2nd Street's best attributes, referring to retail, restaurants and spas, Rossi said.
She said 2nd Street is particularly known for its restaurants, noting that the owners of Hof's Hut and Lucille's are planning a soft opening of a new restaurant, Saint & Second, at 4828 E. 2nd St. this month. The corridor is also a prime spot for sweets, Rossi said, adding that Snow Monster, a dessert and ice cream shop, plans to open a new location on 2nd Street.
Except for a few additions, such as a recent "pop-up shop" and other creative ways to utilize sidewalk space to promote business, the BSBA's calendar of traditional and seasonal attractions for the most part has remained the same, she said.
During the summer months, people can meander down 2nd Street to taste the fare from Belmont Shore's many restaurants during Stroll & Savor, which takes place this month tomorrow, August 19, and Thursday, August 20. Also coming up is the very popular Belmont Shore Car Show, where scores of classic cars line the street. This year's annual event is set for September 13.
The BSBA's biggest draw for business, however, continues to be the annual Belmont Shore Christmas Parade, in early December, which attracts thousands of people to 2nd Street. Organizing the parade includes such tasks as submitting an application to the city, selecting a grand marshal and coming up with a theme. With this year's parade theme, "Miracle on 2nd Street," the BSBA intends to turn 2nd Street into a "holiday village" Rossi said.
Looking toward the future, Rossi said the BSBA plans to eventually spruce up 2nd Street with new medians, a project that may include adding new street signs, plants, trees and other features. The goal, Rossi said, is to make the beach community more distinctive and memorable to local residents and tourists alike.
"I look to see our street changing . . . and making it visually appealing so, when people drive through here, they're like, 'Wow, what is this place?'" Rossi said. "I want people to know that they left Belmont Shore."