While depression among those aged 60 and older does not occur at a higher rate than in other age groups, it is a condition that is nonetheless common and often overlooked, according to mental health experts. Signs and symptoms of depression in seniors are often mistaken as a natural part of aging, and may also be confused or conflated with existing illnesses.
"What happens is that oftentimes in our society people believe depression is a normal part of aging – that it is just a natural reaction to chronic illness or a loss or social transitions that seniors are facing," Tammy Heilemann, a licensed therapist and licensed clinical social worker affiliated with Community Hospital Long Beach, told the Business Journal. "It's really important to realize that depression is not a normal part of aging."
The Center for Disease Control And Prevention pointed out in a recent article on its website that this perception occurs even among health care providers. "Older adults themselves often share this belief and do not seek help because they don't understand that they could feel better with appropriate treatment," the article stated.
Heilemann estimated that between 10 to 20 percent of older adults suffer from depression at some point. Dr. Lana Delshadi, a neuropsychologist with a practice in Los Alamitos, estimated the rate might be as high as 25 percent because the condition is often overlooked and unreported.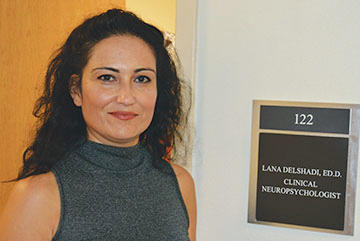 Dr. Lana Delshadi, a clinical neuropsychologist with a practice in the City of Los Alamitos, said that symptoms of depression in seniors are often physical and cognitive, and not all seniors experience emotional symptoms of the condition. For this reason, depression in seniors may be more difficult to spot both by loved ones and the affected individuals themselves. (Photograph by the Business Journal's Larry Duncan)
"In a lot of senior citizens, many times they are not even aware they are depressed," Delshadi said. "The signs are more physical and cognitive. They may not necessarily always have emotional symptoms, such as feeling sad or worthless." Common physical signs of depression in seniors include fatigue and difficulty sleeping, while cognitive symptoms include difficulty concentrating and not being able to make decisions, she explained.
Heilemann noted that cognitive issues such as forgetfulness and confusion are also symptoms of depression in seniors. These symptoms are easily confused with other conditions or issues, such as dementia, she noted.
Other warning signs of depression in seniors include withdrawal from socialization or regular hobbies and activities, weight loss or gain, irritability, changes in sleep patterns, feelings of hopelessness or helplessness, and appearing untidy or disheveled, according to Heilemann. Depressed individuals may also express "excessive guilt or self blame" and repeated thoughts of suicide, she noted.
Dr. Dorree Lynn, a psychologist based in Washington, D.C., and a relationship expert for AARP, said that single senior men have one of the highest suicide rates in the country. She emphasized, however, that, as a whole, some studies have found that the senior population is actually less likely to experience depression than other age groups.
Among seniors, "isolation is the biggest killer," Lynn said. "As soon as you get isolation, you get depression."
Another common cause of depression among seniors is retirement. "If they have been working most of their adult lives, that's a pretty major transition," Heilemann said. Lynn agreed. "You have people who are entering encore careers because they find that this retirement they have always waited and longed for is actually pretty boring, and they start to get depressed," she said.
Some of the most frequent causes of depression among seniors include deaths of family members and friends, and chronic pain or illness, according to Heilemann. Lynn pointed out that running low on money is also a common cause of depression among seniors, particularly following the Great Recession.
For seniors experiencing any of these situations, Heilemann recommends a few tactics for preventing depression.
"Continuing to have good self care is really important," she said. Maintaining connections with family and friends, keeping regular medical appointments, and integrating pleasurable activities into daily routines also help, she added. Lynn suggested taking a course at a university, some of which offer reduced rates for seniors, or joining support groups.
Heilemann said that, in light of the upcoming holiday season, it's important to be attentive and encouraging to senior friends or family members who may be experiencing loneliness due to isolation or loss of loved ones. "While the holidays are a festive time for seniors, it can be a very lonely time too, and it can bring up a lot of emotions," she said.
"It is really up to families and neighbors to say, hey, we are here for you, and to note what is going on," Lynn said. "Because when a person is depressed, the last thing they want to do is reach out."