Since a National Football League (NFL) stadium isn't in the cards after all for the City of Carson, the city is now counting on a new luxury-car-themed attraction, opening later this year, and possibly a regional retail center to help drive new commercial and residential development throughout the city, according to city officials.
After the St. Louis Rams decided in January to relocate to a new stadium to be built in Inglewood instead of Carson, Carson is now reviving plans for commercial development on a vacant 157-acre site once pitched as a site for the stadium.
Carson city officials said they are negotiating with several big-name developers interested in a regional retail center and other commercial development at the site, which is located near the 405 and 110 freeways that has remained vacant since its last use as a landfill in the 1960s.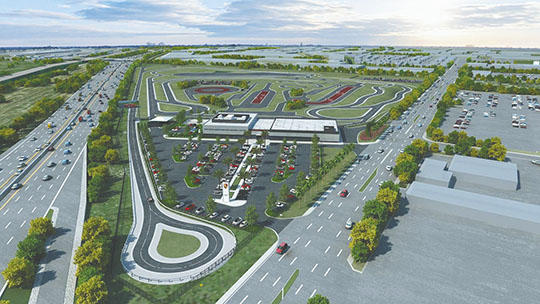 A rendering shows what the new Porsche Experience Center, currently being built on a 53-acre site in Carson adjacent to the 405 freeway, will look like once completed later this year. (Rendering provided by Porsche)
John Raymond, the city's director of community and economic development, told the Business Journal that the city plans to release a schedule and scope of work this summer for all or part of the development project.
"We always had a Plan B," he said. "We've been meeting with everybody that's inquired, and we're at the point now where we're actually really trying to negotiate agreements. . . . We've whittled it down to five or six pretty credible developers."
Later this year, the city hopes to finalize a "vision plan" for more than 600 acres of property surrounding the vacant site. The city council last year approved putting a moratorium on all new development surrounding the site through December 15 or until the visioning process is completed.
According to Raymond, Starwood Capital Group transferred ownership and control of the vacant site to the city after the NFL stadium fell through, absolving itself of any liability associated with environmental remediation of the property. Starwood Capital had acquired the land in 2012 when it bought LNR Property LLC, along with its holdings.
Back in 2005, LNR Property and Hopkins Real Estate Group, operating as Carson Marketplace LLC, had planned to build Boulevards at South Bay, a regional outlet mall that would have included multi-family residential housing, a movie theater, a 200-room hotel and a convention center.
While it's unclear whether the project will move forward as previously planned, Starwood has expressed interest in at least a portion of the site, he said. Raymond said finding the right developer that is "well capitalized" and willing to invest in commercial development over contaminated land has taken "a tremendous amount of work."
In the meantime, environmental remediation of the former landfill, a process conducted by Long Beach-based Tetra Tech, Inc., managed by the city and overseen by the California Department of Toxic Substance Control, will continue, Raymond said.
Systems to capture methane gas and prevent toxic substances from leaking into the groundwater and affecting nearby residences have been installed and are fully operational, he said, adding that the rest of the environmental remediation process will depend on the proposed development.
Several commercial and residential development projects in other areas of Carson, meanwhile, are planned or already under construction.
Porsche Experience Center
One project close to being completed is the Porsche Experience Center Los Angeles, a 53-acre facility that will include a luxury-vehicle exhibition area, driving tracks, a restaurant, a conference center, meeting rooms and state-of-the-art driving simulators.
Built on the former Dominguez Hills Golf Course adjacent to the 405 Freeway, the new luxury sports car-themed attraction is expected to enhance the city's destination appeal, according to property owners and city officials.
Porsche's website states that guests will be able to navigate through an "electrifying circuit, off-road courses, 'Ice-Hill' and other performance facilities," all of which are completely dedicated to Porsche's philosophy of "intelligent performance." A 50,000-square-foot building will be shared with Porsche Motorsport North America, where guests will be able to get an inside look at Porsche's "factory race team and winning race cars," according to a company press release titled, "We thought the 405 could use some Autobahn." Porsche Motorsport North America will be relocating its headquarters from Santa Ana to Carson.
Bruce Choate, president of Watson Land Company, which owns the property, said construction of the Porsche Experience Center is to be completed in July or August. He said the project is part of the comprehensive vision plan for property owners to enhance the area as a premier "gateway" to the city.
"We're viewing it really as a gateway to Carson so, when people come to Carson, they have a good experience," Choate said. "There's just great potential there to create an attractive gateway to the city. . . . We're excited about the opportunity to work with the city to make that happen."
City officials anticipate that the new Porsche facility and the potential regional retail center will present a "unique development and redevelopment opportunity," as the foundation for the city's vision plan, which considers several planning areas.
"If planned accordingly, the entire area could be envisioned and transformed into vibrant districts designed to maximize the compatibility of the new facilities with new commercial businesses and nearby residences," city staff said in a description of the vision plan. "This planning effort would assure that all new development can be accommodated by proper zoning, appropriate remediation measures and proper infrastructure and public services."
The city has so far held two workshops with landowners regarding the vision plan and hopes to develop an "infrastructure financing plan" to identify financing options for needed infrastructure and public services.
Other Commercial Development
Near the campus of California State University, Dominguez Hills (CSUDH), meanwhile, local developers are planning to build a neighborhood retail center called "University Village" at the northwest corner of East University Drive and Central Avenue.
The project, proposed by The Carson Companies and Cliffhaven Companies, Inc., which are both based in Newport Beach, involves the development of a 48,000-square-foot neighborhood retail center anchored by a large grocery store and restaurants, according to representatives of the project.
Jim Flynn, president of The Carson Companies, told the Business Journal that construction isn't expected to start until potential tenants commit to at least 50 percent of the retail space.
"There seems to be a critical shortage of retail space in north Carson, so we're trying to alleviate some of that and provide necessary retail for businesses and neighbors in the area," he said, noting that the Carson Planning Commission has approved the project.
Ralph Deppisch, president of Cliffhaven Companies, Inc., said that the developers plan to secure quality regional and national retail tenants before construction moves forward.
In a letter to the city last year, he stated that the development team has made various changes to the project to improve the site and increase the ability to attract strong retail tenants. Deppisch added that the development would become "the premier neighborhood commercial center in all of Carson and surrounding communities."
On the far northeast side of the city, meanwhile, another large site in need of environmental remediation has been considered for mixed-use development.
Formerly home to Shell Oil's Carson oil refinery, which was decommissioned and dismantled in the 1990s, the more-than-400-acre site on Wilmington Avenue is the subject of a specific plan, which, if approved, would free up nearly 100 acres for development. Nearly two years ago, Shell had proposed retail, light industrial and possibly other uses for the property. However, an environmental impact report on the project has yet to be finalized.
New Residential Communities
New residential projects are also moving forward in Carson. In fact, several hundred new affordable and market-rate housing units have already been constructed over the past few years, transforming the city's downtown area near city hall.
That transformation began when Carson's first new luxury apartment complex called The Renaissance at City Center opened about two years ago, with 150 residential units, a courtyard, swimming pool and an IHOP restaurant at 21800 Avalon Blvd.
Last year, the city celebrated the completion and grand opening of the second and last phase of the VIA 401 affordable housing development on Carson Street. The project, developed by Related California, includes 40 units of affordable housing at 401 E. Carson St. that joins an affordable housing complex at 425 E. Carson St. and a 3,000-square-foot community center. The two-acre site offers a total of 105 affordable housing units.
Nearby, at 616 E. Carson St., construction is already underway on a 152-unit residential community to be called VEO, which is being jointly developed by Santa Monica-based Community Dynamics and Los Angeles-based CityView.
The project, being constructed on a 10-acre site, calls for 48 condominiums (23 of which will be sold as affordable housing to moderate-income households), 89 townhomes, 15 detached single-family homes and 14,000 square feet of ground floor retail.
Steve Roberts, vice president of Community Dynamics, said the first phase of the project, including a new four-story condominium complex and ground floor retail space, has already been completed. New restaurants Crawfish Corner and Hiccups have opened, while a new UPS store and other tenants plan to open later this year, he said.
At 401 Sepulveda Blvd., San Diego-based Affirmed Housing is expected to begin construction early next year on a four-story apartment complex to be called "Bella Vita," with 65 affordable housing units and ground floor retail, according to Katelyn Silverwood, director of marketing for Affirmed Housing.
The project, which will include an outdoor patio area and a public plaza at Sepulveda Boulevard and Panama Street, is to be completed in May 2018, she stated in an e-mail.
Another major project moving forward in the downtown area is a mixed-used development called "The Avalon," expected to transform a strip mall at the corner of Avalon Boulevard and Carson Street.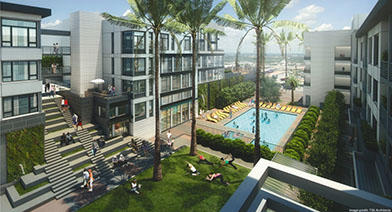 Rendering by Los Angeles-based Hongjoo Kim Landscape Architects, Inc. show the latest designs of a mixed-use development to be called "The Avalon" in Carson. The project proposes 357 market-rate apartment units, 32,000 square feet of ground floor restaurant and retail space along with a public plaza at the corner of Avalon Boulevard and Carson Street.  (Rendering provided by Hongjoo Kim Landscape Architects, Inc.)
Last year, the Carson City Council approved a specific plan for the project, which calls for 357 market-rate apartment units and 32,000 square feet of ground floor restaurant and retail space along with a public plaza, taking over several lots on Avalon Boulevard.
Los Angeles-based Faring Capital is partnering with Arizona-based real estate equity firm The Wolff Company on the project, which ultimately requires the demolition of a gas station and an existing strip mall to make way for two buildings.
Richard Rojas, associate planner for the City of Carson, said work to demolish the existing commercial structures at the site has already begun and many of the small businesses have been relocated to nearby spaces.
The project, expected to take one to two years to complete, is considered a "catalyst" for additional development in the area, he said, adding that, since its approval, the project has spurred interest from other developers looking to develop small-scale apartment complexes along Carson Street.
Infrastructure Upgrades
To go along with the various residential and mixed-use development projects underway, the city continues to move forward with infrastructure upgrades to the Carson Street Corridor, a 1.75-mile stretch of roadway between the 405 and 110 freeways.
The city's ongoing infrastructure project, called the Carson Street Master Plan, includes installing: a recycled-water mainline; drought-tolerant landscaping in parkways and medians; new street furniture, such as benches, bike racks and pedestrian lights; and public art and monuments at entrances to the city along the corridor, according to an update on the status of the project released in April. The report indicates that the nearly $20 million project is to be completed in late October.
Other infrastructure improvements include traffic signal modifications, the reconfiguration of turn lanes and the replacement of median streetlights with energy-saving LED lights. The entrance to city hall at Carson Street and Avalon Boulevard is also being refurbished, with an (Americans with Disabilities Act) ADA-compliant ramp and landscape improvements.